Obama Abstains, Security Council Denounces Israeli Settlememts

Oh the rage!  The betrayal! The wringing of hands and gnashing of teeth–as the U.S. did as promised after decades of defying U.S. policy and international law,  settling 750,000 settlers (almost as many Palestinians as were expelled during Nakba) on conquered territory .   It permitted a UNSC resolution (text) denouncing Israeli settlements to pass by abstaining from the vote.  Samantha Power's raised hand was the hand 'heard round the world.'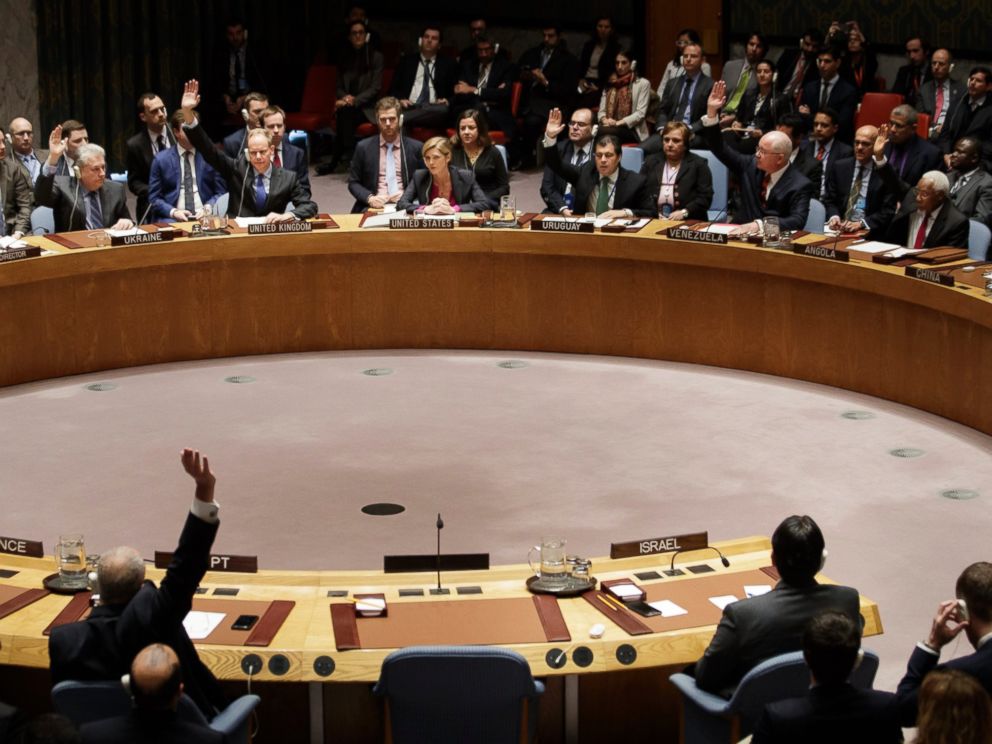 Israel knew Obama would only take so much.  And in the final throes of his term, the President grew a pair (or perhaps half a pair) and abstained.
A geschrei and gevalt were heard from Hebron to Boro Park, from the prime minister's office to the Beltway, from Trump Tower to GOP HQ.  The hypocrisy and faux outrage were lathered on thick:
"Israel rejects this shameful anti-Israel resolution at the U.N. and will not abide by its terms," Mr. Netanyahu said in a statement. "At a time when the Security Council does nothing to stop the slaughter of half a million people in Syria, it disgracefully gangs up on the one true democracy in the Middle East, Israel, and calls the Western Wall 'occupied territory.' "
Of course, the UN is not the only body to blame for the genocide in Syria.  We can blame members of the Security Council themselves like Russia and the U.S.  We can blame Iran and Saudi Arabia for intervening with millions in weapons and soldiers.  We can even blame Israel, which also intervenes regularly to assassinate Iranian generals and Hezbollah commanders there.
But Bibi's indignation would be more persuasive if he'd lifted even a single pinky for Syrian refugees by taking in even 10 of them.  Please, no hasbara about the medical care offered to Syrians. It was largely provided to rebel fighters from al-Nusra, the same Islamist terrorists the rest of the world is fighting against.
As for the Kotel being occupied territory: indeed it is, as it was conquered from Jordan in 1967.  Now, if Israel agreed to a peace settlement, both sides might work out an arrangement by which Israel had some form of sovereignty or shared possession of the Kotel and/or Haram al Sharif.  But until that happens Israel is a usurper violating international law.
To register its disapproval, Israel recalled its ambassadors from New Zealand and Senegal, both nations sponsored the resolution. It also announced the suspension of all foreign aid to the African nation.  Which raises an interesting question: if Israel truly wishes to express it's rage, why not recall Ron Dermer and return all U.S. foreign aid given to Israel  over say, the last three years?  The point is to expose Bibi's abundant hypocrisy, since Israel can afford to do nothing of the sort.
נתניהו תוף את אובמה על שלא סכל החלטת מוהעב״ט נגד ההתנחלויות.אך הוא לא מעז לומר ולו מילה 1בגנות "ידידו" פוטין שתמך בהחלטה. האם הוא מפחד ממנו?

— Yossi Melman (@yossi_melman) December 24, 2016

Yossi Melman raises another interesting question in this revealing tweet in which he says:
Netanyahu attacked Obama for not vetoing the Security Council resolution against the settlements. But he didn't dare say a single word condemning his pal, Putin, who voted in favor of it. Does Bibi fear him?
A worthwhile question to consider.
The U.S. abstention supposedly betrayed 40 years of the U.S. covering Israel's ass, while it proceeded to steal the Palestinian patrimony, like Jacob stole Esau's.  Apparently, there was never to be a reckoning.  Israel expected the world and U.S. presidents would permit it to continue on its merry way forever.
The amount of presumption in this is breathtaking.  The U.S. always at Israel's beck and call, never exercising its own considered judgment about anything.  Never having interests which diverged from Israel.
Obama splashed a whole bucket of icy Koolaid on Israel, and it wasn't for coaching a winning football game.  It was a wake up call.  Like pouring cold water on a drunk's face to wake him from his stupor.
There is little danger the resounding vote in favor will have any short to medium-term repercussions.  Trump takes office next month and he's already given away the candy store to the worst of Israel's settlerist government.
But in four years, after the Republicans suffer their next presidential debacle and a new sheriff comes to town, then we'll resume where we left off.  Then, momentum may build from the precedent set by this resolution.  The UN, with perhaps a U.S. abstention, can impose sanctions on Israel.  It may give Israel the treatment it so richly deserves: isolation and opprobrium.  Whatever happens in the near or long-term, rest assured there will be a day of reckoning.