Senior Israeli Police Commander Accused of Sexual Harassment
It's time to break another Israeli gag order.  The Israeli police, as anyone reading this blog will know, is one of the most corrupt, dysfunctional, violent and racist among western nations (to which Israel enjoys being compared).  Over the past year or so, police commanders have been accused and sacked for taking bribes, one commander under suspicion committed suicide, and numerous ones have been accused and sacked for sexual harassment.  One of those fired commanders responded to the allegations against him by claiming that sexual relationships between superior officers and female subordinates were part of the police culture.  He appears to be correct, at least based on the number of senior officers both accused of indiscretions and sacked because of them.
When such charges are made against officers, the police and accused have a built-in advantage.  Since they enjoy an intimate relationship with the courts, they can secure gag orders preventing publication of the names of alleged perpetrators.  That's what happened in the case I report tonight.  According to a well-placed source, the officer receiving special protection is Maj. Gen. Roni Rittman, head of Lahav Unit 443.  This department of the national police investigates corruption and is often likened to the FBI.  But it also contains an infamous mistarvim unit which infiltrates Palestinian protests, incites violence by throwing stones, then assaults and arrests Palestinians who join in. Another mistarvim unit associated with the Border Police even infiltrates Palestinian hospitals to assassinate (and in some cases arrest) wanted Palestinians.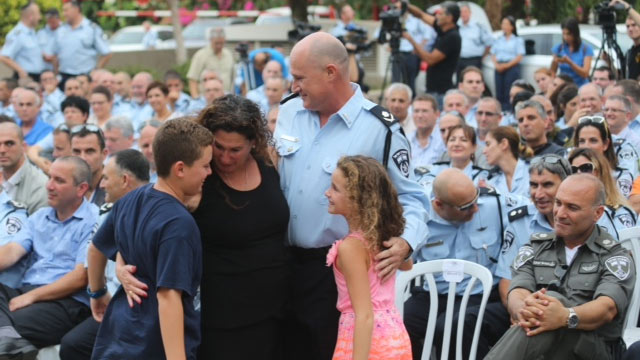 In addition to the original female officer who filed a complaint against Rittman, two or three others have come forward to confirm the allegations.  They testify that they saw him at a social event pursue the female officer, grab and embrace her and try to kiss her.
Rittman responded to the allegations by saying:
This is invented and nuts.  I have no doubt that I will succeed in refuting all the charges against me.
He further claimed that the accusations were being made to sabotage his chance of being included in a new round of appointments and promotions expected by the new national chief, Roni Alsheikh.
These are the same police tasked with investigating accusations by female victims of sexual assault.  Is it any wonder that the police are so hasty about dismissing such claims, as they did in the case of Israeli TV reporter, Yoav Even, and many others.
This is the same police department to which Roni Alsheikh, former deputy chief of the Shabak, was appointed as the new national chief.  It appears that Alsheikh himself, a devout Orthodox settler with a "Messianic" bent, has his own personal troubles.  His son went into a catering business with several shady characters who absconded with the proceeds of the business and left him holding $100,000 in debts.  Now, the son's lawyers claim that he is being blackmailed by unnamed figures due to his father's new position.