IDF Intelligence Officer with No Security Clearance Spies for Settler Extremists

Back in 2014, the IDF destroyed illegal building in the radical settlement of Yitzhar.  Each time they arrived they were met with a pitched battle (Hebrew and English): a hail of rocks and curses.  Six soldiers were lightly wounded.  Their vehicles were vandalized.  Even their own military outpost next door, which was built to protect the settlement, was trashed, destroying military equipment.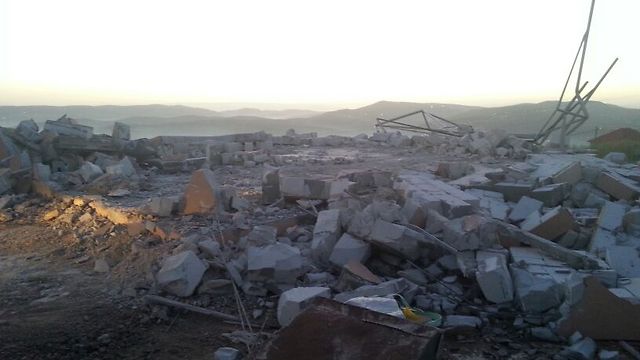 In the past few days, the answer may have become clearer. Cpl. Yitzhak Sela, an ultra-Orthodox settler, recruited to serve in the army via a new program designed to encourage Haredim into military service, was given access to highly secret military data.  Sela, was appointed to the intelligence unit of the Etzion Brigade, knew in advance when police were going to arrest his fellow hooligans at how own settlement, Bay Ayin.  They in turn could escape before the arresting officers arrived.  Incredibly, some of the data he released concerned his own planned arrest (by Israeli police) for inciting anti-Palestinian violence in the area:
He is suspected of a number of instances of leaking information to his friends in Bat Ayin about the police's plans to arrest him. Sela apparently gained access to the information because all police activity in the region goes through the Etzion Brigade, at one of whose bases he was stationed.

Two of Sela's friends were interrogated and Haaretz learned that one of them confirmed he had received information from Sela.

Sela is also suspected of leaking information about operations by the Judea and Samaria police district, as well as the movement of forces and the activities of the police unit in charge of far-right political crimes.

Sela is suspected of using the army's computers to search for information involving him, as well as information about members of the Shin Bet security service unit that investigates Jewish suspects, regarding a probe into the throwing of an incendiary device near Bat Ayin in which a Palestinian family was injured in August 2012, and into an arson attack on a mosque in the village of Jab'a, near Bat Ayin, in February…

Because Sela's search involved seeking information about Shin Bet operatives, he is suspected of exceeding his authority and, the Shin Bet will attempt to show, of endangering state security.
Think about this: a radical settler suspected of violence against Palestinians is invited into the army, given a privileged intelligence position which he can use to protect himself and his fellow hooligan friends.  In the course of his army adventures, he even blows the cover of Shin Bet agents possibly working undercover within the settlements to stem such violence.
While it's understandable why it would be useful from an intelligence perspective to coordinate activities and share information between the IDF and Shabak, it's not clear why there would be no impediment for such a low-level figure as Sela to be able to read 15,000 sensitive documents as he did, without hindrance.  Why was there no compartmentalization of such data so that only those who needed it could access it?
Now add this new development into the mix: according to Nana, Sela didn't even have a security clearance.  In normal circumstances, a soldier who is a candidate for a intelligence job will be vetted by the Shin Bet.  They fill out a questionnaire and receive an interview.  Then they are given a security clearance that enables them to see classified material.  None of that happened with Sela.
Which means one of two things: either the commanders of the Etzion Brigade engaged in a major fashla ("fuck-up" in idiomatic Hebrew derived from Arabic) or someone in position of authority deliberately placed Sela in this role knowing what he would do and wanting him to do it.  In other words, the army itself wanted to sabotage its own mission of controlling settler extremism and violence.
Even if we prefer the fashla option, it's hardly less troubling in terms of testifying to IDF dysfunction.  There are ample other examples of major security lapses (most of which are either covered up or ignored).  In the case of Anat Kamm, a woman working in the brigade commander's office had access to classified material in an army computer and was able to copy thousands of pages of documents onto a thumb drive.  The officer responsible for such lax security? Yair Naveh, who was afterward promoted to the second highest position in the IDF. How's that for rewarding a soldier for his incompetence?
Sedki al Maket revealed through his Facebook "spy posts" that the IDF left open doors and gates in the fence separating Israeli and Syrian-held Golan.  Such laxness allowed al Nusra rebels allied with Israel to cross into Israeli-occuped territory.  But it could just as easily allowed Hezbollah fighters to gain easy access to the Israeli-side of the armistice line.