Breaking: Senior IDF Officer Sacked for Media Leaks Identified
There are Israeli reports that the new IDF chief of staff, Gadi Eisenkrot, has sacked a senior officer (Hebrew) for repeatedly leaking sensitive military information over a long period of time to the media.  I can't say why these reports refused to name the officer.  But I will: he is Lt. Col. Eitan Ben Gad, the Operations officer for the army Central Command.  He was under consideration for promotion to full Colonel and the prospective command of a reserve brigade.  However, his history of leaking like a sieve worked against him.
One example of his work is to be found in the reporting of Bibiton reporter Lilach Shoval. In the early phase of Operation Protective Edge, before Israel committed to a ground invasion, an unnamed officer told her that he was distressed by the waffling over what the army should do. He urged the political – military echelon to either invade Gaza and get the job done or sign a ceasefire.
You can imagine no senior commander wants to be second-guessed in this way by a subordinate. Especially not in the pages of Bibiton, the prime minister's personal media mouthpiece.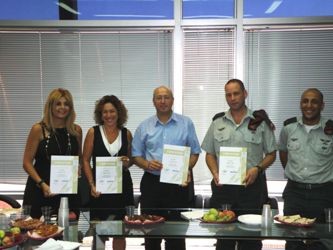 Ben Gad, as so many of the army officer corps these days is a child of the settlements.  In his case, the most incendiary of them all, Hebron, where 500 settlers face off against 25,000 Palestinians.  The Jews goad the Palestinian residents at every opportunity like lions chafing to consume their prey.  The Israeli officer is a product of a mechinah program, Beit Yatir.  A knowledgeable Orthodox Israeli-American friend described mechinot thus:
Note that it is not a hesder yeshiva but a mekhinah, preparatory school, which is much worse, because it combines a year of religious Zionist indoctrination/paramilitary training with a full three-year regular army service and graduates are often fast-tracked into leadership roles in the IDF…The mekhinot were started in order to take over the IDF from within.
This Christian Science Monitor story goes over some of this ground and reinforces the notion that Israeli settlers have created institutions to infiltrate the army and neutralize it as a force that could oppose the settler agenda.  Though of course no settler leaders quoted in the article articulate the mission in this blunt a fashion.  A Reuters story quoted army-related internal surveys showing that in 2010 13% of company commanders are settlers and that the level of Orthodox Jews in officer candidate school rose from 2% in 1990 to 31% as of 2007.  That number would be even higher today.
As a strategy, this is an exceedingly clever one.  The settlers know they are in a minority among the overall Israeli population.  But they understand that the army is the one and only national institution that unites all Israelis.  If the officer corps is sufficiently filled with settlers and Orthodox Jews, then you don't need to take over the country to make your point of view dominant.  You only need to populate the army with commanders who share your views.  Then how will you get the army to evacuate West Bank settlements if that became necessary?  How would the army agree to hand over the keys of Israeli settlements to Palestinians?  At a crucial moment, the refusal by 20-30% of the IDF officer corps to execute orders could paralyze the entire army and, by extension, the nation as well.
Ben Gad holds another distinction: he's listed 48th out of the IDF's "dirty 200" accused of war crimes during Operation Cast Lead.
I do have several concerns regarding cashiering Ben Gad for such offenses: first, every IDF commander leaks to the media at one time or another. They leak to advance their professional or tactical agenda. They leak to gain an advantage over an Arab adversary or an internal army rival. They leak regularly and repeatedly.
So anyone charged with doing what virtually every one else has done is being made a scapegoat. And this is hypocrisy.
The second problem is that media reports accuse Ben Gad of leaking "sensitive security information." I've seen no evidence to support that. He embarrassed his commanders. He pressured them to commit to a plan of action before they were ready to do so. But damaging Israeli security? I think not.
This episode strikes me in some way as a settling of accounts by one party against another. An age-old practice of internecine conflict within organizations.