Jewish Home MK Candidate Directs Settler Rabbi Group Which Adovcated Genocide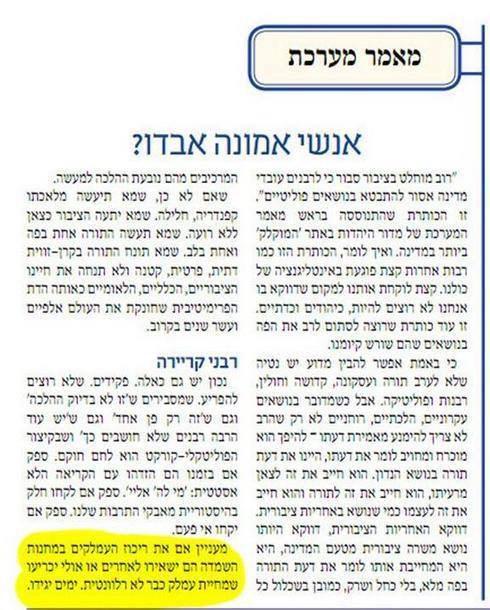 In 2011, I posted the graphic accompanying this post.  It features an article from in a settler newsletter published by a Haredi group called 'Fountains of Salvation' (beware anyone promising redemption either through religion or politics).  It was shocking when I first read it, because it contained the first explicit reference I'd seen to transferring Palestinians to death camps.
I probably shouldn't have been shocked because Israeli poll results show one-third of Jewish Israelis advocate putting Palestinians in concentration camps.  But up to that time, I'd never heard such a person speak of sending Palestinians to death camps.  To those less tutored in the Holocaust, these may seem vague distinctions.  But to a Jew, especially a rabbi steeped in the history of the period, they are not.  A concentration camp was bad enough, but a death camp meant not just individual death, but genocide.
Now, these same settler rabbis have announced they will contest (Hebrew) the Jewish Home party primary for Knesset seats.  Since these are mostly Haredi rabbis, they must overcome a rather strong predilection not to participate in profane matters like politics.  But the leader of this movement, Rabbi Avichai Baron, has persuaded himself and his followers that this is not only permitted, but that it's obligatory in order to save the character of the "Jewish State."
Naftali Bennett, the leader of Jewish Home, has welcomed these new converts to the cause.  He sees them as strengthening the bond between the "periphery" (those communities at the outer edges of the state) and the "center."  In other words, Bennett wants to cement bonds between the settlements and those within the Green Line so that the latter will better understand and support the settlement movement.
But does Bennett know what he's getting himself into?  Does he realize that Baron's group explicitly called for death camps for Palestinians?  Is Jewish Home willing to become the home for genocidal Jewish settlers?  Let's return to the passage I mentioned above.  Here, Baron has an argument with those among the Haredim (referred to as "they") who disapprove of participating in electoral politics because it trivializes or even pollutes the sacred nature of Haredi life.  Then he notes:
It's doubtful they've taken part in any of the historic struggles for the sake of maintaining our culture.  It's doubtful they ever will.

It's doubtful whether they'll leave the herding of the Amalekites into death camps to others or whether they'll decide that the extermination of Amalek is passe.  Time will tell.
This isn't the first time Bennett's party has embraced 'bad merchandise.'  In the last Knesset campaign, one of his American-Israeli candidates, Jeremy Gimpel, "joked" in a Florida synagogue that it was time to blow up the Haram al-Sharif.  I don't know whether this cost or gained him votes, but he never made it to the Knesset (he came close).
This is all part of that wink-wink, nudge-nudge strategy that the polished settler class uses, allowing it to maintain the veneer of democracy, while bearing the fangs of anti-Muslim hate and violence.  Bennett enjoys playing the good cop while underlings like Gimpel and Baron play bad cop.  Similarly, it's a neat trick to get the NY Times to publish an op-ed that politely explains why the two-state solution is dead, while at the same time you harbor the same eliminationist views as the Gimpels and Barons.  It would be on the order of the coup that it would be if the Times had ever published an op-ed by Meir Kahane.  The only difference between Bennett and Kahane is that the latter was a Jewish fascist and proud of it, while Bennett is but will never say it.  The NY Times has the distinction of promoting the scrubbed-clean New Face of theocratic-genocidal settlerism.
A new Galey Tzahal report says that a campaign finance complaint has been filed with the state comptroller against Baron for misusing the donor list of Ma'ayney Ha'Yeshua to solicit campaign contributions for the Bayit Yehudi (Jewish Home) party primary.  Using such lists in this fashion is considered a violation of donor privacy.
H/t to David Sheen.