Obama Farms Out Defense, Foreign Policy to Israel Lobby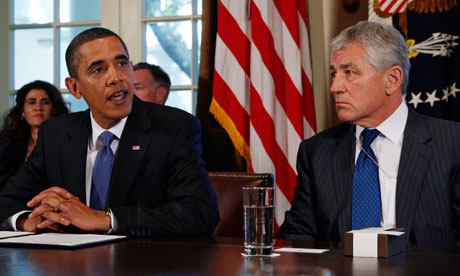 Jewish lobby–Israel lobby, what does it matter?  No matter what you call it, this phantom that has no power and barely exists (if you were to query Josh Block, Bill Daroff, Dennis Ross or other doyens of the Dark Side), has succeeded once again in determining on Israel's behalf, major elements of U.S. military and foreign policy.
At the beginning of Obama's first term, they nailed Chas. Freeman for being insufficiently obeisant to the lobby. Now Aipac and their slime Meisters have managed to douse Hagel in enough goo that it's gummed up the works of the nomination process.
Obama is an exceedingly timid executive, which makes him an easy mark for hard-nosed back room brawlers like Howard Kohr. So his foreign policy is hijacked by the lobby at key junctures, thus giving Israel and the lobby veto power over major appointments and policy considerations they consider vital to their interests.
Obama's mantra is keep your powder dry till you really need it.  In the meantime, by the time Obama determines he really needs to break out the gunpowder there may be no principle worth defending.
Another good man bites the dust. We have people like Abe Foxman, and Jennifer Rubin to thank. And Bibi Netanyahu. In almost ever other circumstance Americans would be shocked and aghast to have U.S. foreign policy vetted in a foreign capital. Apparently, when that capital is Tel Aviv the outrage is modulated into something much more accommodating.
What is also disturbing about this development is that those who declared jihad on Hagel did so claiming he was anti-Semitic because he used the term  "Jewish lobby."  In reality, the lobby took their pound of flesh because he actually had strong views about the Middle East that weren't sufficiently obsequious to the pro-Israel narrative.  He opposed the Iraq War in 2003.  He opposes an Iran war now.  He would likely be even more of a thorn in Israel's side than current U.S. policy is.
For these reasons, Hagel had to go.  So because a man has strong views that don't align with those of the yes-men in the suites of Aipac, the ADL, and AJC, U.S. policy becomes even more pareve than it already is.  Goodbye candor, hello same-old, same-old.