Israel's Anti-Flotilla Jihad: Haaretz Spews IDF Lies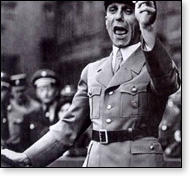 Barak Ravid, ever the trusty stenographer for the IDF and other government sources, continues his tradition of poodle journalism by reporting today's lies the IDF is spewing about the Gaza flotilla.  Here's the latest:
Senior officials in Jerusalem said Monday that Israel has received information that organizers of the Gaza flotilla may be bringing chemical substances on the ships to use against Israeli soldiers to prevent them from boarding the ships.

The senior officials also said that Israel had been notified that several extremists among the Gaza flotilla participants had recently claimed that they intend on "shedding the blood of IDF soldiers."
So if you trace that back, unknown sources reported to anonymous "senior officials" that Flotilla activists were bringing a vague item "chemical substances" on board the ships.  Given his history and recent comments the "senior official" is likely Danny Ayalon.  In an earlier post I wrote, I quoted him saying that he was leading the equivalent of a jihad against the Flotilla and that he would delegitimize it by all means necessary.  What's surprising is that Ayalon is usually so ready to inveigh against all manner of Palestinian in his own name–why couldn't he attach his own name to these charges?
The "chemical substances" could mean sunblock, prescription medicine or any number of items that contain chemicals in them.  As for whether the substances are intended for use against the IDF…gimme a break.  Do you think the boats are going to allow a passenger to bring pepper spray aboard?  Or perhaps the IDF is afraid those aboard the ships may slip a date rape drug to one of the commandos (apparently Yoav Even's preferred M.O. for raping P.), thus rendering him unconscious??
I'm researching this claim as well, which I'm virtually certain will come up empty once it's nailed down:
Israeli officials claim that two activists participating in the flotilla have connections to Hamas. They named the first one as Amin Abu Rashad, who they claim is one of the head Dutch organizers for the Gaza flotilla and had served in the past as the head of the Hamas' Charitable Foundation in Holland. The foundation closed down following Dutch authorities' probe into its involvement in funding terror activities.

The second activist is Mohammed Ahmed Hanon, which Israel claims is a Hamas activist who stands at the head of the ABSPP, which is involved in transferring funds to terrorists.
All this sounds suspiciously like material being funneled to the Israeli government by those crackerjack anti-Flotilla hasbarists of Shurat HaDin & elsewhere mobilized for just this eventuality.  Which means the government is using sources whose information they don't vet for accuracy.  They might as well employ a thriller novelist to write the press releases for them, as what they're disseminating is about that close to fiction (and bad fiction at that).
I seriously doubt Hamas had any charity in Holland.  What they may mean is that Holland closed down an Islamic charity there, although I wouldn't even trust that part of the account to be accurate.
As for ABSPP, and to whom it transfers funds, by the standards of the IDF and the hasbarasphere, anyone who raises any funds from the world Muslim community is likely dallying with terrorists.  I'm afraid that I'll have to wait to learn who actually this group funds before I decide that it's a terror front as the MFA would have you believe.
Given the history of the IDF and MFA and the lies they spin so readily, I wouldn't trust this story as far as I could throw it.  I'll report on further research.