Settler Pogrom in Yasuf, Mosque Burned with Quran
B'Tselem provided me with this poignant image of the devastation wrought by thuggish settlers from the settlement of Tapuah, who torched the mosque of the West Bank village of Yasuf.  You can read the horrible words about what these brutish Jews did, but nothing conveys it better than an image like this.  Where have we seen the charred letters of prayer books before?  Among those of burned Polish synagogues of course during the Holocaust.
I'm also reminded of another powerful Midrash about the burning fragments of our own sacred Torah and the role they played in a historic event of Jewish martyrdom at the hands of the cruel Romans:
The fourth martyr was Hananiah ben Teradion, who was wrapped in a scroll of the Law and placed on a pyre of green brushwood; to prolong his agony wet wool was placed on his chest…His disciples then asked: "Master, what seest thou?" He answered: "I see the parchment burning while the letters of the Law soar upward."
I hope the pogromists are proud that they have adopted the tactics of the worst of our historic Jewish assailants.  This hooliganism is given the name "price tag" by the Hilltop Youth who engage in it. I ask: how long with Israelis be willing to pay the price?  When will the price on the tag be so high that they will turn away in revulsion?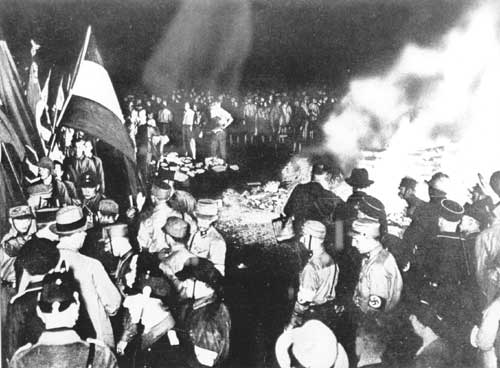 Interesting that American Jewish pro-Israel forces seem to have developed a thin veneer of conscience about this event.  Either it troubles them enough, or more likely the images are so powerful and damage it does to Israel so strong, that they've found it useful to condemn the conflagration at Yasuf.  "Round up the usual suspects," I hear them say in the words of Capt. Renault in Casablanca.  These groups are about as committed to getting to the bottom of this heinous crime as the Nazis were in that famous film.
A few of you will no doubt chide me for my cynicism.  But let's put it this way: how many of these groups will be sending volunteers to rebuild that mosque and restock it with Muslim holy texts?  How many will be standing guard to prevent the next Jewish pogrom there?  I know that Peace Now will be there as I assume will some other Israeli human rights groups.  But will there be any representative of the Orthodox movement, ADL, AJC?  When they take this sort of Jewish hate seriously enough that they're willing to actually DO SOMETHING about it rather than write a press release, then I'll know that change has come.