Israel Pimps for New Middle East War
UPDATE: In the course of the day, Israel launched massive retaliation raids inside Syria which targeted eight Syrian and four Iranian military sites.  The raids came in retaliation for Syria's downing of an Israeli F-16 yesterday.
In response to the massive Israeli incursion Russia, whose anti-aircraft systems were probably responsible for downing the war plane, warned Israel not to overstep:
Moscow said the Israeli airstrikes on Syrian bases potentially imperiled Russian military advisers stationed there. "The creation of any threat to the lives and safety of Russian military servicemen currently in Syria on the invitation of its lawful government to help fight terrorists is absolutely unacceptable," the Russian Foreign Ministry said in a statement.
Putin is warning Netanyahu that there is a red line and that whatever plans he has against Iran better avoid harming Russian interests.  The problem is that Russia and Iran's interests in Syria are aligned.  That makes Israel a potential Russian enemy if it really lets loose inside Syria.  This could become "interesting."
In contrast, the U.S. has released a statement from a State Department underling undersecretary decrying the escalation and blaming Iran.  Clearly, either Trump is distracted or this is a low priority issue for him.  This is a perfect example of how a tinderbox region can explode when a U.S. president is asleep at the switch.
*  *
The Jewish Forward and former IDF PR flack Lt. Col. Peter Lerner make such a lovely couple…of shills for Middle East War.  The Forward, in its new guise as a
gossipy Jewish media version of Buzzfeed
, has published a snappy article by Lerner pimping for a new Middle East war,
Did Iran Just Start a War with Israel?
Let's start with the useful information Lerner offers (it isn't much, but it is something): Iran launched a sophisticated new stealth drone from inside Syria which crossed the frontier (to have a frontier you need a border which, thanks to Israeli rejectionism, there is none defined) into Israel.  It was shot down after flying 90 seconds into Israel by an IAF Apache helicopter.
Big bad Israel doesn't truck with such nonsense from puny frontline states like Syria or its Iranian allies, so the American-made F-16s were summoned to teach the little Arab sh*ts a lesson.  The war planes struck at the sites which supposedly launched the drone (though why the Iranians wouldn't have had plenty of time to scatter and hide their launch vehicle after the drone was launched, I don't know) destroying it.  Lerner, being the good IDF poodle he is, even offers advanced video from the tip of the very Israeli missile which allegedly took out the mobile launcher (though he offers no proof that the video is of the actual event he claims).  We don't see the launcher destroyed because, presumably the video camera was destroyed when it hit the target.  Again, this is all supposition based on Lerner's word, which isn't worth a bucket of warm piss (I love old American political sayings!).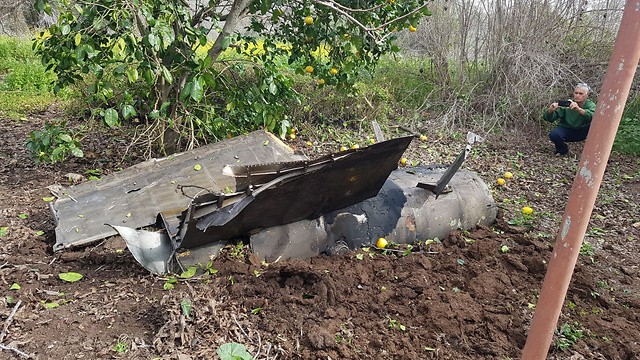 Then the plot thickens considerably when the Syrian air-defense, operating Russian-built missile systems, sprang into action and launched a barrage at the attacking F-16s.  For the first time in several years, during which Israel routinely attacked Syrian targets with impunity, the Syrians hit their target and downed a war plane, which crashed inside Israel, severely wounding one pilot and lightly wounding the other.
Though the wounded pilot's name has not been released, an Israeli media site reported his name is Oded Karmon, 35.  The site has taken down the article, probably because military censorship forbids the publication of IAF pilots' names.  At least one reason for this prohibition is that Israel does not want to see its pilots arrested in foreign capitals and hauled before the dock in the Hague for war crimes.
This is outrageous from an Israeli perspective: an Arab state actually fighting back and drawing blood on Israeli pilots and a plane worth tens of millions?  Something not to be countenanced.  That's why the military PR machine sprang into action and deployed Lerner to lay on the hasbara sh*t very thick.  The very notion that a bunch of Arabs would violate Israeli air space and then down an Israeli plane is simply intolerable.
So, despite the fact that Israel has been routinely assassinating Syrian, Hezbollah and Iranian commanders for years with similar attacks on Syrian soil; that it has routinely bombed weapons convoys inside Syria; that it has routinely shot down Syrian war planes which momentarily and accidentally crossed Israel-occupied Golan–all this amounts to nothing because, after all, it is Israel.  Tiny, pure Israel whose actions are always justified, who is always the victim.
Despite Israeli military firepower (it is ranked the 11th strongest army in the world), much of Israeli military strategy consists of smoke and mirrors.  An Israeli war with Iran?  Hardly.  Because Israeli planes invading the territory of a foreign country are shot down, Netanyahu is going to attack Tehran?  Actually, in this political climate he could, and get away with it.  Trump will, if anything, applaud him.  The UN would stand by helplessly. While the Sunni states cheered.
But even Bibi isn't stupid enough to go there (or is he?).  That's why Lerner's headline is a bunch of war-mongering nonsense; and why the Forward is guilty of pimping for a new Middle East war.  That is unforgivable in the current incendiary climate in which a single match could start a regional conflagration.  But why should Jane Eisner care?  She has her nice Jewish trivia listicles to tend…
And here's the real kicker: keep your eye on Israeli domestic politics because that clearly factors into the equation of current events.  Bibi Netanyahu is about to be hit by an Israeli police recommendation that he be indicted on corruption charges.  And that's only the first of four cases against him.  He could be indicted on all of the other charges as well, though it's a bit early to tell.
What goes better with a potentially fatal criminal probe against an Israeli prime minister than a nice little war to liven things up, united the populace against a foreign enemy, and distract them from the greedy little bugger sitting in the PM's chair??  And don't you dare think for once that Bibi isn't capable of thinking in such terms.  He is and he does.
NOTE: Reddit is one of the strangest online information portals imaginable.  Some subreddits like r/Palestine welcome wide-ranging discussion and others like r/Israel and r/IsraelPalestine censor opinions that aren't fully in accord with the prevailing wisdom, as represented by the prejudices of the moderators.  Today's and yesterday's posts were submitted to r/Syriancivilwar and summarily rejected and removed by the moderator because they "offer no new information."  Yet another moderator said my post was "opinion," and gave me a formal warning.  This is clearly bogus, as I pointed out the perspective I offered was actually new and not generally covered in the MSM.  What "yankeedoodle," the moderator really meant to say, but couldn't or wouldn't, is it offered no new information he approved of.