Syria Downs Israeli War Plane…and This Time, It's True!
בישראל מבינים שמדובר באיתות חמור מצד איראן ולא בכדי בחרו לבצע את התקיפות. הפלת המטוס זו הצלחה כבירה לצד השני. גם אם יתברר כי המטוס נפל כתוצאה מתקלה טכנית הסורים והאיראנים זכו בהישג אדיר של הפלת מטוס קרב ישראלי. הטייסים בריאים בדרכם לבית חולים בצפון לבדיקות. @arutz20

— 🇮🇱 נועם אמיר (@noamamir74) February 10, 2018
I wrote that headline since, for the past two years or more, propagandists or spinmeisters wanted so badly to see Syria down an Israeli plane that, by now, they've downed half the Israeli air force.  I can't tell you how many times I had to tell people querying me on Twitter: no, no one shot down any Israeli plane.
Till today.  The Syrians have done something they've never been able to do before despite scores of Israeli aerial attacks inside their territory.  An Israeli F-16 was shot down by a Syrian air defense system within the past hour.  The two pilots parachuted to safety and have been recovered by Israeli forces.  However, Haaretz is reporting that one of the airmen was "severely injured." The plane crashed in the lower Galilee, inside Israeli territory.  I have not  yet heard where the plane was located when the missile hit. If it was already inside Israeli territory then it will further exacerbate Israeli anger.
The entire incident was precipitated when Iranian forces flew an Iranian-manufactured drone (English language report) from Syria into Israeli-occupied territory.  In response, Israel launched an air attack inside Syria on Iranian military positions.  That is how we've come to this juncture.
This event tells us a few important things: first, that Syrian air defense has become much better than it's been in the past; that Israeli counter-measures failed to jam Syrian air defense systems–a major technical failure; Syria could not have done this without the help of its Russian ally, who provides much of the air defense hardware the Syrians operate.  Anshel Pfeffer has tweeted that Israeli is taking pains to point out the missile was "Syrian," which means they seek to avoid dragging Russia into the mix.  Even though the entire air defense system is Russian, including the missiles.
Israeli military sources are insisting that the missiles fired against IAF aircraft which shot down an F-16I was "definitely Syrian." At this point looks like they are trying to contain fallout and make clear that Russian forces weren't involved.

— Anshel Pfeffer (@AnshelPfeffer) February 10, 2018
My guess is that Israel plans on exacting massive retaliation on the Syrians and doesn't want to have anyone ask: what about the Russians? Why don't you make them pay a price too?  Israel is terrific at pummeling countries (e.g. Gaza) which can't put up much of a fight.  But countries that could fight back and exact a stiff price?  Not so much.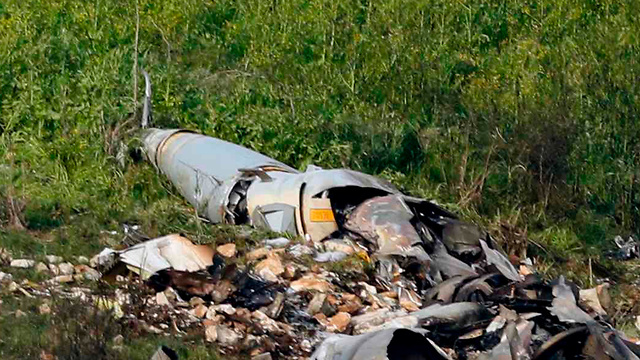 I'm unclear why the Israeli journalist who tweeted above in Hebrew credits Iran with this "achievement." Though the drone was Iranian, it's highly unlikely Iran had any hand in downing the plane.  Further, the fact that RT was the first media outlet to report the story is no accident.  RT reported it because Russian military and intelligence forces were among the first to know it had happened, I suspect.
As Netanyahu just returned from a visit to Russia to coordinate with Putin regarding Russian and Israeli operations in Syria, this could be Putin's "Nyet" in response:
On a January 30 visit to Moscow, Putin at his side, Netanyahu said, "The most important thing I think is to make sure that we understand each other and that we don't shoot down each other's planes. And we decided to do what is called in this awful jargon deconfliction, which means not shooting each other. And we established a mechanism to do that, and that mechanism holds secure."
Whatever Bibi hoped would come of this meeting doesn't appear to have happened.
The Israeli hawks have, over the past week, rattled sabers in the north claiming Israel would not countenance any menacing presence on its Syria border.  By which, they specifically meant Iranian meddling.  The drums of war are pounding.  In response to the jet crash, Israel has warned that Iran will "pay the price" for its recklessness.  That may sound ominous.  But I think the Iranian military is responding by saying: "So what?"  We are in a very dangerous phase.  And if it leads to war, this will not necessarily benefit Israel, despite what Bibi and his generals would have us believe.
Israel does not want both Hezbollah on its Lebanese border and Iran on its Syrian border, menacing its northern flanks.  To that end, Netanyahu has spent enormous amounts of time inveigling Putin to ditch his Iranian friends and turn his back on their mutual alliance with the al-Bashar regime in Syria.  Though the Russians and Israelis have managed to stay out of each other's way in Syria, Putin has refused to abandon his Syrian and Iranian allies.  This may be a turning point.
If this report is true, then Israel's military dominance has once again been tested and found wanting.  It's ability to impose a Pax Israeliana on all of the Arab frontline states has once again been put in doubt (as it was in 2006, when it failed to trounce Hezbollah in the Lebanon War, as it had promised).
Finally, it's important to note that Israel has not yet confirmed or denied the plane was shot down.  But the fact that so far it has not said it crashed due to technical failure (which is what it would very much like to do if it were true) is significant.