Media Reports About "First" Joint Israel-U. S. Military Base are False
Beginning with a misleading Defense News report on a new U. S. military facility located in an Israeli air base, world media have falsely reported that it is the first such joint operation in the country.
Here's what Barbara Opall Rome wrote:
… The new U.S. base marks the first to be co-located within an Israeli base…
That's actually not true.  It may be the first publicly acknowledged joint base, but it isn't the first.  That status goes to the secret NSA listening post located inside the IDF Unit 8200 base called Ofrit.  Ronen Bergman offered the original report about the base, which I enlarged via my own reporting.  This site is, as I reported back in 2014, in occupied East Jerusalem, which means that the NSA has a U.S. base on occupied Palestinian land without having the permission of Palestinian authorities.
When I pointed out her error, Opall-Rome tweeted that I'd misread her article.  But when I noted the quotation above, she never replied.
In Opall-Rome's report the U.S. military makes a more accurate statement about the nature of the new base:
Referring to the site as Site 883 Life Support Area, [U.S. commander] Gronski said the planned base "signifies the strong bond" that exists between the United States and Israel.

"This life support area represents the first ever stationing of a U.S. Army unit on Israeli soil…"
U.S. media has rather sloppily reported that the new facility is the first ever joint Israeli-U.S. base.  The Washington Post headline says:
"Israel and US open first American military base in Israel"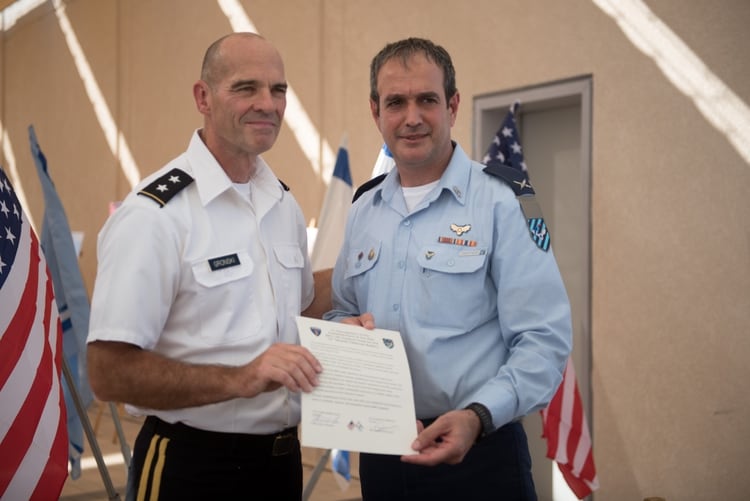 Needless to say, not a single story of any kind noted any skepticism or criticism about this development.  While critics of U.S. policy have long derided the overly cozy relationship between the Israeli and U.S. militaries, including our supply of armaments like white phosphorus, cluster bombs and DIME which are illegal under the laws of war, you wouldn't know it from any of this reporting.  U.S. peace activists and even Israelis have long called for a reduction or end to Israel's reliance on U.S. aid, especially military aid; and this new base flies in the face of such warnings.
Further, the U.S. and Israel have quite different interests in general and in the Middle East in particular.  By putting our own eggs into Israel's basket we're confusing the matter.  How, for example, should the U.S. military stationed inside Israel react if the IDF attacks Iran against the wishes of the U.S. government?  Of course, if Israel did this under a Trump administration there would be no opposition.  But under previous administrations, Israel was denied permission to attack Iran.  If future U.S. administrations return to sanity, what happens then when Israeli fighter jets are launched against Tehran?  And will we be able to blame the Arab media, which will point to such military collaboration and say: "The U.S. had to know and approve of this attack."  At that point, we will be putting our own diplomats and military personnel in far greater jeopardy as targets of those who are victims of Israeli aggression.