Does Being 'Zionist Feminist' Mean Betraying Women for Israel?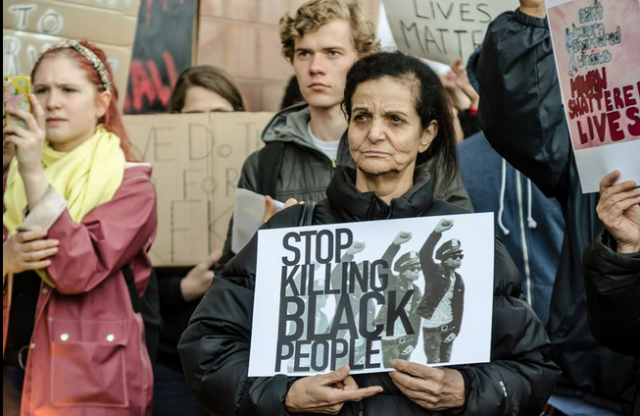 Yesterday, I wrote a critique of Emily Shire's diatribe against the Women's Strike Day USA protest.  She especially singled out platform statements supporting Palestinian rights.  Shire, a professed Zionist feminist, dismissed the criticisms of Israeli Occupation contained in the event platform as irrelevant to the issue of women's rights.  Then she launched into an attack on one of the conveners of the Strike Day, Rasmea Odeh.  Shire alleges that Odeh is a convicted terrorist and former member of the Popular Front for the Liberation of Palestine (PFLP), a U.S. designated terror group.
A comment Deir Yassin published yesterday here got me to thinking further about this issue.  I researched Rasmea's case and the torture she endured.  My view is this is precisely the sort of case and individual any women's movement should embrace.  Here is a summary of the facts of the case.   In 1969, a cell of the PFLP planted bombs at a Jerusalem Super-Sol.  They exploded, killing two Hebrew University students.
Afterward, security forces arrested Odeh and jailed her without charges or access to counsel.  She was tortured, by her account, for 45 days.  Here is how she described her treatment in testimony to a UN commission on torture in Geneva:
…"They beat me with sticks, plastic sticks, and with a metal bar. They beat me on the head and I fainted as a result of these beatings. They woke me up several times by throwing cold water in my face and then started all over again."

In addition to this physical torture, Odeh also faced sexual torture. Her father, a U.S. citizen, was also arrested and beaten, "and once they brought in my father and tried to force him under blows to take off his clothes and have sexual relations with me." Later, interrogators "tore my clothes off me while my hands were still tied behind my back. They threw me to the ground completely naked and the room was full of a dozen or so interrogators and soldiers who looked at me and laughed sarcastically as if they were looking at a comedy or a film. Obviously they started touching my body." In her father's presence, interrogators threatened to "violate me" and "tried to introduce a stick to break my maidenhead [hymen]." Shackled naked from the ceiling, interrogators "tied my legs, which were spread-eagled, and they started to beat me with their hands and also with cudgels."
Every method described in her account is known from previous descriptions of the treatment of Arab terror suspects.  We know, for example, that Doron Zahavi, an IDF AMAN officer, raped Mustafa Dirani in Prison 504.  The beatings and positions she describes are also previously described in testimony by the Public Committee to Prevent Torture in Israel.  Therefore, it's not just conceivable that Rasmea endured the treatment she claims, it's almost a certainty.  Especially given that two Israelis were killed in the bombing.
In summary, the Shin Bet tried to force her father to rape her.  The interrogators themselves raped her and further degraded her sexually.  And her father was tortured as a means of compelling her to confess.  If this isn't a perfect portrait of a cause that all feminists should embrace, I don't know what is.  So when Shire claims that Palestine is the farthest thing from what Women's Strike Day's mission should be, she's engaging in willful blindness to the plight of another woman.  A woman who happens to be Palestinian.
Rasmea was tried and convicted in an Israeli military court, which features military judges and prosecutors using rules that favor the prosecution and shackle the hands of the defense.  It can rule any evidence secret and so prevent the defense from seeing it, let alone rebutting it.  Such a conviction could never withstand scrutiny under U.S. criminal procedures or even Israeli civilian courts.
Further, Shire justifies her denunciation of Odeh by noting that Israel denies torturing Rasmea.  So you have an Israeli security apparatus which is well-known for lying when evidence against it is damning.  And you have Rasmea's testimony, supported by scores of accounts by other security prisoners as to their treatment under similar circumstances.  It reminds me of the story of the husband who returns home to find his wife in bed with another man.  The man jumps out of bed and says: "Hey, this isn't what this looks like.  Nothing happened.  I swear it.  Who are you going to believe?  Me, or your lyin' eyes?"  Emily Shire prefers to believe the agency that lies to her with a straight face.  In doing so, she shows that she is a Zionist first and foremost; and a feminist second, if at all.
As for the citizenship application infractions which the Justice Department is exploiting in order to expel her from the U.S.: she had been tortured once by Israel.  Her decision to hide her previous conviction was surely founded on a fear that she might be deported once again back to Israel or Jordan (where Israel had sent her after her release from prison).  The Jordanian security apparatus collaborates closely with Israeli intelligence.  The former is quite handy with torture itself.  Further, the U.S. judge in her first trial prohibited her attorney from raising torture as part of her defense.  Her second trial will explicitly permit such testimony.  Though I'm not privy to the defense strategy, I hope it will demand that a Shabak officer who participated in her interrogation testify at trial.  And if his testimony diverges from the truth, I hope there is means to document this and hold him accountable.  It would be one of the first times such an agent would be held accountable legally either inside or outside Israel.
In the attacks against Rasmea, it's certainly reasonable to bring up her participation in an act of terrorism: as long as you also examine the entire case against her.  She admitted participation in the attack.  But she denied placing the bomb in the supermarket.  Despite her denial, this was the crime for which she was convicted.  Further, Rasmea was released after serving ten years as part of a prisoner exchange.  If Israel saw fit to release her, what is the point of using her alleged past crime against her today?
As for her membership in a terror organization, she has long since left the militant movement.  Her civic activism is solely non-violent these days.  Further, virtually every leader of Israel for the first few decades of its existence either participated directly in, or ordered acts of terror against either British or Palestinian targets.  Why do we grant to Israel what we deny to Palestinians?
It may be no accident that two days before Shire's broadside against the U.S. feminist movement (and Rasmea) in the NY Times, the Chicago Tribune published another hit-piece against her.  The latter was credited to a retired Chicago professor.  Her bio neglected to mention that she is also a Breitbart contributor who is the local coördinator for StandWithUs.  This sin of omission attests either to editorial slacking or a deliberate attempt to conceal relevant biographical details which would permit readers to judge the content of the op-ed in proper context.
The Tribune op-ed denounces Jewish Voice for Peace's invitation to Rasmea to address its annual conference in Chicago later this month.  As I wrote in last night's post, what truly irks the Israel Lobby is the growing sense of solidarity among feminist, Jewish, Palestinian, Black and LGBT human rights organizations.  Its response is to divide by sowing fear, doubt and lies in the media.  The two op-eds in the Times and Tribute are stellar examples of the genre and indicate a coordinated campaign against what they deride as intersectionality.