Israeli Mothers-to-Be Crave IDF Warrior-Sperm
If I didn't know this story (Hebrew) was true, I'd bet it was made up out of whole cloth.  But, alas, in latter-day Israel, the truth is stranger than any fiction a satirist can invent.
Mako reporter, Shimon Ifergan, bless his heart, decided this was a terrific human interest story.  After all, what could be better than combining fertile mommies, baby-making, sex (even if it's just masturbating into a cup), and young IDF warriors.  Far better than motherhood and apple pie–the American equivalent!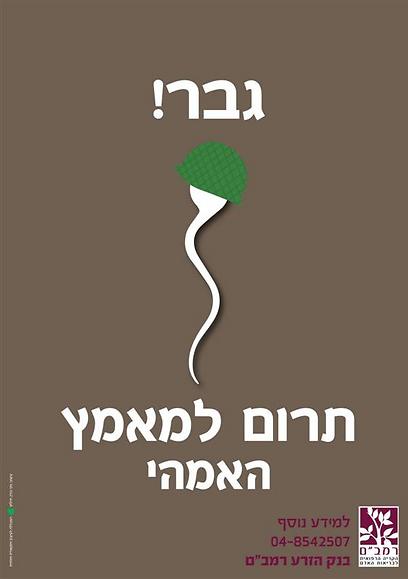 The intrepid Ifergan traipsed to Israeli sperm banks and dutifully recorded interviews with staff who regaled him with stories of mommies-to-be approaching them clamoring for the seed of true Israeli warriors.  These ladies preferred not just any seed, but the best of the best: the soldiers who serve in the elite combat units like Shayetet 13, Sayeret Matkal, air force pilots, paratroopers, or in the vaunted intelligence unit, Unit 8200.
As the director of the Rambam Hospital fertility lab put it in a similar Yediot story about women seeking men who'd served during Operation Protective Edge:
It appears that the military operation and the many stories [of heroism] we were exposed to sharpened certain insights in those [women] who are turning to us.  Part of this business also points to desired qualities in the [sperm] donor.  Here we get into the criterion of military service which attests to what sort of man [he is].  We're speaking of qualities like perseverance, decisiveness, assertiveness, and the willingness to serve, etc.

A man who's served in battle is characterized as someone with impressive physical qualities, ensuring he has genes desirable to women.  This means he will likely be in good physical shape, good health, etc.
Returning to the Mako story: sperm donation offers a good deal for the guys (no, not getting to beat-off into a plastic cup with the help of girlie magazines), who earn $250 per session. One of these Israeli Hercules notes:
In what other job would you be paid $250 for a half hour's work [ed., apparently he's the slow, silent type]?
In a good month, these onanists can earn nearly $700 for doing what comes naturally to young men (and not so young as well).  For them, it's not motivated by the desire to help a woman conceive.  Rather, it's purely an economic calculation, says the article.  Soldiers salaries are pitiful and they barely make enough to keep themselves in cigarettes.  So sperm donation enables them to enjoy life a bit.
For the women, they believe that inseminating the sperm of these young gents will offer their offspring all the supposedly excellent genetic qualities of the donors; which presumably are guaranteed by their military service.
If this isn't' the most cock-eyed articulation of Mendel's theories of the propagation of the species, I don't know what is.  These women don't stop to think that they might be producing the next generation of Israeli war criminals: the generals who will drop the bombs on Palestinian children, the assassins who will murder the next Palestinian in his hotel bed.  They don't stop to think that military service guarantees nothing.  Do they think that serving in the IDF guarantees they will produce little Samsons and Ari Ben Canaans??
An unnamed source tells the reporter:
Apparently, the Operation aroused in these women decidedly right-wing ideological views, uber-patriotism, and feelings of deep national pride.  The stories of battlefield exploits and courage the soldiers showed during their service in Gaza only increased the desire of these women for the sperm of soldiers who fought there.

…Service in a particularly desirable unit makes a big impression on them.  They prefer the sperm of those who've served in the specially-chosen combat units or intelligence, rather than those who served as desk jockeys…

The women believe that men serving in special units or covert operations inherited their skills from their parents [and will pass it down to their offspring], and this ignites their [the womens'] imagination.
If you're one of these fellas reading this, you can read Yediot's article, which offers a sperm bank phone number to begin making your contributions to the next generation of the warrior race!
In the interests of full disclosure, my wife and I conceived with the help of a fertility clinic.  We had the experience of choosing a donor to help us conceive and the notion that you will produce a child genius or star athlete, or Nobel Prize winner through carefully culling through the genetic profiles of donors is ridiculous.  If you are smart, all you care about is getting the egg or sperm of a healthy person who has average intelligence.  After all, what are we aiming for here?  Creating the Master Race?  And even if you wanted to, would this guarantee it?  Of course not.  The odds are just as great that you'll produce a Frankenstein or a golem as an Einstein, a Patton or a MacArthur.