Israel's Auto Da Fe Against Mordechai Vanunu Continues
In considering the ongoing Judeo-crucifixion of Mordechai Vanunu by the Israeli secret services, I'm reminded of the infamous Peter Brook Broadway production from the 1960s: The Persecution and Assassination of Jean-Paul Marat as Performed by the Inmates of the Asylum of Charenton Under the Direction of the Marquis de Sade.  Of course, in this case the title would be: The persecution and character assassination of Mordechai Vanunu as performed by the inmates of the asylum of Israel under the direction of the Marquis de Shin Bet.
Vanunu worked at the Dimona nuclear reactor from 1976 to 1985, where he was a nuclear technician.  He was born to a poor Orthodox Jewish family in Marrakesh, Morocco.  After an outbreak of anti-Semitism, his father decided to make aliyah and move the family to Israel in 1963.  The government sent them to the then-small, impoverished Negev town of Beersheva, where in the first year it lived in a wooden hut without electricity.
Eventually, he served in the IDF, reaching the rank of sergeant major and serving in 1973 War.
Later, after he began working at Dimona, he also decided to enroll in Ben Gurion University in order to complete his undergraduate degree.  In the course of his studies, interactions with other students, and travels abroad, Vanunu developed decidedly left-wing views and formed a peace activist group on campus.  This led to several investigations against him by security personnel and one attempt to lay him off, which failed.  In 1985, the plant announced a staff reduction and he was once again laid off.  But before his job ended he smuggled a camera into the plant and took 58 photos of the equipment and facilities.
He left Israel and traveled to the Far East, where he met a journalist who persuaded him to tell his story publicly.  Eventually, the Sunday Times agreed to publish it, offering the world the first glance behind the walls of the Dimona nuclear reactor.  Israeli security services were shocked and dumbfounded that an Israeli would betray the nation's golden treasure to foreigners.
In 1986, Vanunu was lured by a female Mossad agent in a honey pot operation to Italy, where he was kidnapped by the Mossad, which drugged him and spirited him off to Israel secretly.  As I've noted here before, there have been numerous other similar kidnapping operations of high level Israeli targets including Adolf Eichmann and Alexander Israel.  Palestinian targets like Khaled Meshal and Mahmoud al-Mabouh aren't as lucky.  They're simply poisoned to death.
Vanunu was secretly tried, convicted and sentenced to 18 years in prison.  Eleven of those years he was in solitary confinement.  The prison regimen was so strict that he never saw another human being, not even prison personnel.  When he took exercise in the prison yard there were not only no other people about, all the windows were covered so no one could see him and he couldn't see anyone else.
He completed his sentence eleven years ago.  But the terms of his release are ridiculously punitive.  He may not speak to journalists.  He may not meet more than two people at a time.  And he may not meet with anyone for longer than 20 minutes.  He also may not leave the country, despite the fact that he married a Norwegian woman three months ago and wishes to emigrate to Norway.
Clearly Vanunu hasn't seen the inside of a secret Israeli facility in 30 years.  He has no secrets that he hasn't already revealed.  Nor has he been charged with any new offenses (other than breaking terms of his release).  Security officials claim that he is a grave danger to the security of because he may reveal secrets that he doesn't even know that he knows.  This may sound bizarre to the uninitiated in the strange ways of the Israeli secret police, but the same argument was offered against permitting Marcus Klingberg, another infamous Israeli "traitor" who spied for the Soviet Union for nearly three decades.
The difference between the two men: Vanunu, the Mizrahi, was denied the right to leave Israel.  Klingberg, the well-educated Ashkenazi who served his country as an expert in biological weapons, was released and emigrated to Paris, where he now lives.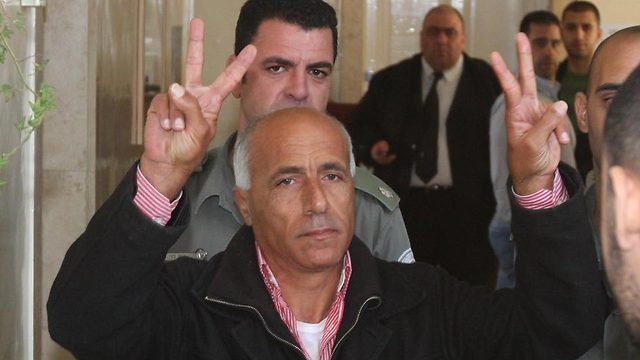 Another disgusting element of Israeli coverage of Vanunu's story is that he's consistently called a "spy."  Klingberg was a spy.  He spied for a foreign country.  Vanunu was not a spy.  He received no financial benefit for what he did (as he makes clear in the interview above).  He had no foreign master, spied for no intelligence agency.  He exposed Israel's nuclear secrets because he believed Israelis should know what their state was doing in their name.  He believed Israeli nuclear weapons would endanger the Middle East and the world.  He determined to blow the whistle on this project.  We have a name for this: whistleblowing.  We call Snowden and Assange (though less so) heroes for their courage in exposing dirty secrets.  Vanunu deserves no less credit.  He is not a traitor or spy.  He is an Israeli hero.  As another famous Jew said: "A prophet is not without honor" except among his own countrymen and women.
When Vanunu's lawyer, Avigdor Feldman, agreed to a proposal by Channel 2 to interview him for the first time before an Israeli audience, he thought it would "crack open the iron mask that they'd placed on him."  The interview was filmed and then submitted to the Israeli military censor.  Some material was cut by the censor and the approved material was aired last week.  The interview caused a sensation: first, because Israelis had never heard him speak before.  To them, he was a the devil painted by the security services: a cranky, angry, mentally ill traitor.  Despite a querulous, clueless interviewer who asked largely inane questions, when viewers saw him, they realized he was a man who held to simple, stubborn beliefs of right and wrong.  A man who disdained all the material comforts other Israelis chased after; and who was willing to suffer for those beliefs.  The public may not have become fans, but at the least they understood his motives better.
The Shabak, of course, didn't see it that way.  The day after the broadcast they stormed into his home and confiscated his computer.  He was brought in for interrogation, though a judge eventually released him to house arrest, which will remain in force for a week.  The State prosecutor has demanded all the raw video footage of the interview.  This is unprecedented in the history of media relations with the secret services and Channel 2 has refused the demand.
The spooks cannot arrest him for the interview because nothing in it violated government secrecy.  So they need the raw footage to find what the censor deleted.  Then they can say: the censor prohibited it because it contained secrets.  Now we'll nail you to the wall for once again endangering the security of the state.
They hate Vanunu.  He is, as I wrote, stubborn.  He is not repentant.  He is not broken despite the best efforts of his jailers and all the others persecuting him.  If he would only express remorse like those Chinese or Iranian sacrificial lambs whose "confessions" are aired on national TV.  Then they could tell the world they beat him.  But he won't let them win.  And this enrages them no end.
Now, the goons have upped the ante.  They've leaked a story (Hebrew) to Mako, a news portal affiliated with Channel 2, claiming a Palestinian prisoner personally witnessed notes that Vanunu wrote offering the names of the Dimona plant workers and blueprints of the facility.  He allegedly passed these notes on to the Palestinian security prisoners who likely spirited them off to the Hamas Politburo, I presume.  The reporter claims the prisoner is a "highly reliable source," but offers no name nor any bona fides that confirm his authenticity.
There are numerous holes in this story wide enough to drive the proverbial Mack truck through.  First, the reporter confirms Vanunu was in solitary confinement during the period when the prisoner saw the notes.  There is no possible way he could've written notes, let alone smuggled them to Palestinians.  Further, if a Palestinian prisoner knew about these written notes the prison authorities would've known of them as well.  And even if they didn't know at the time, they certainly would've learned about them before Mako's reporter did.  As Avigdor Feldman notes, Vanunu has never been questioned or charged in connection with these alleged documents.
Feldman believes that there is no Palestinian prisoner, but that this story is a direct leak from the Shabak, seeking to further impeach Vanunu in the court of public opinion.  In the mindset of the security goons, Vanunu made a favorable impression on TV and the security state must strike back any way it can to put things in balance.

The problem with the Shabak's approach is that its smears have become worse than any crime Vanunu may've committed.  As Avner Cohen argued in the interview featured here, the ex-Dimona technician has paid his price.  If Israel is a democracy that believes in the rule of law, then once freed a prisoner must be allowed to resume a normal life.  A state can't imprison a citizen forever simply because security officials wish it.  That, I remind readers, isn't a democracy, it's a police state.
In October, the Israeli Supreme Court will hear Vanunu's appeal of the decision to deny him the right to emigrate.  This Court is no longer the bastion of human rights it once was.  So I'm dubious that justice will be done.  But I plan on doing everything in my power to ensure that the justices understand that the world is watching.  And that the world expects real justice, as opposed to security dictat, to be done.
NOTE: My latest Mint Press News story deals with the Jewish Forward editor who visited Iran last month and wrote a riveting, unvarnished story about life there.