Netanyahu: Today's BDS Enemies Are Like Those Who Accused Us of Drinking Blood of Little Children
You'd think that Israel's victory in the FIFA battle against Palestine would make Bibi Netanyahu sit back on his laurels and bask in the thrill of international victory.  Instead it's done just the opposite.  Instead of victory, from his response at today's weekly cabinet meeting, you'd think that Israel was about to be overrun by hordes of anti-Semitic Cossacks and scimitar-wielding ISIS killers.
Instead of engaging with criticism or grappling with the arguments of opponents of Israeli apartheid, he once again resorts to the lachrymose theory of Jewish history propounded by his father, the Jewish historian, Ben Zion Netanyahu:  They hate us.  They all hate us.  It doesn't matter what we do.  They don't care about that.  They hate our very existence.  And that's why we will defeat them by merely continuing to exist.
This isn't politics, this is ultra-nationalism as religion.  And the one thing about religion that makes it far more dangerous than politics is that with the latter there's always a way to compromise, since you're fighting about ideas and ideology.  But religion is an entirely different matter.  There you're fighting over much deeper matters: good and evil, the divine, the ineffable.  Once the nation is wrapped in the mantle of God, all things are possible: racism, mass murder.  The normal taboos against violence and the strictures that prevent us from reverting to our atavistic past are removed.  A higher order commands us to break such taboos in the name of the Divine.
Here are some passages from Netanyahu's remarks to the cabinet (Hebrew):
We are at the height of a great struggle waged against the State of Israel, an international campaign to blacken its reputation.  It has nothing to do with our deeds.  It is tied to our very existence.  It doesn't matter what we do.  The only thing that matters [to our enemies] is what we symbolize and that we exist.  Now, this phenomenon we've come to recognize from our people's history–what haven't they said about the Jewish people?  They accused us of being the source of the world's evil, they said we poison the wells of humanity, that we drink the blood of little children.  All these things are said about us today as well.  It wasn't true then and it's not true now…

It's important to understand that it's not a matter of our being nicer or more generous.  We are very generous.  We've made many proposals and concessions–it hasn't changed a thing.  Because what's involved in this international de-legitimization campaign against Israel is bound up in something much deeper that…seeks to negate our right to live here.

…There is no justification for the international campaign of delegitimization against Israel, which tries to suspend it from international bodies.  The last thing we should do is bow our heads and ask what we did wrong…we've done nothing wrong.  We are not a perfect nation.  We don't pretend to be so.  But they set standards for us that are twisted and higher than for any other nation, any other democracy.  And there is no other democracy as challenged the State of Israel.  No other which protects human rights, upholds pluralism and humanism, even in the most trying times of war, even when they fire thousands of rockets at our cities.  That's why we don't deal in justifications, we speak the truth.

This week we had to fight off a great international effort to expel us from FIFA.  I'm happy that we succeeded in this.  This will be part of a continuing effort [against us].  I won't pretend that these efforts will end soon.  We will have to act against them on many fronts.  But the main thing that must fortify us is the truth, and the inner pride that we know who we are, what we are, and what we represent. We will not surrender to libels.
Jodi Rudoren tried to grapple with all this in an article in the NY Times today.  She broadened Bibi's remarks to deal with the subject of BDS, which he hadn't addressed directly.  But as usual, she stumbles:
The founding document of the Boycott, Divestment and Sanctions movement includes a reference to Palestinian refugees' right to return to their homes inside Israel proper, and some of its leaders call for a single state between the Mediterranean Sea and the Jordan River. Most Israeli Jews, as well as many outside experts, see either such a one-state solution or the return of all refugees and their descendants as a demographic death warrant for Israel as a Jewish state, which is how it was founded in 1948.
Rudoren quotes the BDS platform correctly when she notes it calls for the Right of Return, though she unnecessarily dramatizes things when she adds "to their homes inside Israel proper."  There is no specific statement saying Palestinians shall return to their former homes.  Indeed, this is largely impossible because 400 Palestinian villages were either razed or abandoned during the Nakba.  Though of course if their homes do still exist, BDS does believe in general that refugees should have a right to return to them.
But her next sentence is problematic.  The founder of BDS, Omar Barghouti does indeed believe in a one-state solution.  But both he and the BDS founding principles make crystal clear that these are his personal views and not those of the BDS movement.  BDS has never said it supports one-state.
In the next sentence, Rudoren really comes a-cropper.  She claims that most Israelis and all the smart people in the world (you know, those anonymous "many outside experts"), see one-state as "a demographic death warrant for Israel…"  When criticized for writing this, she points out that she added the phrase, "Jewish state."  But she omits one crucial phrase from the Declaration of Independence, Israel's founding document: a Jewish democratic state.  She omitted the word because it would've muddied her argument.  Indeed, ROR isn't a death warrant for Israel as a democratic state.  In fact, ROR is a realization of Israel as a truly just and democratic state.
What does ROR threaten?  It threatens Israel as an ethnocracy with superior rights for Jews over non-Jews.  As many Israeli Jews and even a few of Rudoren's "many outside experts" agree–there is a fatal contradiction between the notion of Israel as a state privileging Jews over non-Jews and Israel as a democracy.  In short, you have to choose.   BDS makes a choice.  Rudoren and liberal Zionists refuse.
Interestingly, as her article proceeds she tries to turn BDS into a movement that embraces the views of liberal Zionists.  I suppose when liberals begin trying to co-opt a radical movement it means they're afraid it's going to win.  Here's the passage in question:
…The boycott movement is a broad umbrella that includes initiatives singling out only institutions and companies operating in West Bank settlements, with many advocates who support Israel as a Jewish state but call for an end to the occupation. Some Israeli opposition politicians, and American Jewish leaders, have expressed concern that broad-brush dismissal of the intensifying calls for sanctions against Israel leaves it defenseless against substantive critiques of its policies.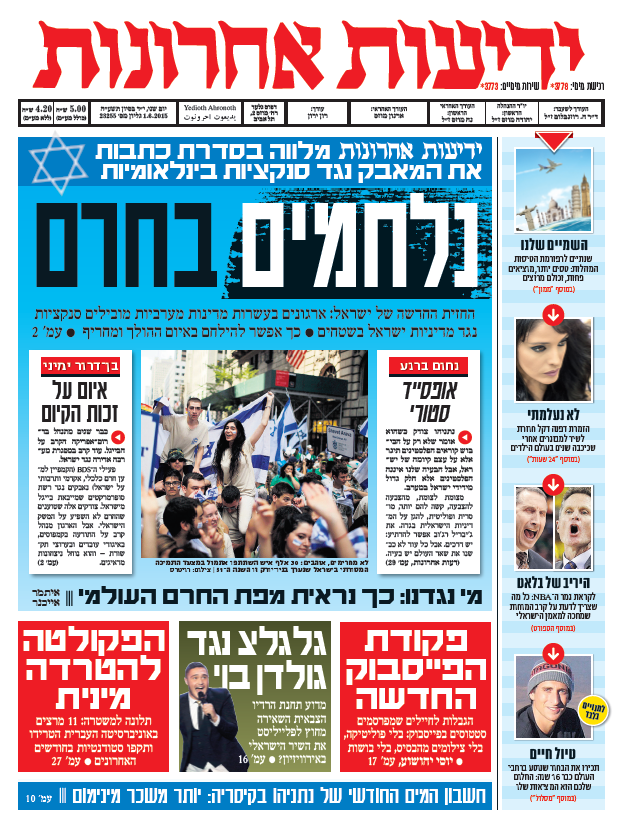 Here she muddies things considerably.  What she's describing is the position of liberal Zionists like Peter Beinart and Meretz.  Many BDS campaigners call this BDS-lite.  It sheds the Right of Return and replaces it with a call for a boycott of settlements.  This is not the position of BDS.  Nor does BDS or anyone who embraces its real principles "support Israel as a Jewish state."  If BDS is a whole loaf, those who support this formulation of it are willing to accept half a loaf.
Ronnie Barkan tweeted (and Noa Shaindlinger originated) an amazing front page of today's Yediot Achronot.  On it, the paper proudly trumpeted its enlistment in the national struggle against BDS.  It has answered the prime minister's call to arms.  This is not journalism.  This is journalism disguised as jingoism-boosterism.  Journalism subjugated to national hysteria.
The lede headline and sub-headlines blare:
Fighting the Boycott:

Yediot joins the fight against international sanctions with a series of report.  Israeli new front: organizations in dozens of western countries proposing sanctions against Israeli policy in the Territories.  How to fight against this expanding and sharpening threat.

Who is against us: see a map of of the world boycott.
One of the two lead articles is by far-right columnist Ben Dror Yemini.  It's titled: "The Threat Against the Right to Exist."  This is the sub-lede:
Make no mistake: This is not a campaign against settlements. It's a war on the legitimacy of the Jewish state. All reasonable forces, from right and left, must act against the economic, academic, and cultural boycott which has become a strategic threat. Yedioth Ahronoth is enlisting in the fight back.
Keep in mind, Yediot is not the worst or most extremist Israeli newspaper.  Not by a long-shot.  It's a populist broadsheet with center-right political orientation.  So this is unprecedented.  Even frightening.