IDF Lies About Its Increasing Syria Intervention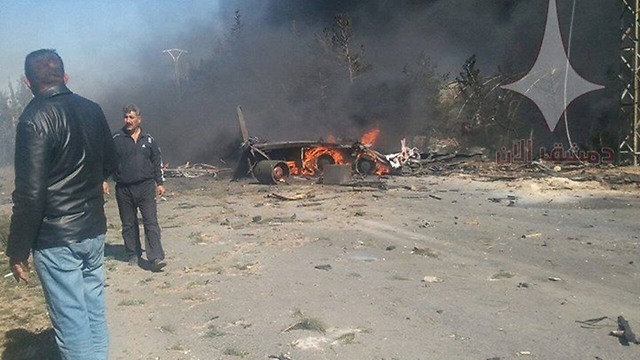 Foreign media reported two separate reports of Israeli attacks against Syrian military targets reported to be SCUD missile sites and armories.  Though this has not been confirmed, in the past Israel has specifically attacked weapons convoys bringing Iranian weaponry via Syria to their eventual destination in Lebanon, where they would buttress Hezbollah's anti-Israel arsenal.
Yesterday, in a separate development, the IDF claims to have killed four saboteurs attempting to place an IED along the fence separating the Israeli-occupied Golan from Syria.  Curiously, Israel didn't identify the affiliation of the attackers.  But if past history is any indication, they were likely with Hezbollah.
But the IDF denied the media reports (Hebrew and English) of one of its attacks on Syria.  Here's the official statement:
Israeli security sources reports that Israel attacked Syria tonight.  "What happened in Syria today was part of fighting between al-Nusra and Hezbollah and the Syrian army…These are difficult battles between the opposing sides.  We, as if well-known, don't interfere in the fighting among them.  This is our policy."
One of Israel's "tells" in playing the security game is that the more it insists something is so, the less it is likely to be.  In the face of such insistence on the part of Israeli sources, it's a safe bet to believe the opposite.  Israel is lying about its neutrality.  It has made its bed with al Qaeda affiliated rebels.  It is now a major player in the Syrian war.  This is a very dangerous game it's playing.
Regarding the claim of internal battles, it apparently didn't cross the mind of those denying the reports that Syrians can see planes attacking them and know the difference between an air and ground attack.
Hezbollah took a different view of the attack on Syria, saying it showed:
"…Israel's direct intervention in events in Syria to the benefit of its ally, al-Nusra, al Qaeda's affiliate in Syria."
The Free Syrian Army has reinforced this claim, saying there are no rebel forces (by which one assumes he means both FSA and al-Nusra) within 12 miles of the Syrian Missile Brigade 155, which was the target attacked and that neither has munitions capable of reaching the site.  The FSA seems to be saying to Israel, if you want to intervene in this war you won't do it on our account.
Now, a confidential Israeli security source confirms to me it's his view that the Israeli denial is likely a lie meant to lessen desire for revenge on the part of either Assad's forces, Hezbollah or Iran.  This was the case when Israel assassinated an IRG general and the son of Imad Mugniyeh a few months ago.  Israel's denials then were based on an even more urgent desire to allow the Iranians to save face and lessen the need for tit-for-tat attacks.  An even more convincing argument is the lie is meant to defuse any claim that Israel is becoming an increasingly aggressive party in the civil war and intervening robustly on the side of Islamist rebels.  One attack (which Israel hasn't denied) can be explained as a "one-off."  But two becomes a pattern.
The additional report that Hezbollah has built an airstrip capable of handling Iranian-made drones in the Bekaa valley can't make Israel feel any more secure.  While these drones may today surveill Syria, tomorrow they could be used against Israel.
Yossi Melman raises a tantalizing prospect that these new Israeli attacks have their origin in a completely unexpected source: with Israel's realization that there will be an Iran nuclear deal; and that Israel cannot stop the eventual development of Iran's nuclear program.  Thus, Israel is seeking to establish deterrence by other means:
This policy is intended to draw new and clear redlines vis-a-vis Iran to slow down its rush for regional hegemony.

Until recently, the Israeli diplomatic and covert operations were directed against Tehran's nuclear program….Despite the Israeli rhetoric expressed mainly by Prime Minister Benjamin Netanyahu, the government and the security establishments have come to terms with the likelihood that a nuclear deal between Iran and the international community is a fait accompli. In that sense, Israeli diplomacy failed to persuade the US and the international community that any deal that would try to curb Iran's nuclear capabilities in return for lifting the sanctions is a bad deal.

Now Israel prepares for the day after – for the new reality that Iran is emerging as a regional power spreading its influence from the Indian Ocean to the Red Rea to the Mediterranean.

To slow down Tehran's regional aspirations, Israel needs to join forces with other concerned parties such as Saudi Arabia, the Gulf emirates and Egypt. And, indeed, the cooperation and coordination in the Riyadh-Cairo- Jerusalem axis have improved in the last year.
Thus the attacks in Syria are something like the "roof-tap" used by the air force in Gaza to warn residents that their home is about to be destroyed.  In this case, Israel is warning Iran that just because it has won a victory (in Israel's eyes) at the bargaining table doesn't mean Israel will accept Iran's "creeping hegemony" either in Syria or Lebanon or other spheres.  It's as if Bibi's saying: "you may've won one round at the bargaining table but there will be many more between us on the battlefield and elsewhere.  On no account will we accept you as a regional threat crimping our style."
This would have further implications regarding future U.S. policy toward Iran.  If the nuclear talks result in an agreement and tensions lessen over time between the two parties, then there may be opportunity for a limited rapprochement that could lead to trade and regional cooperation (in maintaining stability in places like Iraq, Syria, etc.).  Israel, it appears, would be implacably opposed to such softening and would do all in its power to stop or hinder it (presumably using the Israel Lobby in its Congressional efforts).
Though it's hard to predict in which direction things will go, it's clear that it's in the U.S. long-term interests to have a constructive relationship with Iran.  If Israel makes any U.S. president pursing such a policy pay a heavy price, then it's very possible it will further alienate Democrats (the most likely party to entertain softening views on Iran) from Israel.  Since it appears as of now that Democrats will hold the White House for at least another term or possibly two, Israel may be in for a long, rough ride.  One begun by Netanyahu as a result of his Congressional speech fiasco.
Melman raises a prescient warning that Israeli intervenionism in Syria, which is not, as the IDF would have you believe, carefully and cautiously calibrated, may reach the point where Iran and Hezbollah say:
"Enough is enough. No more. It's time to retaliate even if we are seen to be weakened on the bloody fields of Syria." In such a scenario, they may respond just in an effort to restore their own deterrence against Israel, and events may escalate and get out of hand.
We have seen in the run-up to the 2006 Lebanon War and Operation Protective Edge that parties attack for their own political purposes, often assuming the enemy will remain quiescent.  When instead, the enemy retaliates and doesn't take things lying down, this allows events to get out of hand.  It is precisely such small brush fires that lead to major conflagrations (remember how World War I began?).