New Luntz Hasbara Handbook: U.S. Tax Dollars Fund Hamas "Terror Tunnels"

Those of you who go back with this blog to 2009, may remember a few posts I wrote then analyzing a fascinating bit of hasbara branding Frank Luntz prepared for The Israel Project.  Reading it five years ago felt so much like walking into the lion's den, that I was endlessly fascinated by it.  I wrote four posts and only reached page 20 out of 80!  I rather liked my needling of the concept calling it a "hasbara fictionary."
Now, of course, Luntz's advice is much more stale and and less striking than it was then.  His arguments have been endlessly bruited about since then.  The cynicism and abject hucksterism of his approach has been ridiculed.
But after this summer's Gaza war, his Israel Lobby clients decided they needed a sequel to the 2009 hasbara handbook.  I haven't determined who his client is this time.  Since Josh Block has upended Jennifer Lazlo Mizrahi at TIP, Luntz may no longer be the preferred consultant.
In September, the Jewish National Fund featured a national phone briefing with Luntz which featured his new "research."  So it's likely this hired gun is now working for JNF.   The Rabbinical Assembly has also distributed the new work.  When he consulted for TIP, they paid him $200,000 a year, so that gives you an idea of how much this PR project earns him.
They commissioned the presumptuously titled, Communicating the Truth about Israel.  Jewish Voice for Peace and Zak Breiterman first publicized its existence.  It's shorter this time, coming in at 60 pages and is mostly a series of Powerpoint slides.  Presumably, he can tote them around to his Lobby clients' various board rooms and set up the slide projector and fire away at the enemies of Zion everywhere.
What continues to fascinate about Luntz's approach is that it is almost totally devoid of facts or evidence.  The PR maven specializes in sentiment and emotion.  He focuses on what people believe, and changing it to what he wants them to believe, if the two diverge.
Reading this document was a little like listening to a soft rock radio station.  It played the sentimental favorites you remember from a more innocent time.  Nothing was terribly threatening or overly excited.  It seemed designed to lull you into a state of nostalgic contentment with tunes and slogans past.
The opening slide is most instructive, containing what might be the motto of the whole enterprise:
You decide which facts matter.
Just as Humpty-Dumpty said, a word meant precisely what he wanted it to mean, nothing more, nothing less; so Luntz opens his discourse with an invitation to cherry-pick reality.  And Luntz is using the word "facts" loosely since there are almost none in the document.
He offers an "alarm-bell" poll statistic which is indeed interesting: when offered a choice among supporting Israel, Palestine or remaining neutral, 54% of all those polled supported Israel while 38% were neutral.  But among those of college age only 36% favored Israel while 49% were neutral.  Though Luntz's evaluation, calling it a "disaster among college kids," is a bit histrionic, he's not entirely wrong.  Israel's reputation and perhaps future among the American public is on a downhill trajectory.  The younger generation doesn't buy the romantic-nostalgic narrative that worked so well among the old.
While strong majorities of those polled overall described Israel as "democratic," "civilized" and "peaceful," among the young those numbers were much lower. The lowest youth polling figure, 31%, said Israel wants peace with its neighbors.
A large portion of the handbook is a sales-marketing tool directing not only which arguments to use (and which to shun), but which words and concepts to use in discussion with Israel's critics.  This is political rhetoric brought to the field of battle just like armaments used by the IDF in actual war.
It's light on analysis and heavy on peppy catch phrases like:
We use rockets to protect children and they use children to protect rockets.
In this mendacious slogan, there's no acknowledgement that Palestinian rockets didn't kill any Israeli children and hardly any Israeli adults, while Israeli rockets killed 500 Gazan children.
Luntz's polling must be showing that the human shield meme resonates among his Zio-focus groups.  Which is terribly odd because while I hear the argument among pro-Israel social media advocates, it's so easily disproven that they withdraw the claim as soon it's refuted.  Again, the notion of human shields is one of those sentiment-motivated concepts that isn't quantifiable or even provable.  It just sounds good.
Luntz milks the false sincerity of what those of us who spend time on political sites would call the "concern troll.:
I do not blame the people of Gaza for feelings of grief, anger, and desperation. I blame the Hamas leadership who sow the seeds of hate and tell innocent civilians to live as human shields while hiding in five star Qatari hotels thousands of miles away.
Or this:
All lives matter…Palestinian lives…Israeli lives…every life matters.
The picture accompanying this slide of course shows mourning Israelis.  No mourning Palestinians.  Surprise, surprise.
The above passage continues:
We need more conversations, not less … more listening, not less.

Children should be taught to live, not to die.

Let's make this the last generation to experience war
Again, more sloganeering.  Hamas' leaders were in Gaza and suffered along with civilians there.  Khaled Meshal does live in Doha because after an Israeli assassination attempt, he's not safe in Gaza or any country in which Israel might be able to strike him.
It's interesting that while Luntz's "21 Phrases for the 21st Century" speak derisively of Palestinian society as a "culture of hatred" and "radical Muslim Jihadism," he insists that Palestinians should offer Israel "mutual understanding/respect."  That Palestinians should choose "conversation and cooperation," "making progress" and "a future without violence."  Again, there's no recognition not just that Israel has offered far more violence than Palestinians, but that Luntz's own slogans deny Palestinians the very respect he says Israel deserves.
Despite the fact that the United Nations denied Gaza militants the use of their facilities to launch attacks against Israeli forces (there were a very few instances in which unoccupied schools, which the UN could not monitor due to intense fighting, were used briefly), Luntz continues the false claim here:
Schools are for students to learn, not for terrorists to launch weapons.
Children are our hope, not our human shields.
No acknowledgement that in pre-state Israel, Jewish militants used civilian facilities including synagogues and schools to hide weapons.  With one of the most powerful armies in the world, Israel now maintains vast armories and bases to store its weapons.  It doesn't need schools to do so.  But if the tables were turned, you can be damn sure Israelis would use any facility they could get their hands on to store such munitions.
The handbook features an ominous Arabophobic map in Islamist green which features the hostile "neighborhood" in which Israel lives.  The latter is a tiny endangered red spot amidst a sea of green.
In another interesting poll result, most respondents had a highly negative view of the word "Zionist," with students polling even more unfavorably.  When offered the words "Israel," "Jewish homeland," "Jewish nation," overall reactions were favorable to the terms.  But among students none offered a majority response that was favorable.
Clearly, a major goal of the project was to offer student activists and their adult handlers short, snappy, pithy pro-Israel pitches to bolster campus activism.  The horror-show video produced by Luntz and displayed above, covers ground not mentioned explicitly in the new handbook.  It offers heartfelt stories of purported anti-Semitism on campus.  Anti-Semitism is the fire and Frank Luntz is the fireman.  Show him the money and he'll show you how to put the fire out.  That seems to be the message.
Here are some of the catch phrases offered under the Luntzian Words That Work:
Don't say Israel is "willing" or "open" to negotiations. That's way too passive. "Israel is eager to negotiate…"
Here's a glaring lie offered under "Words to Use:"
Israel offered 97 percent of the disputed territories to the Palestinians and the recognition of a Palestinian state in return for two common sense conditions: recognition of the Jewish state and Israel's right to exist. The Palestinians have refused
Note that Israeli maximalism ("recognition of the Jewish state") is portrayed as a "common sense condition."  Common sense for whom, one might ask?
Here's another sentimental whopper which falsifies Jewish history:
Everyone deserves to call somewhere home. For Jews that were forcibly scattered across the globe again and again for centuries, that home has always been Jerusalem and the land around it. For more than two thousand years and right up to today, the religious, cultural and historic home for Jewish people has been Israel.
Actually, "for centuries" the actual, physical home of almost all Jews was not "Jerusalem and the land around it" but the Diaspora, where for much of this period we fared reasonably well and continue to do so now.  Yearning for Jerusalem has been inscribed in prayers recited during this period, but until the last century, very few Jews set out to realize the aspirations expressed in these prayers.
Luntz is partial to flourishes of trumpets as in this "clear call to action:"
Describe the GLOBAL threat of terrorism and the consequences of inaction. "We stand against terrorism everywhere and every time. That's why we stand with Israel"
The implicit message here is that only Palestinians and Arabs can be terrorists.  Preferably, mixing them up with other Arab/Muslim terrorists like Al Qaeda and ISIS, through use of shibboleths like "global terrorism."
Given that the hasbara project was initiated to rebut the bloody nose Israel suffered during the Gaza war, there is much that smears Hamas:
Point out the specific differences between Israel and Hamas.
Discrimination against women
Explicit laws against homosexuality
No religious freedom
No political tolerance
No justice or rule of law
One may easily throw each of these claims back against Israel itself and note that major pockets of Israeli society discriminate against women and denounce homosexuality.  Recent events have shown there is no religious freedom in Israel unless you confine the claim to Jews.  Israeli Muslims face tremendous restrictions on their worship, and their mosques and cemeteries are under regular assault by settler price taggers.  Israel offers very little tolerance of views outside the right-wing national political consensus.  Those on the left face physical assault, arrest and general repression.  The rule of law doesn't exist in Israel for security offenses, whether you're Jewish or Palestinian.
Luntz's slogans are meant for those who have only superficial knowledge of both Palestinian and Israeli society.  In that sense, the Lobby's favorite brand manager offers little more than pablum to his clients and those indoctrinated by his small ideas.  I've written before here about the closing of the American Jewish mind on questions like Israel.  The handbook is a perfect example of this.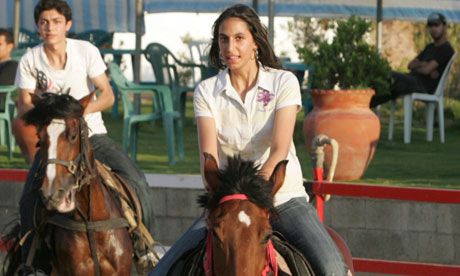 He continues the anti-Muslim onslaught in this slide:
Under a Hamas-ruled Gaza, all women are forced to wear the head-scarfs, churches are destroyed, and homosexuals are put to death. Hamas has assassinated hundreds of opponents in its effort to establish a fundamentalist Islamic state.
Here Luntz neglects to acknowledge that women throughout the Arab world wear head-scarfs.  The wearing of a head-scarf is not an oppressive act.  Not to mention that some women in Gaza do not wear head scarves as the photo proves.
Though there have been a few random acts of violence against Christians in Gaza, Hamas has not permitted the level of anti-Christian intolerance rampant in Pakistan or Iraq.  Islam, like many traditional religions frowns on homosexuality.  But homosexuals are not "put to death" there.  Nor has Hamas "assassinated hundreds of opponents."  It has executed those it deems Israeli spies and in 2006, after Fatah launched an armed putsch against it, Hamas retaliated with violence against Fatah operatives. Operatives were killed on both sides. The Bush administration and Netanyahu government both supported the coup attempt.
Need we remind the great Luntz that in pre-state Israel, David Ben Gurion used violence to put down a threat to the military supermacy of the Palmach in the Alta Lena affair, which killed many Lehi fighters.  But why spoil this with facts??
Onward in the slideshow to "discuss" BDS.  Luntz ostensibly favors a soft approach in expressing his oppostion.  The words he uses are mild, soothing, irreproachable:
"Conversation & cooperation"

"Diplomacy & discussion"

It MUST be a HUMAN, EMOTIONAL, and HEART-FELT approach
How can you argue with this, except when you realize that the Jewish community itself has reacted to BDS with precisely the opposite approach.  Hillels, Jewish community centers and federations have demonized the movement and prohibited it from their premises.  "Discussion?" "Conversation?"  Where?  Perhaps on the campuses where Luntz is trying to fight this scourge.  But not in the Jewish community itself.  To which I reply, stop being hypocrites.  If you want to be credible as a campus opponents of BDS you must allow free discussion of the issue in your own communal institutions.
Luntz argues in the final line from this passage for a "human, emotional" rebuttal to BDS.  In other words, use a heart-felt Jewish affirmation of Israel to overwhelm any possible rational discussion of the issues.  Overwhelm opponents with tears and fears so facts or reason get shoved aside. This is the strategy pro-Israel student groups are using to fight campus BDS resolutions. Though it sometimes works, it often fails, as shown by the many campuses which have endorsed BDS.
Here's more on how to fight BDS:
BDS fails to recognize that the path to peace is paved with diplomacy, discussion and cooperation, not isolation or continued conflict.
If this passage is correct, then Israel has been chief violator of the protocol prescribed by Luntz.  The only "diplomacy" Israel tried is a failed peace neogtiation in which it offered Palestinians nothing of value.  Israel has offered no "cooperation" with either Palestinians or even Americans, for that matter.  Its government has contented itself with apartheid, absolute separation between Israelis and Palestinians.  There are walls, segregated roads, and harsh punishments including possible death for Palestinians who violate the rules.  Israeli extremists, whose political allies run the government, offer repeated vicious acts of racist violence.  Where is "cooperation?"
The document spends a lot of time arguing with the straw-man that is the Hamas Charter.  The latter was written by an anonymous scribe in 1988 and never been embraced as an operational document.  It's not a constitution, not even a mission statement.  No laws have ever been made following its precepts.
The U.S. Institute for Peace wrote in a 2009 report:
"Although peaceful coexistence between Israel and Hamas is clearly not possible under the formulations that comprise Hamas's 1988 charter, Hamas has, in practice, moved well beyond its charter. Indeed, Hamas has been carefully and consciously adjusting its political program for years and has sent repeated signals that it may be ready to begin a process of coexisting with Israel. [And,] As evidenced by numerous statements, Hamas is not hostile to Jews because of religion. Rather, Hamas's view toward Israel is based on a fundamental belief that Israel has occupied land that is inherently Palestinian and Islamic."
Conversely, the humanistic values of the Israeli Declaration of Independence have never been realized.  But Israel advocates do not throw this in Israel's face. Why no mention of an Israeli founding statement to which Israelis only pay lip service?  Instead, they hypocritically focus on a document no Palestinian or Hamas follower knows or cares about.
In other words, Luntz is grasping at straws, desperate to dredge up dirt on Hamas that will somehow change the subject from Israel's mass murder during the Gaza war.  If it takes a 30 year-old document only David Horowitz, Frank Luntz and a few other Islamophobes know by heart, then so be it.
Here's some more Hamas bashing based on false premises:
The Palestinian government uses its billions of dollars in global aid NOT for schools, playgrounds and hospitals, but for terror tunnels, bullets and bombs.
Note the use of "Palestinian government" rather than "Hamas." First, the PA, which Luntz is attempting to include in this smear, does not engage in terror.  But even if this passage was addressed directly at Hamas, it would be wrong.
"Terror tunnels" are a hasbara branding effort to describe what are defensive tunnels inside Gaza, used with only a few exceptions to defend territory Israel invaded.  Those bullets and bombs mentioned are also used to defend Palestinians.  Anyone wishing to attack Hamas' use of rockets against Israel must take into account the reason for the rocket attacks: Israel conducted massive pogroms on the West Bank after three teenagers were kidnapped and murdered there.  The rockets were a direct response to Israel's acts of collective punishment and terror (seven Palestinians were killed during these pogroms and 500 were arrested).
Further, the only reason Gaza needs all that international aid is because of Israel's illegal siege against 1.8-million Gazans.  Absent the siege, Gaza would have a thriving economy, tax collection and revenue enabling the building and maintenance of communal infrastructure.  Gaza could be a normal place.  The fact that it isn't is Israel's fault entirely.
Here is more glibness:
No child should have to experience the horror of a bomb shelter. No child should have to run for their life because of missiles and rockets fired on its people. None of this needs to be happening. We have done everything possible to avoid hurting Palestinian children. Hamas has done everything possible to put Palestinian children in harms way. This madness has to stop.
In Luntzworld, only Jewish children suffer; the suffering caused by Palestinian madmen.  If Palestinian children suffer, it is because of those same Palestinian extremists who force Israel to kill them.  No Israeli wants to kill anyone.  "We" have no choice.  It's kill or be killed, and who can fault Israelis for choosing the former rather than the latter?
The "madness" may have to stop, but refusing to acknowledge the Israeli responsibility for it is only one of the many trespasses of this project against decency and truth.
Next, the slideshow touts Israel's vaunted dedication to ethics in defense of the nation:
Nobody wants to harm the Palestinian people. They are Israel's neighbors. They deserve better.

Israel has to remove the missiles that are being fired at her people. When those missiles are placed near schools or other civilian areas, Israel sends warnings 30 minutes in advance, telling them to get out of the way. Why? Israel wants the Palestinian people to be safe.  But Hamas tells them to stay.
Again, "we" Israelis don't want to kill Palestinians.  If not for those nasty Hamasniks we could all be friends and love one another.  There is a notion that Israel only attacks Gaza to root out rockets killing Israelis.  No discussion of the Dresden-like immolation of entire Gaza neighborhoods in retaliation for ambushes that killed Israeli soldiers inside Gaza.  No explanation why, if the IDF solely wants to stop rockets, it's necessary to kill 1,800 civilians including 500 children.  Were they all lying on top of rocket launchers when they were killed?
Hamas never told any civilians to defy Israeli orders to evacuate.  In fact, if civilians did as they were directed by Israel they had no refuge to which to flee.  They had no guarantee that in the open streets they would be safe.  In fact, they knew that the UN schools to which tens of thousands did flee, were themselves military targets in which massacres occurred.  Many preferred staying in their homes where they might die to fleeing to an unknown future.
In other words, what Luntz offers is an moral swamp of rhetoric that conceals, rather than reveals the truth.  Here's more miasma:
Hamas deliberately places its rockets in and among schools, mosques, and other civilian areas. Israel puts its military weapons far away from civilian areas.
Not exactly.  IDF headquarters, the Kirya, is in the heart of Tel Aviv.  If an enemy attacks the Kirya, they will endanger hundreds of thousands of civilians living in its vicinity.  Is Israel a cynical monster for placing its own citizens in such danger?  As for Hamas' siting of its weapons in civilian zones, I'm certain if Hamas had as much territory under its control as Israel did, it too would create military bases away from civilian areas and fortify them as Israel does.  Unfortunately, it doesn't have that luxury.
Who are the warmongers? Hamas of course:
The Palestinian People Are The Victims

Who has the most to gain from peace? The Palestinian people.
And yet Hamas continues to wage war.
Peace cannot be achieved as long as Hamas is committed to war.
Actually, every Israeli attack against Gaza has been an offensive one.  No Hamas battalions ever crossed into Israel to attack civilian communities.  Hamas doesn't threaten Israel existentially.  When Israel attacks and invades Gaza it is a war of choice.  A war of aggression.  Israel is the warmonger, not Hamas.
In the following statement, Luntz offers blatant lies:
Hamas has abused hundreds of millions of dollars donated for humanitarian aid, some of it American tax dollars, to build these terror tunnels. For the cost of one tunnel, they could have built one hospital. If there is a humanitarian crisis, why does Hamas spend its money on bullets and bombs?
There is absolutely no support for this claim.  In fact, U.S. law prohibits any aid to any Palestinian entity associated with Hamas.  If there are any tax dollars supporting Gaza they are violating U.S. law.  As for the claim that our tax dollars supporting building tunnels, this is an even more atrocious, shameful lie.
This portion of the Powerpoint whitewashes Israel's illegal settlements:
If West Bank settlements were the real obstacle to peace we would have had peace long ago. The real obstacle is Palestinian refusal to accept a Jewish state within any borders, as reflected in Palestinian leaders' statements and in Palestinian media. The controversy about settlements is a symptom, not a cause, of the conflict, which is rooted in Palestinian rejectionism.
The first sentence above is incoherent nonsense, a failure of logic.  The claims about Israel as a Jewish state are also non-starters since Israelis themselves do not share a consensus on the question.  Secular Israelis understand that if Israel is a Jewish state it very likely will be a theocratic state in which religion dominates all spheres, especially the political.  That isn't something these non-religious Israelis welcome, as shown by the fact that Justice minister Tzipi Livni has shelved a Knesset bill that would've incorporated into the Basic Law the precept of the State being Jewish.  Other Israelis also recognize that such designation of Judaic supremacy disenfranchises non-Jewish citizens, who are 20% of the population.
Not to mention that the "Jewish state" demand is illogical on its face.  How many western states define a single religion as a foundational principle?  Shall the U.S. demand all others recognize us as a Christian nation?  Would the Palestinians have the right to demand that Israel recognize Palestine as a Muslim state?  Why would even Hamas make such a demand?  If it wanted an Islamic state it would create one.  Why would it need Israel's permission or approbation?  The entire notion is absurd.