Hamas Holding Live IDF Prisoner/s?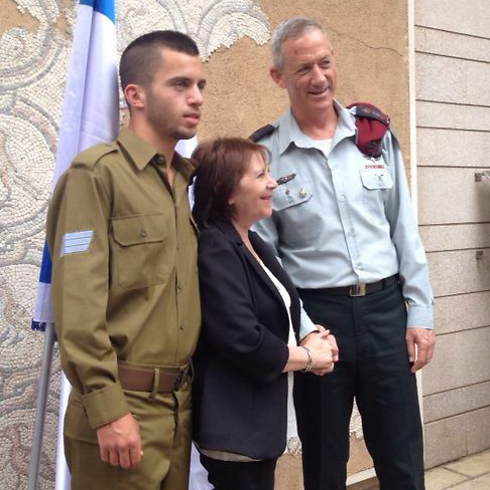 UPDATE: Just before publishing this post an Israeli Facebook Friend asked if I'd heard any news about an Ethiopian Israeli who'd deliberately crossed the border near Ashkelon into Gaza, from whence he was taken away in a vehicle.  According to this source, the family has been told to maintain silence in order not to endanger his life.  I have not yet been able to confirm this story independently.  But if true, it could complicate the situation I describe below immensely.  Though Israelis fear for his life, this person's worth is far greater alive than dead.
News is beginning to creep out of Gaza that Hamas may hold a number of "trump cards" that will compel Israel to release a very large number of Palestinian prisoners during an upcoming prisoner exchange negotiation.  Rumors are swirling that Hamas holds not just the remains of dead Israeli soldiers, but possibly even a live captive.  Though they have not revealed who this soldier might be, there are only two soldiers who are missing.  The IDF claimed it recovered the body or portions of the remains of Hadar Goldin (though this doesn't necessarily mean they did) and a funeral was held.  But it never claimed to have retrieved Shaul's body nor has there been a funeral.  Here's is how Al Monitor referred to this:
Signs indicating the possibility of a close exchange deal, through posters signed by Hamas in the streets of Gaza since the beginning of October that read "Soon, Wafa al-Ahrar Deal." Hamas gave this name to the first prisoner swap in 2012. The poster in question includes the picture of Aaron [sic] Shaul, the Israeli soldier kidnapped by Izz ad-Din al-Qassam Brigades on July 20 during the Gaza war, in addition to a question mark, indicating the possibility of another soldier being present in Hamas prisons.
Hamas in the past few days has encouraged Gazans (Hebrew) to imagine what 'gifts' it has in store regarding the talks, saying it had "great surprises" for Israel that far surpassed 'body parts.'  It promised to "empty out" Israeli prisons as well.  For a people with thousands of men wasting for years or decades in prison with no hope of release, these hints of hope and optimism are a lifeline.
Conversely, Hamas itself referred openly to the fact that Israel killed two of its commanders and took the remains back to Israel.  Certainly, the IDF learned how to play this game and figures if its soldiers were to be captured it should have its own "get out of jail" cards.  Besides this, the IDF arrested Hamas militants during Operation Protective Edge and the militant group would very much want them freed as part of such an exchange.
I can, alas, tell you a long-term Palestinian prisoner never released or even mentioned in any prisoner exchange, who isn't likely to be freed this time either: Dirar Abusisi.  This fact further confirms that Abusisi is not, and never was a militant associated either with Hamas or Fatah, as the Shabak claimed.  If that were the case, the two groups would've insisted on his being included in previous exchanges.  Further, Shabak would not want Abusisi released either, because it would be forced to acknowledge that its case against him was wholly fabricated.  Perhaps somewhere in the unforeseen future his jailers will have to face charges in an international criminal court for detaining him on trumped up charges.  The fraud against him is egregious.  The Israeli security system that allows it is an outrage to decency and humanity, which seems in short supply in such circles.
Dirar's family lost their Gaza home in the past war, but at least Veronika, his wife, and their six children were not harmed.
Speaking of prisoners held unjustly in Israeli jails, Israel Army Radio reported (Hebrew) today that despite a damning judicial investigation that found severe lapses in monitoring and oversight of Ben Zygier, who was held secretly in an Israeli prison till his suicide, no officials have been held accountable for these misdeeds in any meaningful way.  The judge, whose report was censored in large portions due to the national security material it contained (and likely the embarrassment it offered the security apparatus) even said criminal acts were likely committed and urged the State to investigate and prosecute.  It refused.  In her report, the judge absolved the Mossad of any error, though in my opinion it deserved the highest level of liability.  The prison system became the fall guy because Mossad had impunity.  Six prison officers were investigated for negligence.  Only three received severe reprimands, but none were fired or otherwise punished.
The State settled some time ago with the Zygier family for approximately $1-million: apparently the price for killing an Israeli Mossad agent who's disgraced his country.  As I've said before about this and many other similar cases, the fix is in.  The ruling elite protect their own, especially regarding national security matters.  As for justice, there is none (leyt din v'leyt dayan).
Returning to Gaza, if Hamas holds Shaul and/or another IDF soldier, this would further explain the motivation for the mayhem the Israeli army wrought on Gaza during three or more Hannibal Directives, in which it feared soldiers had been captured alive by the militant group.  Hundreds were killed during these massacres and the IDF likely even killed one or more of the live soldiers Hamas had captured.
If Israel knew one of its soldiers was already captured and alive, it would realize how much it would have to give back in exchange for his release.  Having more than one live captive would make the cost astronomically high.  This appears why the army is prepared to kill a soldier rather than allow him to fall into enemy hands.  A phenomenon utterly foreign to most of the world.  But in the distorted dynamic of modern day Israel, not at all strange.
If there were two captives, Israel might even have to agree to entirely lift the siege of Gaza, something it adamantly refuses to do.  The idea that Hamas could bend Israel to its will is repellant to the average stubborn, proud Israeli used to getting his/her way in regional affairs and previous wars.  It is precisely such rejectionism that impedes an overall peace deal.