Israeli Professor Calls for Palestinian Genocide
There are all sorts of varieties of insane extremists among the settlers.  By "insane" I don't mean that they're aberrations from the Israeli norm.  Just that in polite western society (not Israel, of course) these people would be viewed as nutcases and ignored.  Only in Israel (and perhaps this happens in other religious extremist societies as well) are such people turned into prophets, prime ministers, and even esteemed academics.
Such a one is Prof. Hillel Weiss, who teaches not Hebrew literature, mind you, a term he banned from his department–but rather the literature of the Jewish people.  You see Hebrew is the language and literature of the Jewish people.  There is no other.  Yiddish? Feh, jargon.  Jewish literature in English? Derivative, degenerate and a mark of the bankruptcy of galut.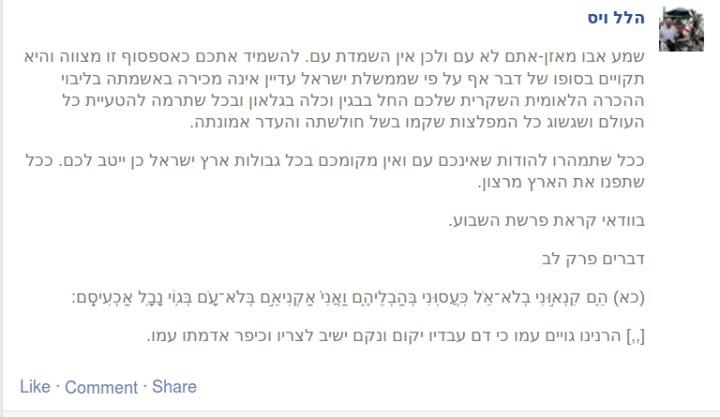 Professor Weiss teaches, where else, at Bar Ilan University.  That's also the home of such other wunder-mensches as Mordechai Kedar, who advocates raping Palestinian women as a deterrent to terrorism; and Gerald Steinberg, that convicted libelist who runs the fraudulent NGO known as NGO Monitor.
Here is what Weiss posted on his Facebook page:
Listen, Abu Mazen: you aren't a people and therefore there can be no genocide [against Palestinians].  To exterminate you like a simple rabble is a mitzvah and it will be fulfilled finally despite the fact that the government of Israel still doesn't accept its responsibility for raising mendacious international recognition of you [Palestine].  [This process] started with Begin ended with Gal-On.  It contributed to the deception of the entire world and [increased] the popularity of these monsters [Palestinians] who rose up due to our weakness and lack of faith.

The quicker you [Abu Mazen] can concede that you are not a people and that your place is nowhere within the borders of the land of Israel, the better off you will be…as long as you evacuate the country of your own volition.
Weiss concludes his scholarly lecture with a reference to Deuteronomy 32:21, 43, which originally was meant as a curse against the pagan peoples who surrounded the ancient Israelites.  But in the context in which Weiss invokes the verse, it's deeply Islamophobic, essentially calling Islam a pagan, "villanous" religion.  This is eliminationism of the purest sort:
They have roused Me to jealousy with a no-god; they have provoked Me with their vanities; and I will rouse them to jealousy with a no-people; I will provoke them with a villanous nation…

Nations, celebrate His people; for He avenges the blood of His servants, and returns vengeance upon His enemies, and atones for the land of His people.
Prof. Weiss is also one of those blessed Judeans who's planning to revive the Sanhedrin, so we can return to stoning Sodomites and adulterers like in the old days.  He can also count himself among the Chosen who hope to raze the Dome of the Rock and replace it with the Third Temple, "God willing."
I swear if anyone in the comment section tries to tell me that this guy is a fruitcake who represents no more than a fringe of a fringe, I may be sick.  You know that his views are embraced by almost the entire ruling coalition and that they're being implemented by the government in every way it can.  Hillel Weiss is the beating heart of both Israeli settlerism and Israel itself.  What the good professor shouts from the mountain top and on Facebook is beating inside Bibi's heart.  They are one.
By the way, we should give credit where it's due to Arab-American oil man, Jamal Daniel and the folks at Al Monitor, who see fit to publish the similarly incohate messianic ramblings of Yuval Avivi, who regularly covers this garbage in its pages.  That a publication funded by an Arab-American would present such inflammatory drivel is mystifying to me.
H/t David Sheen.