Gaza War: Bringing Out the Worst in Israeli Misogyny, Racism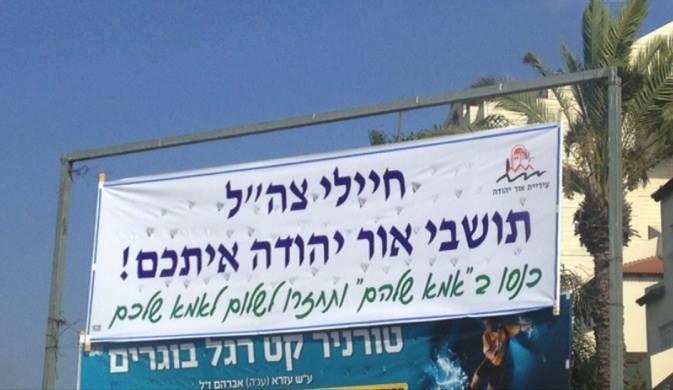 In last night's post I noted some of the ghoulish reactions by Israelis to the war, from Prof. Mordechai Kedar's call for raping the sisters and mothers of Palestinian terrorists to Rabbi Dov Lior's halachic ruling that it's permissible both to kill Palestinian civilians and raze Gaza to the ground.  Tonight, yet another choice example both of hatred of Palestinians and misogyny toward Palestinian mothers.
The pictured banner was created by the town council of Or Yehuda, just outside Tel Aviv.  It's addressed to the local boys who serve in the IDF:
Soldiers: Residents of Or Yehuda are with you!

Pound their Mom so you can return safely to yours.
David Sheen first posted this image in his Twitter feed and Ofer Neiman drew my attention to it.  I was struck by the Hebrew slang kansu.  It derives from the verb whose original meaning is "to enter."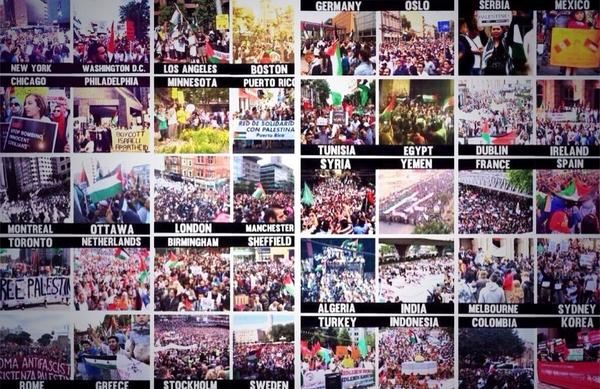 That immediately brought to mind the clear sexual connotation of the word in English.  Two Hebrew speakers I trust, one of them Ofer, confirmed the term has a violent and vulgar connotation that might have a sexual intimation.  Sheen himself wrote this about the phrase in Muftah:
This English translation of the Hebrew "Kansu" as "pound" (or its synonym "bang,") literally means to beat, but also has a colloquial meaning connoting sexual penetration. In the Hebrew original, the double-entendre is inverted: "Kansu B'" has the colloquial meaning of physically attacking someone, but literally means to enter, sexually or otherwise – this sexual connotation can be found on multiple Hebrew–language sex blogs.

The phrase "their mother," "ima shelahem" in Hebrew, also has the colloquial meaning of "with great intensity." The idiom developed precisely because, for many people,  witnessing their mother being assaulted is more painful than  receiving a blow to their own person. In the context of the city's banner, the language of sexualized violence is borrowed in order to articulate ruthless subjugation of Gaza's Palestinian population.
Some Hebrew speakers disagree, but I don't find their claims as persuasive as David Sheen's. In fact, those who attack me in the comment thread here and on Facebook are using language as an extension of the hasbara war over Gaza.  Their false claims that the term cansu b' has no sexual connotation and that the reference to Palestinian mothers is a figure of speech rather than outright misogyny represents the use of language to evade moral responsibility.  This is at the heart of the pro-Israel enterprise.
The very least we can say is that a major Israeli town is urging its soldiers to debase and beat up Palestinian mothers.  All in the name of protecting Israeli mothers.
Just when you think you've seen or heard it all and things can't get any worse–they do.
In the meantime, I happy to say that the world is beginning to wake up to the slaughter in Gaza.  The accompanying image displays a montage of demonstrations from around the world.  All I can say is it couldn't happen a moment too soon.