Divided Israeli Cabinet Debates 'Harsh Retaliation' Against Gaza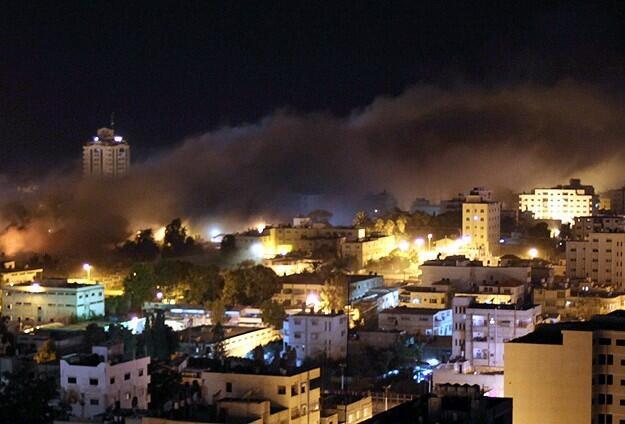 In the midst of the baying of the Dogs of War over the discovery of the bodies of three Israeli teenagers apparently murdered after being abducted, let's hear a still small voice of reason and sanity.
First, despite scores of repeated claims by Israeli officials and reporters that the alleged killers were affiliated with Hamas, not a single shred of evidence has been presented to confirm this.  One of the few journalists covering this story with any skepticism is Sheera Frenkel of Buzzfeed, who wrote this:
Israeli intelligence officials…remained divided over whether Marwan Qawasmeh and Amer Abu Aisha — two men named as wanted suspects behind the kidnapping — had direct ties to Hamas. The Qawasmeh family, one of the better-known families in Hebron, had recently distanced itself from Hamas.

"What we do know, is that this was likely an opportunistic move. The men behind this may have ties to a larger terror group, but this does not have the markings of a well-planned, complex operation," one Israeli officer, based in the West Bank, told BuzzFeed earlier this month.

In Hebron, local residents who knew the families of the suspects expressed doubt that Hamas was responsible, especially after the Hamas' senior leadership distanced itself from the kidnapping.

"That family, the Qawasmehs, often acted without the knowledge or signing-off of the senior Hamas leadership," said Mahmoud Zabir, a Palestinian resident of Hebron who knows the family well. "They were considered troublemakers, even by Hamas."
So due to the precipitous acts of a small handful (perhaps as few as two) of Palestinian killers, Bibi Netanyahu gets to pursue his blood lust scorched earth policy which may lead to a new invasion by Israeli forces.  Veteran Israeli security reporter, Yossi Melman, tweeted:
#Israeli cabinet divided. Postponed the right wing demand for a harsh retaliation against #Hamas. Will convene Tuesday.

— Yossi Melman (@yossi_melman) June 30, 2014
"Harsh retaliation" may be another way of saying ground invasion.  As I write this the IAF has launched over 35 sorties against 'targets' in Gaza.  Though this is a misnomer since there are no discrete targets there.  As far as Israel is concerned, all of Gaza is the target.  The cardinal rule of contemporary Israel is that whatever happens, Gaza suffers.  Gaza is the punching bag.  When a prime minister is falling in the polls and needs any sort of distraction to divert attention, take it out on Gaza.
Further, one day before the bodies were discovered Israel ordered armored units to report to the Gaza border where they are mobilizing for what may happen.  The cabinet will resume its meeting momentarily after failing to reach agreement yesterday.  I shudder to think of what's in store for the people Gaza and those of southern Israel who will undoubtedly face volleys of rockets if there is sustained military action.
Deputy Defense Minister Danny Danon is rattling his sabers:
Israelis have the willingness and the fortitude necessary to endure the hardships of a long-lasting operation aimed at eradicating Hamas.

We will not stop until Hamas is completely defeated.
This is the same rhetoric that preceded the 2006 Lebanon war and the 2008-9 Operation Cast Lead.  I predict one of two things: either there is a full-scale invasion of Gaza; or a punishing air assault accompanied by some dramatic targeted killings over the next six months which try to eliminate some of Hamas' senior leadership.  Neither of those options will eradicate or defeat Hamas.  To do this, Israel would have to occupy Gaza and no Israeli has the stomach for that.
The question is where will Pres. Obama be when the tanks begin rolling?  Will he be playing golf?  Or occupied with some other matter as Gaza babies die?  He may be the only figure who can stop this madness before it starts.  It's doubtful he has the will or interest to do so.