Three Israeli Boys Found Murdered in North Hebron, Netanyahu Promises More Vengeance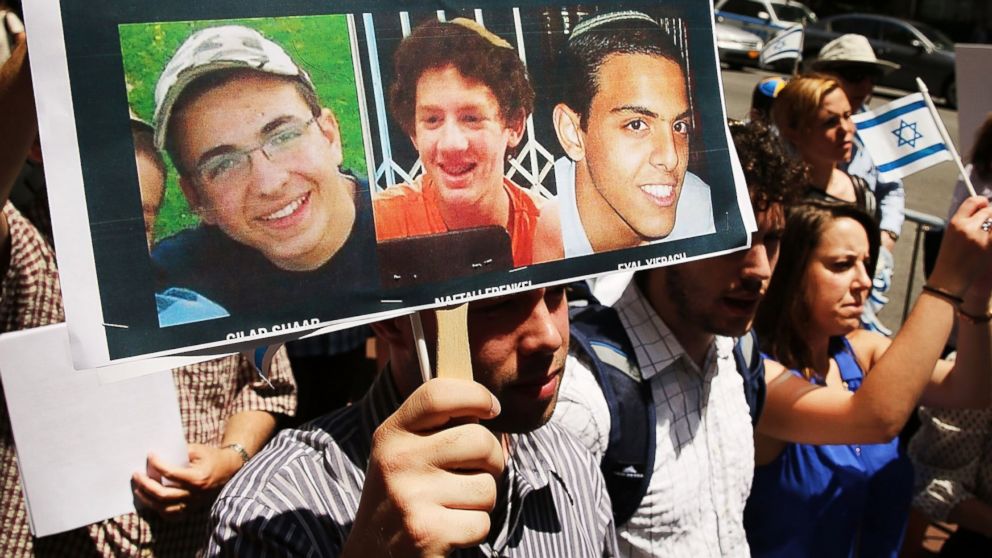 Today, Israeli volunteers found the bodies of the three Israeli boys who'd been murdered after being kidnapped in north Hebron over two weeks ago.  Their bodies had been buried under rocks in a field.  They'd been shot shortly after they were abducted (and probably just after an emergency call was placed by one of the boys, which was ignored by Israeli police).  The bodies were found in the general location intelligence officials had told my source ten days ago they would be (he'd also added that the boys were almost certainly dead).  A few readers on both the left and right had doubted these reports here in the comments section.  Unfortunately, my source was proven right.
In such situations, speaking in purely political terms seems inadequate.  You blame one, you blame another.  You assign guilty or blame.  But where does it lead since neither the innocent nor the guilty pay much heed? Speaking in the language of faith or spirituality resonates more because they plumb the tragedy of life and appeal to a higher power.
When hearing news of death, the traditional response is the phrase: Baruch dayan emet ("Blessed is the true [or 'righteous'] judge").  This is the address of the faithful believer who accepts the justice of a death even if he cannot plumb its meaning or justification.  But there is a contrasting concept embedded in the Talmud which questions such blind acceptance.  Rabbi Elisha Ben Abuya, one of the most interesting and troubling figures in the rabbinic literature, wrestled with his faith.  At some point, he became an apostate, being unable to reconcile Jewish faith in divine providence with the evil and injustice found in the world.
He once saw a boy climb a tree upon his father's command to retrieve the eggs from a bird nest.  The Bible directs that a Jew chase the mother bird away so it won't see you take her eggs.  His father had reminded him to do this.  As he did so, he fell from the tree and died.  The tragedy of a boy honoring two Biblical injunctions and, in doing so, dying was the reputed act which drove Ben Abuya to apostasy.  He summarized his pain with the agonizing denunciation: Leyt din v'leyt dayan ("There is no judge and no justice").  One of the profundities of Judaism for me is that the tradition preserves and respects such heresy as a valid, though troubling response to evil.  Though we are not meant to emulate Ben Abuyah, his own pain and extreme response is honored.
So we have two alternate views of these tragic deaths.  Observant Jews comfort themselves knowing that their death has meaning only God can know.  But others like myself believe these deaths are a sign of a nation and region gone mad.  The deaths of young people, whether Israeli or Palestinian, is a crime both against law and nature.  Any such death betrays a world out of balance, a society based on a sin.
As long as Israel refuses to settle its dispute with the Palestinians these children will die.  Their deaths have no meaning other than telling us over and over how sick this moral predicament is.  Occupation must end.  Statehood (whether one or two) must be recognized.  A holy city shared.  Refugees must return home (there is even a Biblical phrase and popular traditional song, "the children will return home").  Any reality that falls short of that guarantees more dead children.
For example, Bibi Netanyahu called the killers "human animals."  He added:
Hamas is responsible –- and Hamas will pay.
The notion that anything can avenge such a crime; that there is a payment that can be made in blood for such a crime, is itself pathological.  Such a response sanctioned by Israel's leader guarantees blood lust and vengeance.  When found, the boys (for the suspected killers are only a few years older than the victims) will likely be executed on the spot.  You can also expect high level Hamas leaders to be assassinated sometime in the coming months.  So the cycle of hate will keep turning.
Fortunately for Israel (but not fortunately for Palestine), its security forces prevents many such attacks.  Thus Israelis remain inured to the suffering they are causing Palestinians.  But every so often security fails (as it must for we are human) and there are stark reminders of just how untenable the situation is.
I cannot see any justice in these deaths (remember that seven Palestinians died in the resulting IDF invasion and ransacking of the West Bank).  There is no point, no reason.  The blood of these boys is on the heads of every Israeli leader, politician and general who refuses to acknowledge the inevitable.
Israel will exploit the deaths for tactical advantage.  It's already done so by invading the West Bank and arresting 500 suspects, few of whom have any useful information about the crime.  It will continue to pressure the PA to renounce the unity government with Hamas.  If Israel succeeds in this it will weaken the Palestinians and delay any resolution of the conflict.  If Israel fails and Hamas remains in the new government, then the former will have further reason to refuse to solve the conflict.  It's a perfect storm of failure and denial.