Uganda Signs Pact for Israeli Weapons in Return for Accepting Expelled African Refugees
It's one of the many terrible historical ironies of latter-day Zionism that a country Thedor Herzl once considered as a site for his Jewish homeland, Uganda, has inked a secret deal to accept thousands of African refugees Israel wants to be rid of.  The only ones who are missing the irony are Israel's prime minister, Bibi Netanyahu and most of his fellow countrymen and women.  They're long past remembering the state of homelessness that brought the State of Israel into existence.  Long past remembering the prejudice and violence that led Jews to found a homeland where they could feel safe and pursue a new life.
Curiously, Ugandan officials appear unaware of the deal and denied it in this Reuters report.
This deal is truly a pact signed with the devil.  One of its key boosters, and a confidant of Uganda's strongman, Museveni is Rafi Eitan.  He is the ex-Mossad spy responsible for "running" Jonathan Pollard and getting Israel into the deepest hot water it's ever been in with the U.S. intelligence apparatus.
Israel will furnish Uganda new weapons systems which it can use to further strengthen the autocratic rule of its Pres. Museveni and further his interventions in Congo and Rwanda, and fight insurgents in its northern provinces.  These include advanced drones, self-propelled cannons, surveillance systems, and upgrades for the air force's MIG 21s, including training pilots in Israel.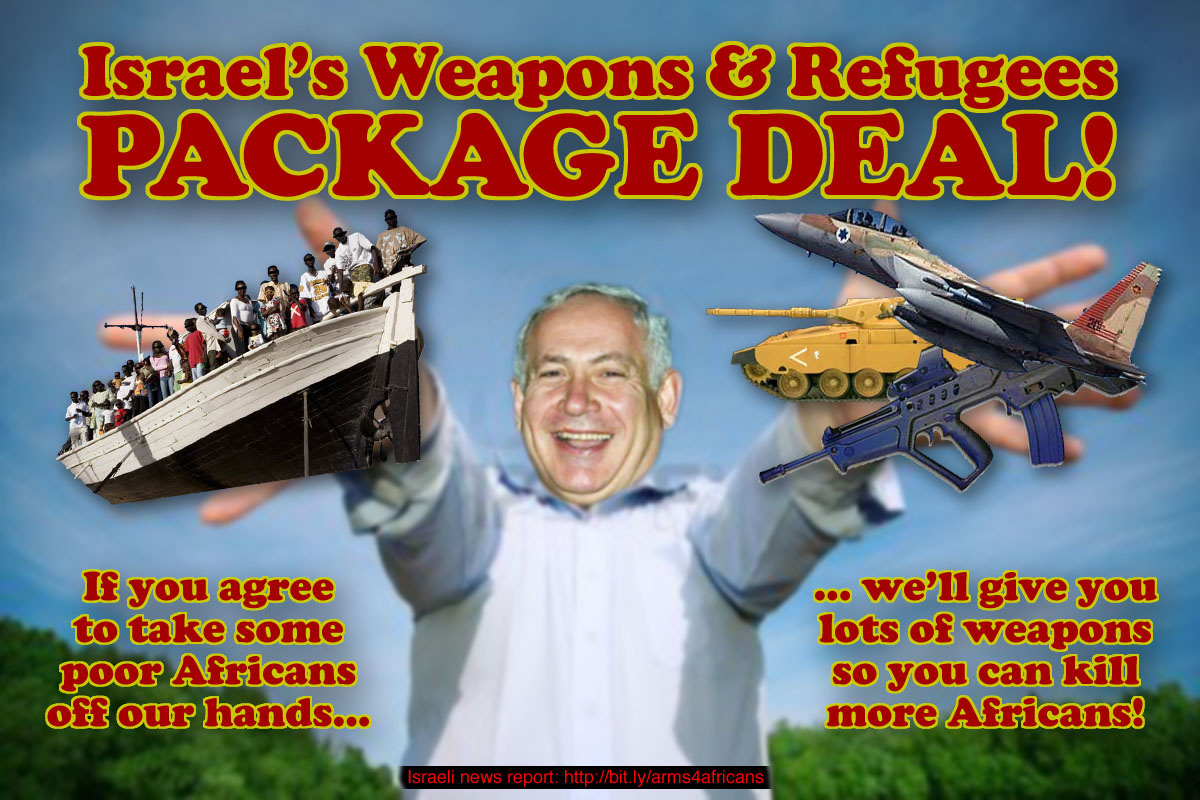 Uganda is one of the African countries known not just for outlawing homosexuality, but murdering gays.  Museveni wins "elections" by a landslide.  Journalists are threatened and the press is curtailed.  This new pact will serve to ratify Uganda's peculiar set of domestic hatreds and prejudices.
In short, Museveni and Israel are a match made in heaven (or someplace lower).  Israel loves strongmen.  The rougher they are the better.  It had a romance with Mubarak, loved all the kings including Hussein (Jordan) and Hassan (Morocco).  It would love the Saudis if it weren't for the inconvenience of the latter's Wahabi intolerance of Jews.
What Israel loses sight of is that it is known by the "friends it keeps."  In other words, if you lie down with dictators, you wake up with their fleas.  It's no accident that as Israel's democracy is strangled by its ultra-nationalist government, that it moves closer and closer to unsavory African characters like Museveni and Mugabe.
In case, any Israelis reading this are wondering (as unlikely as that is) how the expelled refugees will be treated on arriving in their new "home."  A Ugandan journalist had this to say:
The migrants from Israel will most likely be sent to the camps run by the United Nations Refugee Agency. "There are terrible conditions in these places," says Nkunda. "They are basically large prisons and the refugees are not allowed out without permission from the authorities. We call them 'warehouses for human beings.'"
Note another irony in that the expelled, not recognized by Israel as refugees, will be moved into camps run by the United Nations for…refugees.  That means that the only party that refuses to acknowledge they're refugees is Israel (because that would mean they couldn't expel them).  That's the very same nation that was founded by refugees as a haven for displaced persons.  That irony may be a bit painful to contemplate as is so much about this story.
If Bibi and Israel's radical nationalists had any Jewish guilt you might be able to embarrass them with this plethora of ironies.  But Jewish guilt is a Diaspora phenomenon.  It didn't seem to transfer to the Zionist lexicon.
Related articles