Protest Egyptian Bloodbath, End U.S. Aid, Sever Relations With Military Junta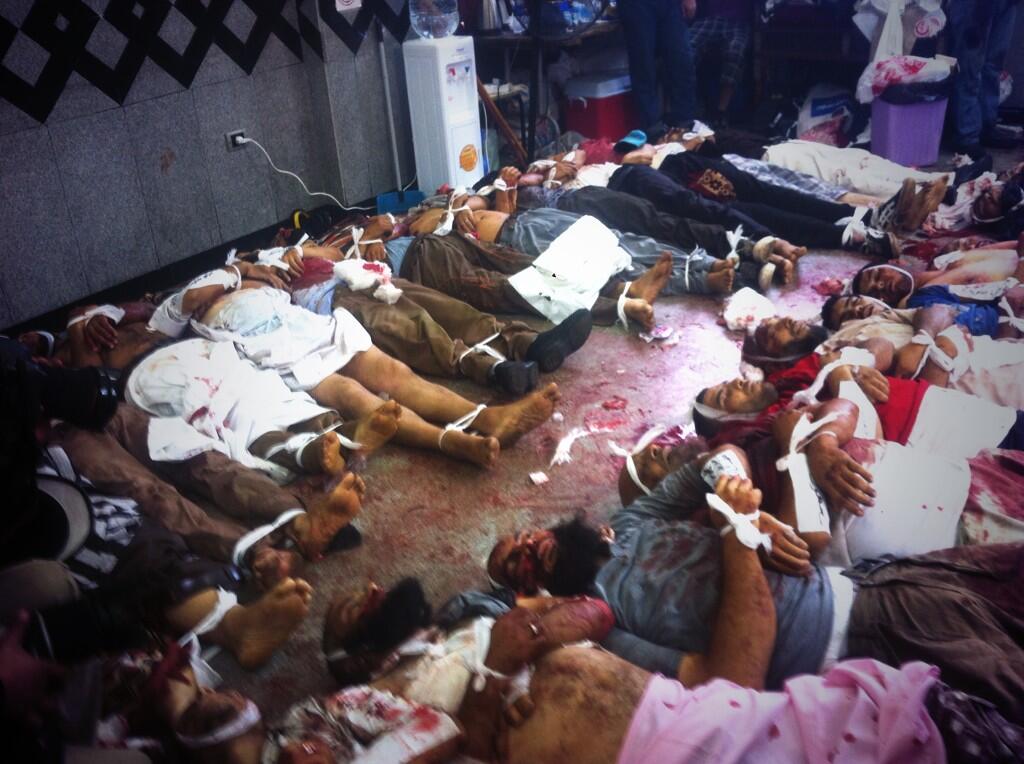 Yesterday's bloodbath in Cairo in which hundreds of Muslim Brotherhood protesters were mown down in cold blood by security forces in service of the ruling military junta was predicted before it happened. Even the EU and U.S. intermediaries visiting last week warned the junta leaders not to do what they determined to do. I understand there were threats to cut off aid if they assaulted the peaceful sit-in.
Now the generals have made their choice. They routed the protesters with a brute force that everyone knew they would use. The only thing not known beforehand was how many civilians would die. Now we know that the death toll is in the hundreds. NPR is saying at least 149 dead, but acknowledges the MB count of "hundreds" dead may turn out to be true. Yesterday, the Brotherhood had claimed as many as 600 dead and 8,000 injured. Though this is a number that can't be confirmed, it will certainly end up higher than NPR's estimate.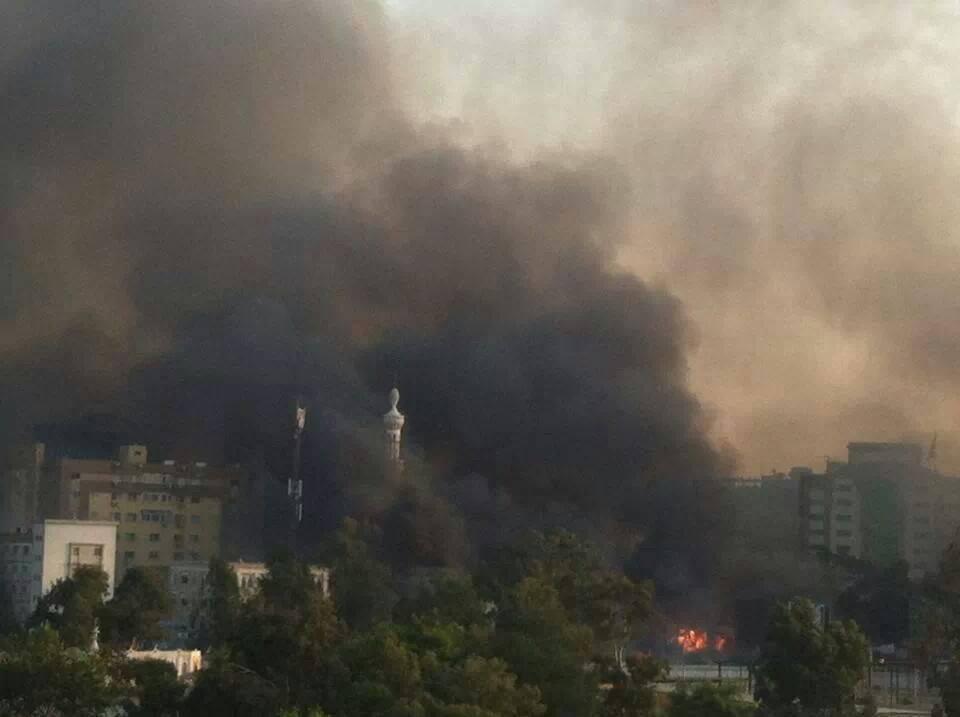 In a futile attempt to erase the evidence, security forces have burned down the MB field hospital which contained many corpses. This will not save these murderers. They will be held accountable. Perhaps not today or tomorrow. But there will be no impunity.
This leaves western nations, including the Obama administration, in a quandary. There will be clamoring from human rights and progressive forces to declare the overthrow of the former government a coup. This would trigger an automatic cancellation of U.S. aid. On the other hand, the medal-bedecked generals who stole power are the backbone of U.S. security policy in the region. Not to mention that Israel considers the military junta to be its new ally in the war on Islam[ism].
But for Obama to retain a shred of respectability he must take swift and sure action to denounce this mayhem. But he must go further. He must acknowledge the military government's responsibility for it. He must make a vigorous and meaningful protest by cutting aid and recalling our ambassador. This is precisely the wrong tack. Having the president playing golf while Cairo burns isn't a very good visual. Such temporizing will lead to an even more bankrupt foreign policy than we already have in the region.
All western countries should do the same. Immediately. If they do not, they risk becoming a laughingstock; democratic nations who only respect democracy when it's convenient to their interests. Nations willing to betray their values for the sake of so-called strategic interests.
The interim vice-president, Mohammed ElBaradei, has drawn the proper conflusion and resigned his position in protest. If they other civilians co-opted into this government had a shred of decency they would follow suit.
* *
On a somewhat related matter, today a Lebanese media outlet reported that Hezbollah took responsibility for the ambush of an IDF commando operation that invaded Lebanon last week. According to this story, the militant group planted a series of bombs that sabotaged the Israeli operation, whose mission had been to plant sensitive listening devices across the border that would pick up Hezbollah internal communications.
Before going farther, I want to make clear that I do not support Hezbollah nor do I support Sinai Islamists, who are willing to use savage violence to advance their interests. But on the other hand, I support the notion of territorial sovereignty both in Lebanon and Egypt (and Iran for that matter). In the long run, this value is more important in ensuring long-term security in the region than almost any other. Any nation (Israel in this case) that violates the sovereignty of another not only violates international law, but jeopardizes security in the region.
Let's compare what happened in Lebanon and Sinai. In Egypt, the military junta has chosen to invite Israeli security forces to kidnap and assassinate Egyptian citizens and Gazans inside Egypt. In Lebanon, Hezbollah responded by giving the IDF a bloody nose. Which one has respected its territorial sovereignty? And which has sold its national pride for a mess of porridge?
There will be pro-Israel commenters who will note correctly that Sinai Islamists and Hezbollah have invaded Israel's sovereignty by launching rockets aimed at civilian areas. These acts too must be condemned. But the fact is that Israel has set the example for invading its neighbors and their sovereignty through invasions of Lebanon (1982, 2006) and massive, repetitive invasions of Gaza too numerous to mention. If anything, the Islamists in Sinai and Lebanon have learned from the example set for them by Israel.
Related articles