Israeli Judicial Review Finds Jail Personnel Negligent in Zygier Suicide, But State Refuses to Prosecute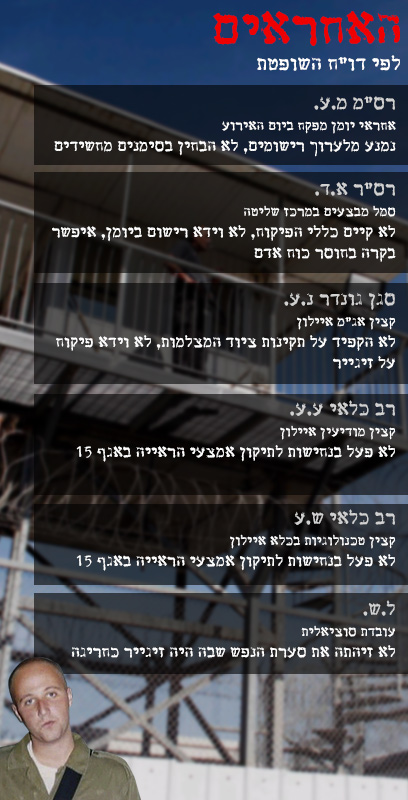 In perhaps the closing chapter of the sad tale of Ben Zygier, the judge tasked by the State to investigate the suicide of the Mossad agent, released (and Hebrew) her hitherto partially censored investigative report (Hebrew) in his case.  She found at least six prison officials guilty of severe negligence and dereliction of duty.  Yet the State prosecutor determined that despite this, there was "insufficient evidence" to bring charges against anyone.  After reading what follows, you will wonder whether the prosecutor has taken leave of his senses; or perhaps the State itself has.
In the course of this report, we discover that Zygier attempted to commit suicide twice earlier during his detention.  He also had an anxiety disorder which was being treated by medication.  Zygier at the time of his death had stopped taking the medication.
Despite the fact that he was classified as a prisoner at high risk of harming himself, psychiatrists who treated him in prison, even after being told of his suicide attempts, found him in need of no further psychiatric treatment, because he told medical personnel that he had no thoughts of suicide.  During another visit with medical personnel, the staff member noticed a cut on his wrist and asked about it.  Zygier told him that he did so in order to "calm himself."  This too did not appear to raise alarm bells.
The judge also notes that a key video camera in the detainee's cell was not transmitting.  The technology officer in the prison knew of the problem yet did nothing to correct it.  Because of this, the jailers could not see him as he entered the bathroom/shower in order to kill himself.
The officer monitoring the video equipment in Zygier's cell left his post two minutes before the detainee entered the bathroom where he ultimately killed himself.  No one on prison staff bothered to check on his welfare for over an hour, the period when he committed suicide.
The judge found that the negligence of prison staff contributed to Zygier's death and that had any of them performed their jobs as expected, his attempt might have been thwarted.
Miraculously, the State, after examining this report, found that none of the deficiencies the judge noted were worthy of criminal charges, and no one should be held accountable for the death.
Even I, who've grown inured to the brutality and impunity of the Israeli State marvel at the outcome of this investigation.  Clearly prison personnel were criminally negligent in this incident.  Yet no one will stand trial.  No one is guilty.
It could be that threats from the prison officials that they would expose other dark secrets in this scandalous case convinced the State that it was a can of worms not worth opening.  What could the prison personnel have done to embarrass the authorities?
For one, no one has sufficiently criticized the performance of the Mossad.  Not just in recruiting an unsuitable individual like Zygier, prone not to keep his mouth shut, and apparently suffering mental instability.  For example, take a look at this account by Ronen Bergman of an interview with a psychiatrist responsible for vetting Mossad agent candidates.  After reading it and his claim it's almost impossible to detect the character flaws that make for a bad candidate, you might wonder why the Mossad employs him at all.
But an even more critical Mossad failure was the decision to hold Zygier in secrecy, isolated from the rest of the prisoners.  In fact, there are only one or two other instances in which an Israeli Jewish citizen has been held in such a fashion.  The only one I can think of is Marcus Klingberg.
By holding him incommunicado, by refusing even to inform the prison personnel of who he was, the Mossad in effect laid the groundwork for his eventual suicide.  You simply cannot properly care for an individual when you know nothing about him.  Putting him in isolation made it all the more likely that an individual already suffering from depression, suicidal thoughts, and social isolation, would resort to the only way out that appears viable to him: suicide.
Because Israel would have had to blame both the Mossad and the Prison Authority for their joint dereliction, the decision was made to blame no one.  This is a schandeh.  An outrage.  A miscarriage of justice.  There is only one hope that the case will not end here–if the family determines that justice was not done.  They already did this once earlier when the State attempted to close the case for lack of evidence.  The family then protested and blamed the prison authorities for his death.  That was when the judge was appointed for a fuller examination.
If the family protests again, then they might raise a big enough stink for something further to come of this case.  If they don't, then Ben Zygier will have died in vain.
Here are the events of the fateful day on which Ben Zygier ended his life.  On December 15, 2010, Maya Alon, Zygier's wife came for a late morning visit with his daughter.  The report notes that at the end of the 55 minute visit, Zygier was found to be crying and distraught as his wife left the cell.  Zygier asked him jailer if he could give his wife a note.  The jailer refused, which caused Zygier to tear up the note angrily and fling it away.
Alon asked to return to the cell to comfort Zygier, which the jailer permitted.  When she returned a few moments later Zygier was still crying.  It was clear from the interaction that his wife had told him something deeply upsetting to him.  This was reported to the jailer's supervisor, who in turn informed Zygier's social worker.  When the social worker spoke with the guard on duty, he told her Zygier was calm and watching TV.  She did nothing further to ensure he would be monitored more intensively.
Two minutes after the guard left the video monitor room, Zygier entered the shower and hung himself.  It wasn't till over an hour later that anyone checked on him.  By then, he was dead.
The only detail now that it is important to know is what happened between Zygier and his wife that day.  Clearly, it involved the two of them and likely had something to do with their relationship.  While I have heard various rumors, my guess is that Maya Alon told him that she wanted a divorce.  It's possible that she had met another man and needed a divorce to remarry.  That's the only information I can think of that would drive him to such despair.
He was a man facing 10-20 years in prison.  That he might've been able to withstand.  But knowing that his wife had deserted him, that might make the upcoming jail sentence impossible to endure.  If any of what I've conjectured is true, then Zygier's wife bears a measure of responsibility for this tragedy.  Though she's certainly entitled to conduct her life and make decisions as she sees fit, she should have told the guards that their conversation would likely distress him and that he needed extra supervision to ensure he did not harm himself.  She appears not to have done so.
Of course, the prison system knows what they discussed because they monitor everything that happens in the cells.  Now, only Maya Alon and the Prison Authority know the truth.  Israelis, who deserve to, may never know.
That will mean that the most damaging Israeli intelligence failure of the past decade or so will be swept under the rug.  The only time an active Mossad agent ever betrayed his country, and Israeli citizens may never know for sure what happened.  They will not hear how this failure unfolded and who was responsible.  Those who are guilty of egregious errors of judgment in recruiting him and in the manner he was treated after he was arrested, have gotten off without a scratch.  And all in the name of state security.  Protect our own because no one else will.  If we make mistakes, we're making them for you, Mr. Israeli Citizen.  Therefore you must forgive us.  Give us leeway.  If not, then all hell will break loose, our enemies will overcome us because of our display of weakness.  Stay strong.  This too shall pass.
All this is the bleating of the national security state.  Whose agents are above the law.  They may be incompetent, negligent–but all this is forgiven for the sake of protecting Eretz Yisrael.