Sheik Salah, Israel's Islamic Movement Leader: British Arrest Ruled Illegal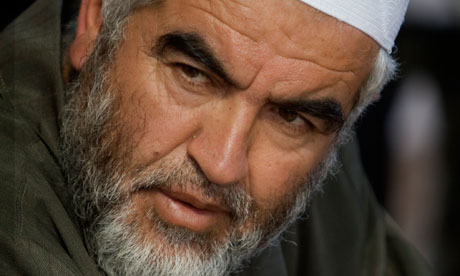 In a ruling that is certain to render the Telegraph's anti-Muslim blogger Michael Weiss apoplectic, the British High Court has ruled that the arrest and planned deportation of Israel's Islami Movement leader, Sheikh Raed Salah by British authorities was illegal:
A British High Court determined Friday evening that the arrest of Raed Salah, the leader of the Islamic Movement in Israel's Northern Branch, upon landing in the United Kingdom two months ago, was illegal, and as such, Salah is eligible to receive compensation from the state.
As soon as Salah landed in Britain, Weiss went on the warpath in the pages of his newspaper warning of the danger to the kingdom from the presence of such a raging Muslim anti-Semite.  The British Home secretary was driven to act by the combined imprecations of England's pro-Israel Jews, and the Sheikh was banned.  Only problem was, the Home Secretary and Weiss couldn't seem to produce any evidence supporting their claims Salah was banned before he arrived in the country and somehow slipped past immigration authorities due to deception on the Muslim leader's part.  Nothing of the sort happened.  I believe it was the British who decided to rid themselves of him after the fact.  And this is why the court ruled he was entitled to remain in England.
Not only this, but due to his illegal detention and incarceration he's entitle to compensation from the government.  It would be delicious justice if the government could compel Weiss to contribute to the compensation since he's one of the reasons it made such a cock-eyed decision to begin with.  Curiously, Weiss hasn't blogged about this decision.  I can't wait to read his fulminations about the shoddy English legal system which allows such villains as Salah to slip through the cracks of justice, etc, etc.
This Guardian story claims there was a prior legal order banning him from entering Britain which a Heathrow immigration officer neglected to see.  Salah wasn't informed of the supposed order either, before he entered Britain.  I find this dubious and have seen no evidence that there was indeed such an order.  The reporter doesn't offer any proof himself either.
Of course, this may be a Phyrric victory as it's probable the Home Office will, once the Sheik leaves, declare him persona non grata as far as future visits.  Those, I imagine, he won't be able to appeal.