'Professional Provocateur' Peace Boats Break Gaza Blockade
Defying all odds and Israeli threats of force to stop them, two boats of the Free Gaza Movement reached port in Gaza earlier today:
Two boats carrying dozens of international activists sailed into the Gaza Strip Saturday in defiance of an Israeli blockade, receiving a jubilant welcome from thousands of Palestinians.

The boats docked in Gaza City's tiny port after a two-day journey marred by communications troubles and rough seas. As they arrived, children swarmed around and leaped into the water in joy, while thousands of cheering residents looked on from the shore.
It is the first time that anyone has broken the Israeli naval blockade of Gaza, in force since Gazans chose Hamas to represent them in 2006 elections.
The boats were greeted by scores of Gaza fishing vessels which sailed out to meet the peace activists who began their journey in Crete two weeks ago and reached Gaza after a 180 mile, 30 hour journey from Cyprus.

It was touch and go all the way as the Israeli defense ministry threatened to use force to prevent the boats from violating the Israeli siege.  During the past day of their journey, someone–possibly Israeli electronic warfare specialists–
jammed the boats' electronic gear
and prevented them from communicating with each other:
Earlier Saturday, the Free Gaza activist group accused Israel of sabotaging the mission, saying that Israel had jammed the boats' electronic communication systems.

"I can't think of any other reason or any other party with an interest," said Angela Godfrey-Goldstein, the group's spokeswoman in Israel. She accused Israel of jeopardizing the activists' safety, and appealed for international assistance.

In a statement, the activists said their communications systems had been jammed and scrambled and said they were victims of electronic piracy.
The foreign ministry denied involvement:
Foreign Ministry spokesman Arye Mekel said Israel wanted "to avoid the media provocation" that the group was seeking. He dismissed the allegations that Israel damaged the communications system as "total lies."
Haaretz reveals that there were a series of consultations between the defense and foreign ministries about how to handle the situation, with the IDF arguing for forcibly detaining the ships and participants for questioning in Israel.  Free Gaza Movement spokespeople warned that they would consider such behavior a violation of international norms and kidnapping.
Apparently, cooler heads at the foreign ministry prevailed and the government decided to let the ships reach their destination.  When you think of it, this is quite a remarkable feat for a nation seemingly always prepared to use maximum force in confronting perceived threats from Palestinians and their supporters.  I can't say whether this decision shows the imprint of a more pragmatic Tzipi Livni over a hot-headed Ehud Barak in the defense ministry.  At any rate, it shows there was a certain level of maturity in this particular case.  Though Israel couldn't miss an opportunity to show its utter disdain despite its "forbearance:"
…Discussions were held last week on this matter…The IDF raised the idea of forcibly preventing the boats from reaching Gaza. The army officers suggested stopping the boats at sea and towing them to the Ashdod port for inspection, where the activists on board would be detained for interrogation.

However, after further consultation, it was decided on Friday to avoid a confrontation and to allow the boats to reach the Gaza Strip. In the wake of that decision, urgent directives were sent to Israel's embassies around the world regarding the stance they should take concerning this event.

"These are professional provocateurs and we did not want to cooperate with that on the open seas," a senior political source in Jerusalem said. "Instead of letting the entire international press obsess about this for a week, the boats received almost no coverage, simply because there was no confrontation."
No press coverage? A GoogleNews search displays over 300 separate articles about the FGM journey. This is mere rhetorical puffery on Israel's part.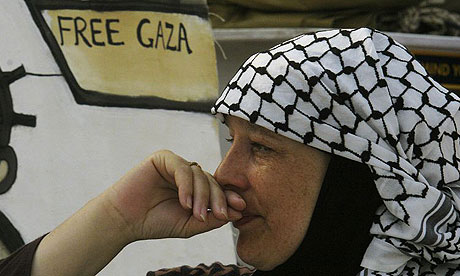 But unfortunately it was difficult if not impossible to see live footage of the arrival in Gaza port in western media.  Which makes the following e mail, sent by a journalist in Britain to Miriam Adams, one of my blog readers, especially poignant in this interactive, inter-connected world we now live in:
Want to know the sheer power of the modern age?

I am in England. I do not have television.

Tom (Nelson) sent me an e-mail "We're in" message from his Blackberry on board the boat to Gaza.

My closest Saudi Arabian friend called me on Skype as soon as he saw it.

He turned his web-camera towards the television set in his living room in Riyadh.

We watched – together – the boats sailing into Gaza, the people lined up on the shore and cheering.  Hundreds of small fishing boats are there with them, cameras everywhere.

I could see Yvonne Ridley waving her arms around from the side of one of the boats, so close to the harbour.

One has to take a deep breath and marvel at the magnitude of this power. There is no stopping people now.
While one may doubt her certainty that change is imminent in Gaza, one cannot discount the power of new technology to bring home far-off events with ever more immediacy. God bless Skype and the ingenuity of those who take advantage of such technology to surmount barriers that divide us.!
The next interesting development will be how the 47 crew members will depart from Gaza since Israel controls the borders. Will it let them depart without hassling them? Again, previous history shows that given an opportunity, Israeli intelligence will try to poke a finger in FGM's eye by either detaining them or otherwise making their lives miserable. Anything to take the wind out of their sails.
Interestingly, the Israeli foreign ministry raised the possibility of more such voyages in the future:
Mekel, the Israeli spokesman, said Israel's decision did not mean that future deliveries would necessarily be permitted.

"This decision was about these boats. We will see what happens with any future boats," he said.
I think one of the real weaknesses of the FGM voyage as a political tactic is that it was not really a homegrown Middle Eastern project. It was based in California and the crew consisted of one Israeli, Jeff Halper, who was instrumental in planning the trip. Thus it became easy for Israelis to dismiss it as a stunt by radical leftist pro-Palestinians. It would be much harder to dismiss a future sailing composed solely of Israelis and Palestinians. That's the tack I would take if I were pursuing another such mission. Make it as hard as possible for Israelis to dismiss the message. Make it hit them where they live.
At any rate, Free Gaza Movement has made a small but significant and valiant gesture in the movement against the Gaza siege.  To paraphrase Churchill: It's not the end or even the beginning of the end, but maybe the end of the beginning.