Snow Lake (Alpine Lakes Wilderness, WA.)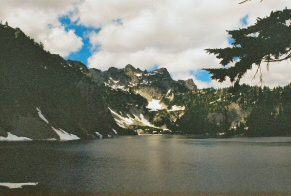 Snow Lake looking west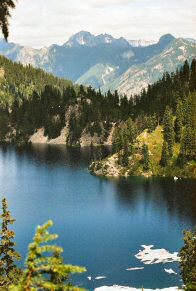 Snow Lake looking north
This is a 7 1/2 mile round trip hike in the Snoqualmie Pass area of western Washington about 45 minutes by car from Seattle. I took the route to Snow Lake beginning fr. the Alpental parking lot. In getting to the trailhead, be careful if you're using 100 Best Hikes in Washington. The directions are wrong. Trailhead is ONE mile (not two) fr. the freeway exit. Trailhead is at the first main parking lot you reach on this road (don't continue on past to a higher parking lot). Also, you have to make a turn fr. the freeway exit onto the Alpental Road (there is another road at this intersection that you might mistakenly take).
100 Best Hikes warned me how popular this trail is–and they were right. On a Thurs. in early July there were scores of hikers on the trail. Most were nice, unassuming, friendly folks but there were a few loud parties which tended to ruin it for the rest of us.
I guess this trail is popular because it has relatively low elevation gain & is an easy trail with a big payoff at the end. I wish the trail were harder or longer to discourage some of the masses of people that clog it up a bit.
Snow Lk., as its name implies, still had snow & ice both in the lake & on surrounding slopes. Some snow on the trail itself (bring a hiking pole). What a gorgeous site to see the lake cirque surrounded by Cascade peaks. Be prepared that temps. can descend 5-10 degrees once you descend fr. the saddle to the lake below. Winds & clouds pick up & it can be quite a bit colder than the Snoqualmie Valley side.
There is little direct lake access but nice spots above the lake for lunch. The log bridge over the outlet stream is beautiful with the detritus of logs & rocks creating a striking setting; along with the thundering outlet stream rushing straight downhill through a narrow shoot. My Lab had a great time fetching sticks I threw into the freezing cold, clear green lake waters.
Bugs are just starting to become a problem so bring insect repellant.
If you're a hearty dad with a strong back & a good toddler backpack, I think this would be a great hike to bring a toddler on. Not too long, not too steep but with beautiful views along the way. A great introduction to the outdoors for a little one. One small drawback is that there isn't a lot of flat open space for a child to run & play in once you get to the lake. There are steep drops to the lake below, so if you take your child out of the backpack you'll have to be mindful.