Ben Gvir Aide: Netanyahu Government is Precursor to "Davidic Monarchy"
Temple taliban leader arrested, offering to pay for Passover animal sacrifice at Haram al Sharif
Before entering into the Bizarro World of Judeo-messianists, I want to warn you that the story I'm recounting here is not lunacy.  The subjects are not mentally deranged.  It is dead serious.  You may think these people have a screw loose.  But they are serious as a heart attack, and just as deadly.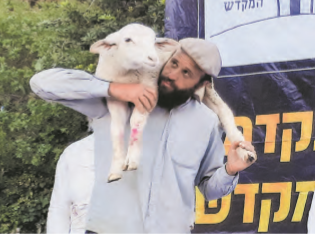 There is an Israeli "Temple Institute" which "trains" Jews to become priests of the rebuilt Temple; which, of course, can only be built if Al Aqsa is destroyed.  They study the minute details of Temple ritual, priestly vestments, liturgy and animal sacrifice.  Not to mention delving into the minutia of the architectural details of the Second Temple so they can reconstruct it in a perfect replica.  The details of which you will find in the dankest sections of the Book of Leviticus.  When I read it my eyes glaze over. When they read it, their eyes burn with the fire of religious zealotry.
Each year, a related group called "Returning to the Mount" (slogan: "he who rules the Mount–rules the land [of Israel]) holds a "contest" with cash prizes to anyone who enters Haram al-Sharif illegally and is arrested by Israeli police.  But that's just the lowest rung of prizes.  If you are arrested carrying a lamb and a kid for slaughter (remember that animal sacrifice), you win a larger prize.  And if you carry those sacrificial lambs (so to speak) and are arrested with them on the "Temple Mount," then you win more money.  But the richest prize of all goes to the one who not only carries those animals to the sacred sanctum, but actually performs the ritual sacrifice there.  This Jewish Prince of Darkness takes home $5,000!  Not to mention the distinction of inciting religious war between Jew and Muslim the likes of which the world has never seen.
Earlier today, Israeli police arrested the "brains" behind this outfit, Raphael Morris, on suspicion of 'planning to disrupt public order.'  By which I assume they meant, planning to cause World War III.  His young son was in the vehicle with him.  They live in an illegal West Bank settlement.  The report did not indicate whether there were lambs and kids with them. Police had an order to search his home as well. Presuably, they're searching for those long lost lambs.
Morris' group released a statement declaring every Jew is commanded to slaughter animals on Passover; and that Jews (ie. settler "arsonists") must enjoy full freedom of worship, including the right to animal sacrifice.  So the next time you hear Ben Gvir and his lot complain and demand Jewish freedom of worship on the "Temple Mount," remember that this is the sort of "freedom" they're talking about: the freedom to provoke religious holy war.
Ben Gvir: Israeli Gauleiter
Itamar Ben Gvir is the police minister, who isn't satisfied with one police force at his disposal, so he needs a second one, his own private militia.  When Netanyahu announced the "pause" in his plan to destroy Israeli democracy, BG and his Brownshirt thugs were not happy.  There were all-in for the coup.  They saw Netanyahu chickening out.  So they took advantage of his weakness to exact a price.
In Ben Gvir's case, it was his very own private militia.  It will go where no other Israeli law enforcement will go and do what no Israeli law enforcement will do.  You want Huwara erased?  And it's too dirty a job for the cops or the IDF?  Let the militia do it.  When he was asked who he expected to serve in his private army, he said the 'good lads' in La Familia would be perfect for the job.  Which actually would be perfect…for them.  Because this would transform them from  thugs on behalf of a mere soccer club to kings of the world…at least the Israeli world (more below).
Let's go back to talking about the price. For starters, it will cost $280-million just to get the thing off the ground.  Then, it will require similar sums annually to keep it running. But not to worry, Big Daddy Bibi is made of money.  Today, the Knesset approved the key-money: $280-million. Cash on the barrelhead.  Ben Gvir has his new playtoy.
Imagine if poor Ernst Romm had had Ben Gvir's smarts.  He had 3-million SA thugs at his command and could have ended up the Reichskanzler, instead of with an SS bullet in his head.  But Bibi isn't the type to kill his erstwhile allies.  He merely smothers them and cuts off their political oxygen till they wither and die (Barak, Glick, Gantz, Bennett, Lieberman).  He'll do the same to Ben Gvir when the time comes.
Guerilla theater satirizing Ben Gvir's "Blackshirt" private army: seen on Kaplan in Tel Aviv today. https://t.co/B9k5RV0OJJ

— Tikun Olam (@richards1052) April 2, 2023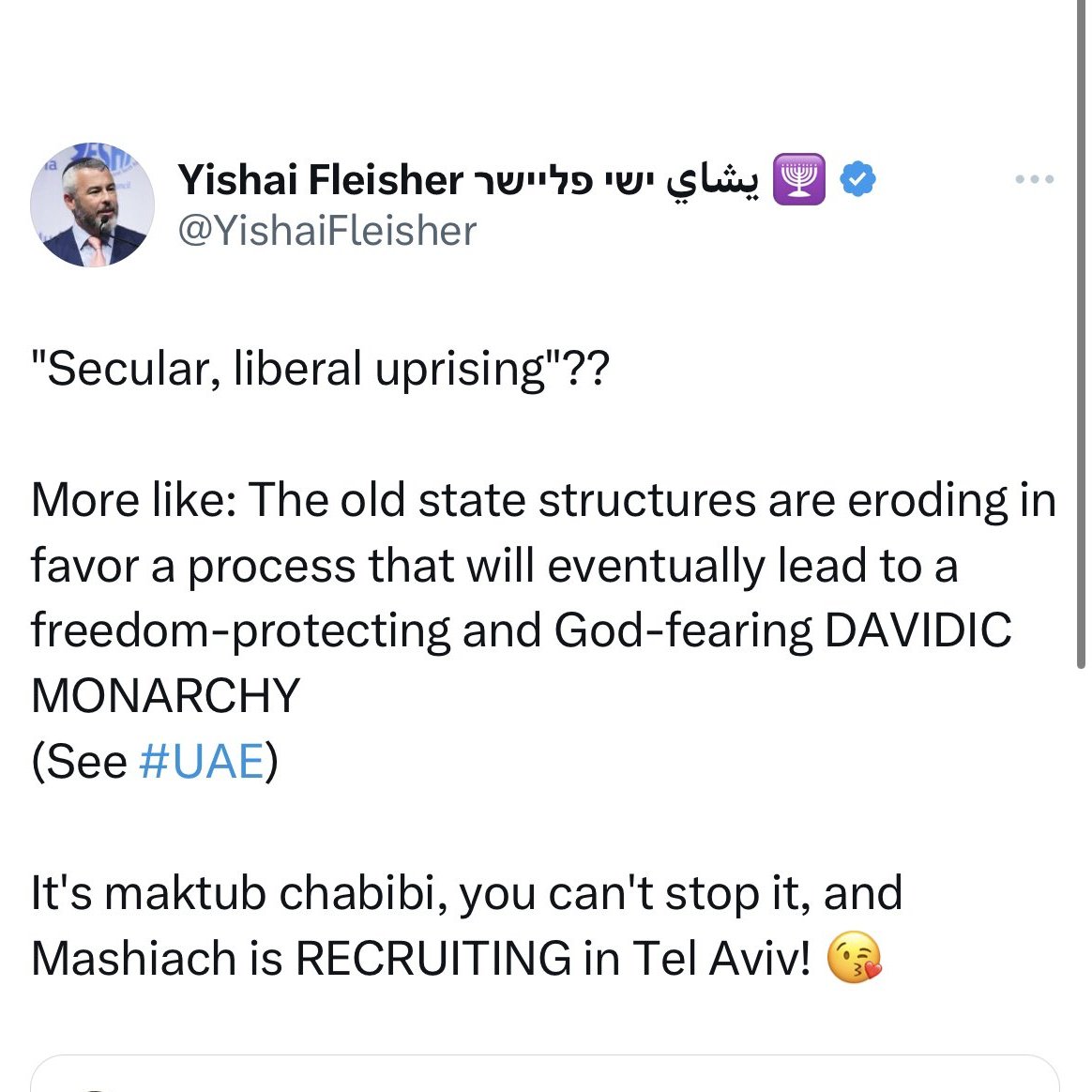 But in the meantime, the convicted terrorist is sowing his wild (political) oats. He's recruiting for the new militia and has set his sights on just the right "material."  Just like Yevgeny Prigozhin filled the ranks of Wagner fighters in Ukraine with convicted criminals, Ben Gvir is tearing a page from the Russian's playbook.  He's inviting members of La Familia to join the ranks.  It is the hooligan fan club for the Beitar Jerusalem soccer club, Bibi's favorite team, known for being the most thuggish, racist and violent in all of Israeli soccer. Not to mention, a source of terrorists.
The above video clip features a mock march of the new Blackshirt militia through the streets of Tel Aviv to the sounds of the Star Wars Darth Vader theme.
When asked, Ben Gvir said that La Familia offers some real "officer-material" there and "people with values."  Indeed they are.  Last month they burned down the club offices and training facilities of one of their soccer rivals.  Ben Gvir warned the Israeli media to "stop engaging in character assassination against La Familia."
Ben Gvir is also the 'rebbe' of the Hilltop Youth terror mob.  They too will be among the top recruits to this Judeo-Nazi terror outfit masquerading as a state militia.
Ben Gvir's Plans for Davidic Monarchy
In the meantime, Ben Gvir employs a spokesperson, who's been the chief mouthpiece for the settlers.  Now he's Ben Gvir's. But BG doesn't need anyone else's mouth.  His is big enough for ten.  Nevertheless, Yishai Fleisher has to earn his shekels.  So he tweets out provocations like this (right).
Not satisfied with his own police force and private militia thanks to Netanyahu, Fleisher has his sites set on what comes after Bibi.  Apparently, it's a "God-fearing DAVIDIC MONARCHY."  Oh and let's not forget "freedom-protecting." Though whose freedom this future scion of the House of David will protect isn't precisely clear: is it the hard-working, secular high-tech CEOs of Tel Aviv?  Or the Settler Jugend parading through the streets of Jerusalem and Tel Aviv, beating up LTGBQ individuals and Palestinian taxi drivers.  Or will this new divine kingdom use mounted police on 900-pound, eight-foot-tall horses to beat little girls senseless (see video clip below)?  Are those the ones whose freedom will be protected? I think not.
Lying POS police claim this little girl tried to kick a horse and attacked it w her sign. In what universe can a girl inflict injury on a 900 lb 8 ft tall horse, 2 justify trampling & beating her mercilessly w a baton. It's takes 2 of these thugs 2 beat a girl. Brave heroes https://t.co/6UyYHLSUj8

— Tikun Olam (@richards1052) April 2, 2023
Occupation: Israel's Golem Threatening to Destroy Its Master
I want to warn anyone within eye or earshot: this is not a joke.  This is not a drill.  This is really dangerous s*.  To think that this is a bad dream that will somehow be swept away, so that Israelis can back to their nice, comfy lives–is a very big mistake.
The pro-democracy protestors are naive. Before the coup, they thought they could live walled off from the unpleasantness happening only a few miles away from them.  They handed the keys to the kingdom to the army and police, telling them to get the bastards who threatened their tidy lives and hold them at bay.  But a funny thing happened: the bastards refused to play by the rules of domination. They refused to play dead.  And they brought the war against Occupation back home, to the streets of Tel Aviv and settlements in the West Bank.
Now, Netanyahu and his Gauleiters have played a cruel trick on those CEOs, ex-generals and Shin Bet chiefs.  He's now giving his own Israeli-Jewish citizens a small taste of what it's like to be Palestinian. And, surprise, surprise, they don't like it. Not one bit.  I can't blame them.
But the truth is, if they'd raised even their little finger to stop the madness of Occupation, they would never have this monster breathing down their necks.  They didn't, and now there's hell to pay.  Some, like Yuval Harari are even warning not only of the end of "democratic Israel' (his words, not mine), but of the state itself.
In order to stave off such a catastrophe he advocates convening a "constituent assembly" to draft an Israeli constitution and revise the structure of government and create an Israeli version of the separation of powers.  He warns that if:
…We fail to reach a broad agreement on such a new contract, the days of Israeli democracy will be numbered. And without democracy, the days of the State of Israel may also be numbered.
To which I would say, if it happens, Israelis will have only themselves to blame.