Iran Will Elect a New Hardline President, We Have Only Ourselves to Blame
NOTE: Middle East Eye published my critique of the American Jewish leadership's celebratory embrace of the new Israeli government.  Please give it a read and boost it on social media.
The next president of Iran will be a hardliner, Ebrahim Raisi. He heads the judiciary, a center of power for the clerical regime, and is a close confidant of Ayatollah Khamenei. In 1989, in the midst of the Iran-Iraq War, he was responsible for the purge and execution of thousands of opponents of the regime. In short, he's a bloody monster.  My friend, Prof. Muhammad Sahimi published this chilling account of these grave crimes against humanity.
Though he is ultra-conservative and shares Khamenei's mistrust, if not hatred of the US, he also supports talks aiming to renew the JCPOA agreement and remove sanctions against Iran.  Though Raisi's candidacy is a direct assault on the legacy of his predecessor, the moderate Hassan Rouhani, it was the latter who championed the nuclear deal and anticipated that it would bring long-sought relief to Iran's stumbling economy.  When it didn't due to the Obama administration's refusal to relieve some of the most onerous sanctions, Rouhani bore the blame.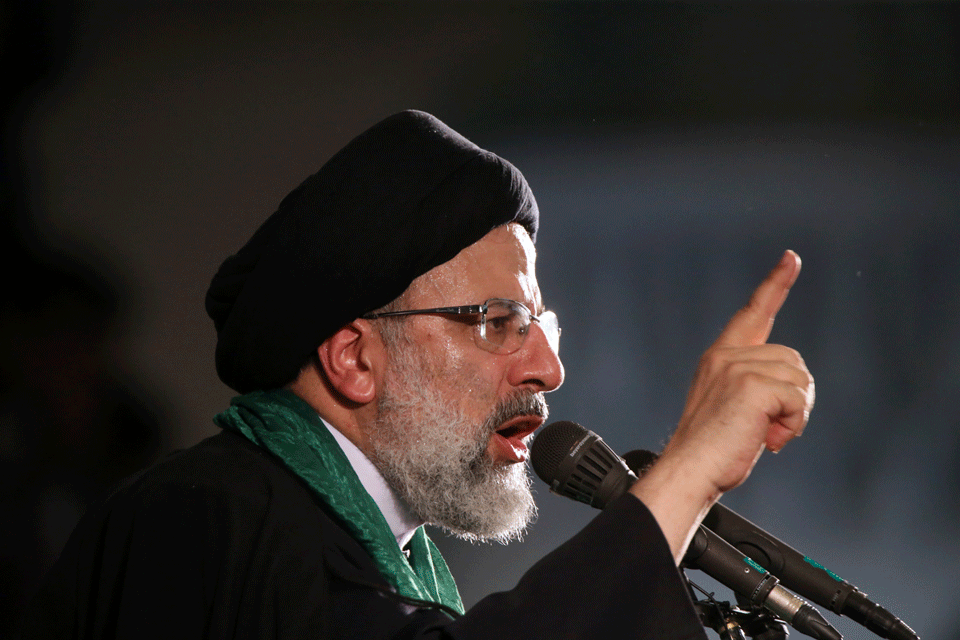 It's hard to see how Raisi will be any more willing or forthcoming in these talks now being held in Vienna regarding a return to JCPOA.  It also seems extremely unlikely he will yield to demands for IAEA access to Iranian nuclear facilities, one of the sticking points in the current negotiations.
Why is he going to win the election? One reason and one reason alone: the US, including Barack Obama and even more so, Donald Trump. When Obama negotiated the JCPOA nuclear deal, he was supposed to relieve sanctions against Iran. He didn't. There was partial relief, but nowhere near the level Iran expected.  Then Donald Trump pulled out the deal entirely and imposed even more punishing sanctions. The result was the discrediting of Pres. Rouhani. Iranians felt that Trump had made a fool of them. And he had. Or at least he had tried to. Now the new president is Iran's revenge.
He will make life a living hell for Biden, who would like to restore some stability to the region and take the Shia-Sunni cold war off the boil. While I hope I am mistaken, relations could go very cold over the course of Raisi's term as president.
It's worth noting an alternate view of the election offered here by a former ally of Pres. Khatami, another former moderate president.  Hossein Moussavian holds the contrarian view that Raisi could be Iran's De Gaulle, the powerful figure whose support from the Revolutionary Guards and Grand Ayatollah would enable him to pursue policies of rapprochement with Iran's Gulf enemies and to complete a nuclear deal:
Firstly, a principlist [conservative] president trusted by Supreme Leader Ayatollah Ali Khamenei and the Islamic Revolutionary Guard Corps (IRGC) would likely face less opposition at home on foreign and domestic issues, including the nuclear deal, Iran's affairs vis-a-vis neighbouring countries, and the West.

…The nuclear deal and regional issues will remain the most challenging files for the next administration. Since the next president will likely share similar beliefs as the centres of power in Iran, he will have greater decision-making autonomy, forming a unified government whose key ministers are not viewed as "threats" to the ideals of the supreme leader.

As a result, the new president will face fewer challenges from the principlist parliament, judiciary, IRGC and other key establishments.

…If the current nuclear talks in Vienna succeed and the nuclear deal is fully reimplemented, this would deliver the economic benefits to which Iran is entitled. The new government in Iran would then have significant incentive to push forward with resolving other disputed issues.

A regional cooperation system in the Gulf would be the most realistic, natural and necessary venue for Iran and neighbouring countries to start negotiating and resolving outstanding regional issues. This would require the UN Security Council to step in, but given the likely characteristics of the next Iranian administration, such a regional cooperation pact has a genuine chance of success.
This seems to me an entirely too rosy picture full of wish-fulfillment, with little basis in cold, hard reality.  It presumes that Ayatollah Khamenei has embarked upon an entirely new course in his relations with Iran's former regional enemies in the Gulf.  Though it is true that there have been unprecedented talks between Iran and Saudi Arabia; and Qatar, an Iranian friend, has been restored to the Gulf Cooperation Council after years of being blockaded, whether Iran's Supreme Leader is really prepared for such a radical shift remains to be seen.