Israel and Hamas Nearing a Ceasefire? Or Regional Conflict and Civil War?
Right now, the Gaza-Al Aqsa conflict looks like it could go one of two very different ways.  On the more optimistic side, Times of Israel (TOI) is reporting, based on sources in New York (presumably associated with the UN) that the weekend could bring a ceasefire between the two sides:
A diplomatic source familiar with efforts to broker a ceasefire between Israel and Hamas tells The Times of Israel there is cautious optimism that one will be achieved in the next day or two.

The source says that this assessment among negotiators comes from experience brokering ceasefires to end previous rounds of violence between the sides and a "clear reading of the room."

Hamas has passed along messages that it is interested in a ceasefire, and negotiators believe that after the nature of the Israeli strikes that took place in Gaza overnight Thursday and early Friday, Jerusalem is also interested in winding down the latest round of violence, the diplomatic source says.

Egypt has been playing a major role in the current efforts to end the violence, holding calls with officials in Hamas, Qatar, the US and other countries, though not with Israel directly, another official tells ToI.

A Security Council diplomat says that Sunday's emergency open session on the violence in Israel and Gaza will see member states unanimously issue calls for a ceasefire, albeit with blame being placed to varying degrees on either side. The meeting will further pressure Israel and Hamas to agree to a return to calm, the diplomat says.
TOI is notorious for publishing unfounded stories or even hoaxes.  So I'm not putting an enormous amount of credibility into this report (yet).  But if true, this does offer a ray of hope that the slaughter initiated by Israel against Gaza may end in coming days.  Because the US and Israel refuse to recognize or negotiate with Hamas, Egyptian mediators are on the scene attempting to arrange a ceasefire as they have in the past.
The US, as I've written here earlier, is playing a next to useless role cheerleading for the Israelis as they blame the Palestinians for the conflict and spout the Israelis' right to self-defense.  Biden made a public statement yesterday in which he spoke so haltingly and unpersuasively I thought he might be having a stroke or an episode of dementia. It was pathetic.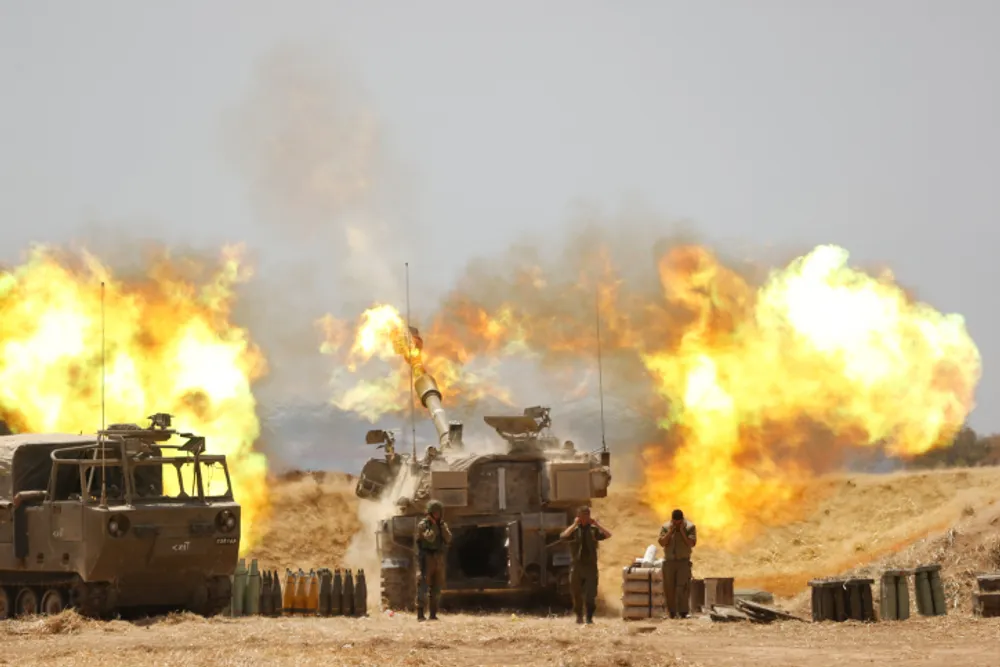 Scenario 2: Ground Invasion
Another scenario is far more ominous.  Israel could not only continue its attacks, which have led to 131 Palestinian dead, including 31 children (8 Israelis have died); it could mount a ground invasion consisting of the three brigades of 8,000 troops which are massing on the border.  The last such invasion led to 2,300 Gaza dead and 18,000 homes destroyed, and a current ICC investigation of Israeli war crimes.
If that happens, then we should keep in mind that unidentified Lebanese forces fired three rockets yesterday which landed in the Mediterranean.  Clearly, had they wanted to strike Israel they could have.  These seem to have been warning shots meant to alert Israel what might be in store should it continue to attack Gaza.  Today, three more rockets were fired from Syria into Israel-occupied Golan.  They did not strike a populated area.
As I wrote earlier, Iran would be only too happy to widen this conflict and strike blows against Israel that would draw blood.  That's why it has supplied cruise missiles which have proven effective in circumventing the Iron Dome system and striking Israeli targets.  These weapons represent a serious escalation in the conflict and offer Hamas a far more lethal weapon than the primitive rockets it has used in the past.  Iran also has close relations with both the Assad regime and Hezbollah in Lebanon and Syria.  Should it wish to do so, it could enlist them to widen the fight, making it either a two front or even three-front war.  This cannot be good news for Israel, regardless of whether it is capable of engaging in such an expanded conflict.
An alternate view of the second scenario might be that Israel is threatening a ground invasion in order to pressure both Hamas, Egypt and the US  and improve its negotiating position during talks leading to a ceasefire.  Israel wants to be in the stronger position and argue that if Hamas doesn't accept its terms, the alternative is an invasion.  However, Israel has refused a number of previous Hamas offers of a ceasefire.  So it's hard to know what precisely is on Netanyahu's mind.
On the Home Front: Civil War?
There is an important domestic element of this conflict which must not be overlooked.  For the first time in Israeli history, the home front is boiling during military conflict.  Instead of the usual 95% approval rating for past wars, Israeli Palestinians are incensed over Netanyahu's incitement and defiling of Al Aqsa mosque.  Armed gangs of Jewish thugs and Palestinian youth have been roving the streets of towns like Yaffo, Lod and Bat Yam seeking out Jews or palestinians and beating them unconscious. Synagogues and mosques have been burned. Businesses trashed and looted.  Towns where Jews and Palestinians have lived for decades in relative peace are now riven by hatred and fear.
Now, it appears the Internal Security ministry, which supervises the police, has enlisted armed vigilante groups (go to around 20:00 in the above video to see the Judeo-thugs prevent a peaceful march by peace activists through the Arab community of Yaffo) to prowl Palestinian neighborhoods out of uniform and lacking any personal name tags.  These forces are armed with stun grenades, communication devices and sport Punisher white supremacist logos common to US police white supremacists.  IDF troops in the West Bank also display these emblems of Judeo-supremacy.
The conflict, which always has been external, against a foreign enemy, has now come home and has brought Israel to the verge of civil war.  In the words of the old saying: Curses, like chickens, always come home to roost.