Israel, Hezbollah, Sworn Enemies, Have Vested Interest in Lying About Beirut Attack
Read the full series of posts on the Beirut attack:
Israel, Hezbollah, Sworn Enemies, Have Vested Interest in Lying About Beirut Attack
Lebanese Intelligence Official: Beirut Explosion "No Accident," Caused by Israel
Senior Israeli Opposition Leader: Hezbollah Arms Cache Caused Beirut Explosion
Ex-CIA Analyst Confirms Beirut Blast Initiated by "Military Munitions," Lebanese President to Examine Role of "External Actors"
BREAKING: Israel Bombed Beirut
The massive explosion which leveled much of Beirut and made 250,000 residents homeless, igniting furious protests against the government, and resulting in the resignation of the cabinet, has found two sworn enemies with a common interest in hiding the truth behind the incident.  As I've reported based on an Israeli official source, Israel attacked a Hezbollah weapons depot in the port.  The initial explosion ignited a warehouse containing 2,700 tons of ammonium nitrate, which caused the vast amount of damage to the city itself.  Israel did not intend for the second blast to occur, and its intelligence service (likely the Mossad) had not performed due diligence to determine what was in the area of its initial target.
Israel and its apologists are spreading confusing, contradictory claims about what happened. They desperately seek to rebut reporting naming Israel as a culprit, that is buttressed virtually daily by further circumstantial evidence.  Had the munition facility exploded without any further damage, Netanyahu would have been the first to schedule his celebratory news conference, pounding his chest like an Alpha Silverback gorilla.  But he could not do that because taking credit would open Israel to torrents of anger both in the Arab world and the international community in general.
Similarly, Hezbollah has sworn on a stack of Qurans that it had nothing to do with it.  Nasrallah says there were no weapons in the port.  Hezbollah-affiliated journalists advanced a flimsy claim that welders sparked the explosion in the process of fixing a broken door of the warehouse.  Had Israel only bombed its warehouse, Nasrallah could have held his own news conference and blamed the perfidious Zionist enemy and sworn vengeance.  But because its arms cache ignited all the destruction that followed, Hezbollah too had to keep its role hidden.  Had it blamed Israel, this would have brought down the wrath of all of Beirut against it.  The militant group, as a key member of the ruling coalition already faced anger due to the dysfunction and economic disaster which beset the country over the past year.  To find out that Hezbollah played a key role in the tragic explosion would perhaps have sealed the demise of the group.
Each party must lie and confuse in order that the truth not be known.  So when you hear about welder's sparks and fireworks and any number of other explanations, know that this is part of that plan.  That doesn't mean that everyone who raises these issues is part of the plan.  But, as with Russian intervention in the 2016 election in favor of Trump, all it takes is priming the social media pump with lies; then regular unsuspecting users amplify them and do the rest.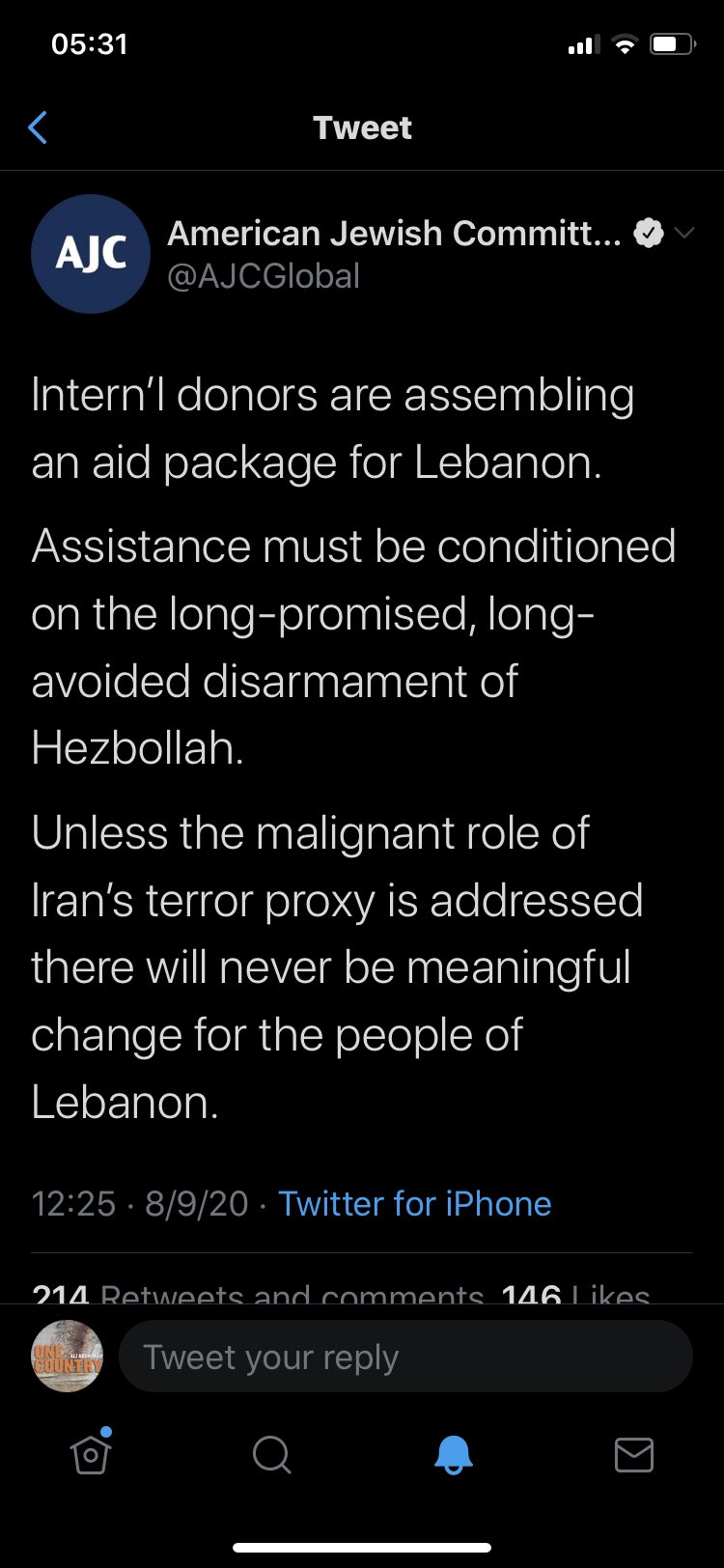 One of the more offensive tactics used by Israeli apologists is to tell Lebanese that not only is Hezbollah responsible for their misery, but that such disasters will continue as long as they don't free themselves from the bondage of the Islamist group.  The American Jewish Committee joined the bandwagon, tweeting that international aid to the suffering country should be conditioned on dismantling Hezbollah.  Though it deleted the tweet later, this is yet another example of the racism and heartlessness of the Israel Lobby.
I hope it's clear that Israel's responsibility in this tragedy does not excuse the callousness of Hezbollah in storing weapons in such a precarious location; or the corruption and incompetence of port authorities in permitting the ammonium nitrate to remain in warehouse 12 for six years virtually unattended or unmonitored.  There is more than enough blame to go around for every party.  But we must not forget that Israel started this disaster. And were it not for Netanyahu's craving to humiliate Hezbollah on its home turf, what happened afterward would never have happened.
In the four posts I've published on the Beirut tragedy, I've pieced together parts of the puzzle of the narrative reported to me by my source.  Today, Israel HaYom offered another persuasive piece:
Just several months ago, Israel's Mossad intelligence agency reportedly provided Germany with significant evidence of Hezbollah's weapons storage, including ammonium nitrate.  It was this information that led Germany to formally ban Hezbollah from operating in its country…Security experts have similarly indicated that it was an initial explosion of stockpiled weapons in an adjacent portside hangar that acted as the detonator for the large stockpile of ammonium nitrate.
Now, not only has an Israeli media outlet confirmed Hezbollah weapons ignited the subsequent explosion, but former defense minister Bogie Yaalon also reported the same to a Saudi news outlet.  While Yaalon did not claim Israeli responsibility for the initial attack, Israel HaYom all but did when it noted that the Mossad (which likely planned the attack on the port) knew the group stored weapons at the port.  This shows Israel had motive, means and opportunity to commit this horrid crime.
ראש הממשלה ציין כי על מנת למנוע אסונות מהסוג של נמל ביירות צריך להרחיק את חומרי הנפץ והטילים שחיזבאללה הטמין מכל ריכוזי האוכלוסייה האזרחית בלבנון.

ראש הממשלה הבהיר שאם בחיזבאללה חושבים שהם יוכלו לפתור את המשבר בלבנון ע"י יצירת משבר מול ישראל – זוהי תהיה טעות גדולה.

— ראש ממשלת ישראל (@IsraeliPM_heb) August 11, 2020
In this tweet Netanyahu writes:
"…In order to prevent catastrophes of the type which occurred at the Beirut port, Hezbollah must distance explosive materials and rockets which it conceals, away from civilian population centers. If Hezbollah thinks it can sold the Lebanese crisis through creating a crisis with Israel–it would be a huge mistake."
The PM is conceding, as Yaalon did before him, that Hezbollah stored military munitions at the port.  What he hasn't conceded, but which my source has, is that Israel attacked the facility and caused the subsequent disaster.
Of course Hezbollah, as does Israel itself, has munitions stored, and military facilities located both amidst population centers and away from them.  To deprive Hezbollah of military options which Israel itself maintains, is the height of hypocrisy.  Hezbollah, like the pre-State underground, is an insurgent force which does not have the budget, infrastructure and command-control options the IDF has.  So it has to use different storage methods and tactics than the IDF.
Critics have tried to rebut some of these reports by calling Yaalon a liar or saying Israel HaYom is a pro-Netanyahu propaganda outlet.  All of this may be true.  But every liar tells the truth sometimes.  When a liar finds the truth is in his interest, he will tell the truth.  When a propaganda sheet finds a fact advances its narrative, it will use it to its advantage.  But a good journalist knows to sift through the trash to find the diamond within.  That is what my four (now five) reports have sought to do.