Israeli Secret Police Arrest Israeli Palestinian Activist Under Gag Order
המשטרה החשאית עצרה פעילה איסלמית ,איה חטיב, בחשד שהיא מימנה טרור פלסטיני. השב"כ הטיל צו איסור פרסום על התיק
Israel's secret police (aka Shabak) this week arrested an Israeli Palestinian activist for "funding Palestinian terrorists." The arrest is under judicial gag order and Israeli media may only report the detention, but not the detainee's identity. I am reporting that here for the first time. She is Aya Khateeb from the village of Ar'ara (near Haifa) and she is affiliated with the Northern Branch of the Islamic Movement, an Islamist group that has been banned by the State.
If past is any guide here (and the Israeli Secret Police are nothing if not formulaic), Shabak will dribble out lurid claims in coming days that Khateeb raised funds to support acts of terror in Israel or the West Bank. And that these funds were to be passed on to bombers and used to facilitate their dastardly acts.
If we take a step back here to analyze how this entire process works…first you declare Islam and expressions of Islam to be extremist.  Israel is not alone in its criminalization of Islam.  China has done the same to the Uighurs, and India, the same in Jammu and Kashmir.  Nations at war with captive minority populations tend to adopt similar strategies, and even learn from each other.
The second step is to declare Islamist groups to be supporters of terror.  You gin up charges against leaders like Sheikh Raed Salah, that he himself incites terror.  That, in turn allows you to pursue any Palestinian Muslim as an enemy of the State.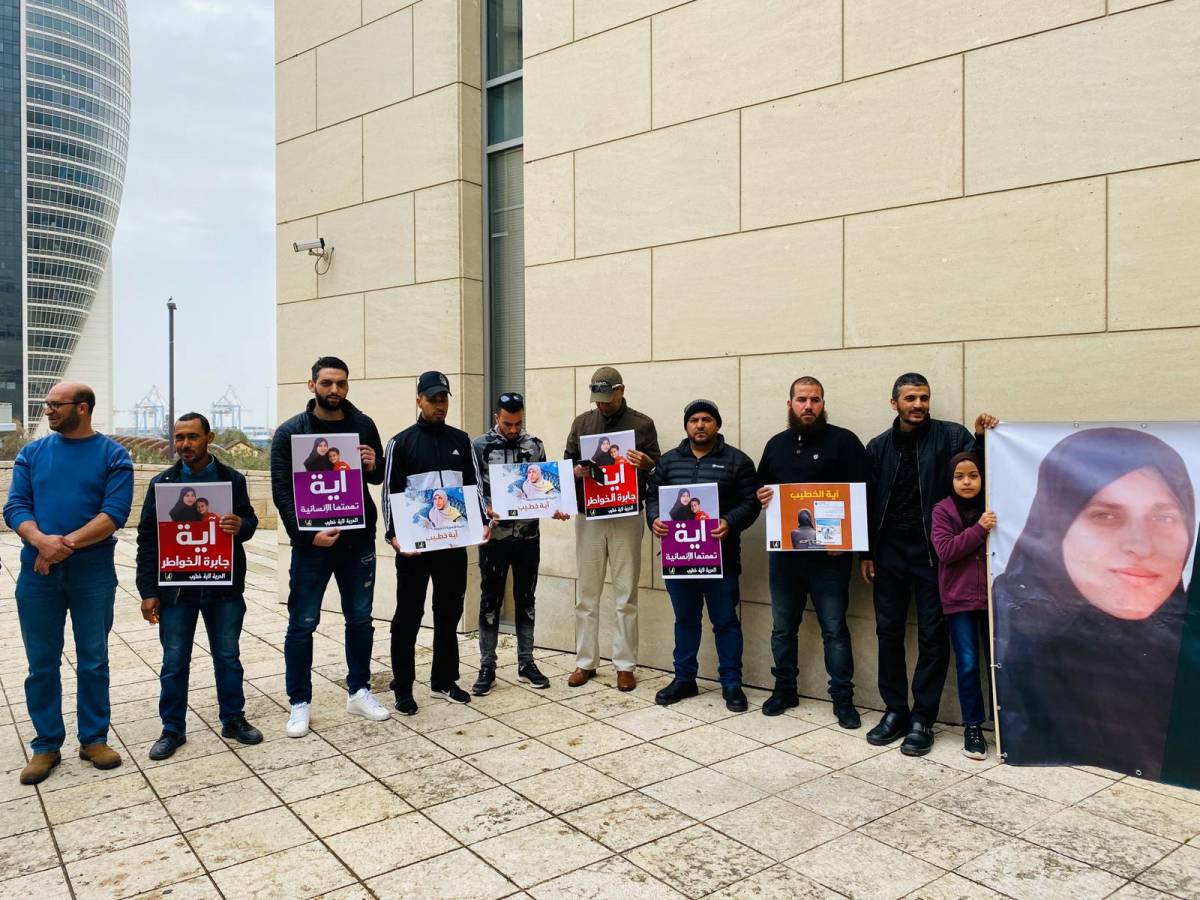 You've no doubt heard how Muslims are radicalized and gradually transformed from innocents into terrorists.  Well, it's instructive to track how the national security state transforms legitimate religious worship into anti-state terrorism.  The process isn't all that different, except that the radicalization doesn't happen in prison cells.  Instead it happens in prime minister's offices and Shin Bet headquarters.
In the Ynet report linked above, you can see the feeble attempt at censorship in pixellating all images of Khateeb so that no viewer or reader may see her.  It's a version of media ethnic cleansing which I'm combatting here by featuring her full image. I feature an uncensored, unpixellated image here.
Palestinians who protested outside the court where she was arraigned claimed her real offense was that she offered "aid to needy families. " As Bibi Netanyahu has falsely claimed that the Joint List supports terror, you can imagine how vivid an imagination you would need to paint her as a funder of terrorism.  By the definition of a police state, offering humanitarian aid to security detainees and their families would be an act of terror. I don't know specifically what landed her in the hell of a Shabak interrogation room.  But likely it's something quite similar.
Note that there are several Israeli Jewish terror-supporting NGOs which offer aid to Israeli terrorists and their families, including legal representation.  Not only are these groups not treated as terrorists, they are considered non-profit organizations recognized by the State. Donations to them are tax-deductible. Yet another example of the Apartheid at the heart of the Israeli regime.