BREAKING: Gag Order Prohibits Reporting Fraud Investigation of Israeli Judge and Powerful Lawyer
האם שני אישים משפטיים בולטים עומדים בפני אישום פלילי? השמועה טוענת המשטרה חוקרת חשדות נגד השופט רפי ארניה (שבעבר כונה "השופט המכה") מבית משפט השלום בראשון לציון; ואילו יו"ר לשכת עורכי הדין אפי נווה עומד בפני טענות אונס של מתמחה משפטית, וקשר מיני עם שופטת
There are rumored reports in Israeli media of a scandal rocking one of the country's district courts. For Hebrew speaking readers, here is Kan's report:
בית משפט השלום בתל אביב האריך בסוף השבוע עוד בחודש את צו איסור הפרסום על פרשה חדשה. את הבקשה לאיסור הפרסום ביקש, בצעד חריג מאד, ראש היחידה הארצית לחקירות הונאה, ניצב משנה יואב תלם. כתבנו רועי ינובסקי מציין כי ההתנהלות של היחידה בפרשה מעידה על רגישות הנושא, על חומרתו ועל המידור שיש ביחידה בעניין. סוגיה נוספת היא הוצאת הצווים בבתי משפט בנתניה ובתל אביב, ולא כפי שנהוג בלהב ארבע שלוש שלוש – בבתי המשפט בראשון לציון, והשאלה אם יש מניעה להגיש את הבקשות הללו לשופטים בראשון לציון
UPDATE: An Israeli source tells me that the brewing scandal in the Rishon LeZion magistrate court concerns a judge who will be familiar to readers of this blog. Like a bad penny, he turns up once again. In 2013, I broke an Israeli gag order prohibiting reporting on the case of a judge accused of beating his children. The accusation against Rafi Aranya had originated in 2010. But the Israeli attorney general had kept the case under wraps for three entire years. When you want an unpleasant controversy to disappear, the deep freeze can be quite useful.
Then in 2013, reporting by News1 and Tikun Olam compelled the AG to being an investigation in earnest. Of course, as with so many similar matters, Aranya was cleared of any guilt and returned to his job without a blemish.
Aranya and his wife have an exceedingly close relationship to Effi Naveh. The judge threw out a libel case against the lawyer without disclosing the potential conflict of interest. Until he recently resigned from the judicial appointments committee, Naveh could have voted to promote him to a seat on the district court. There are even rumors of a sexual relationship between Naveh and Ms. Aranya. It's easy to see how some or all of these matters might have led to a police investigation.
* *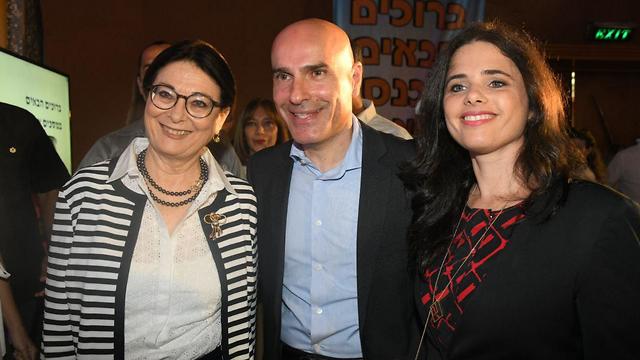 By process of elimination it appears that the court in question is in Rishon LeZion. The episode is under judicial gag order by request of the Israeli police. Since the police unit is located in the central district, it regularly secures such gag orders from the court in that city. However, this gag order was not decreed from that court, but by the Netanya court.
What's the nature of the scandal? Most scandals of this sort involving judges are usually related to sex offenses or sometimes child abuse. This one has been designated a fraud investigation.
The last report I heard of a similar incident which was also under gag order related to prominent Israeli lawyer, Effi Naveh and an unnamed female judge. An Israeli police reporter conveyed the initial rumor to Israeli police.
The gist was that Naveh had an affair with one of the court's judges. Since he serves on the national judicial appointments committee, the question arises: what role, if any, did he have in securing her appointment?
This is a distinct scandal from another in which Naveh smuggled a law student named Bar Katz out of the country (for a romantic tryst in Thailand) and then failed in his attempt to slip her through border control on their return. Watch video above of the couple at Ben Gurion airport which was posted to Barak Cohen's Facebook page, Coming for the Lawyers. After being caught by airport security, he claimed he'd engaged in the subterfuge to conceal his travels from his wife, who was in the process of divorcing him. Both have been charged with criminal offenses.
According to Israeli social justice activist, Barak Cohen, a female intern in Naveh's law office sent text messages in which she described being raped by Naveh, just before she took the Israeli Bar exam. He engaged in anal intercourse despite her begging him to stop. At the end, he boasted to her: "You wanted rape, didn't you?" A screenshot of her alleged text message is featured on Cohen's Facebook page, [We're] Coming for the Lawyers. I have not been able to authenticate the message. But given his other reported sexual proclivities, I thought it important to include this accusation.
Naveh has been a close ally of Justice Minister Ayelet Shaked, who has fervently pursued her mission of transforming the judiciary from an independent body, to one which reflects the far-right ideology of her Jewish Home Party. Her campaign has largely been successful with connivance of allies like Naveh. He is also the president of the Israeli national bar association. Thus, this lawyer's crimes taint the reputations of all Israeli lawyers.
My source, who has some insider knowledge of the Israeli justice system complains that a judicial gag order in cases like this has nothing to do with protecting the integrity of the investigation, but everything to do with protecting the judges and judicial system from having their dirty little secrets exposed in public. In other words, if anything, they are protecting the insiders, the powerful, the ones who are corrupting the system, rather than the public or anyone suffering as a victim of such corruption.
In short, that's why I do what I do here. If Israeli reporters can't report it, I will. Transparency must trump protecting the powerful.