Amnesty International Calls for International Arms Embargo on Israel in Aftermath of Gaza Massacre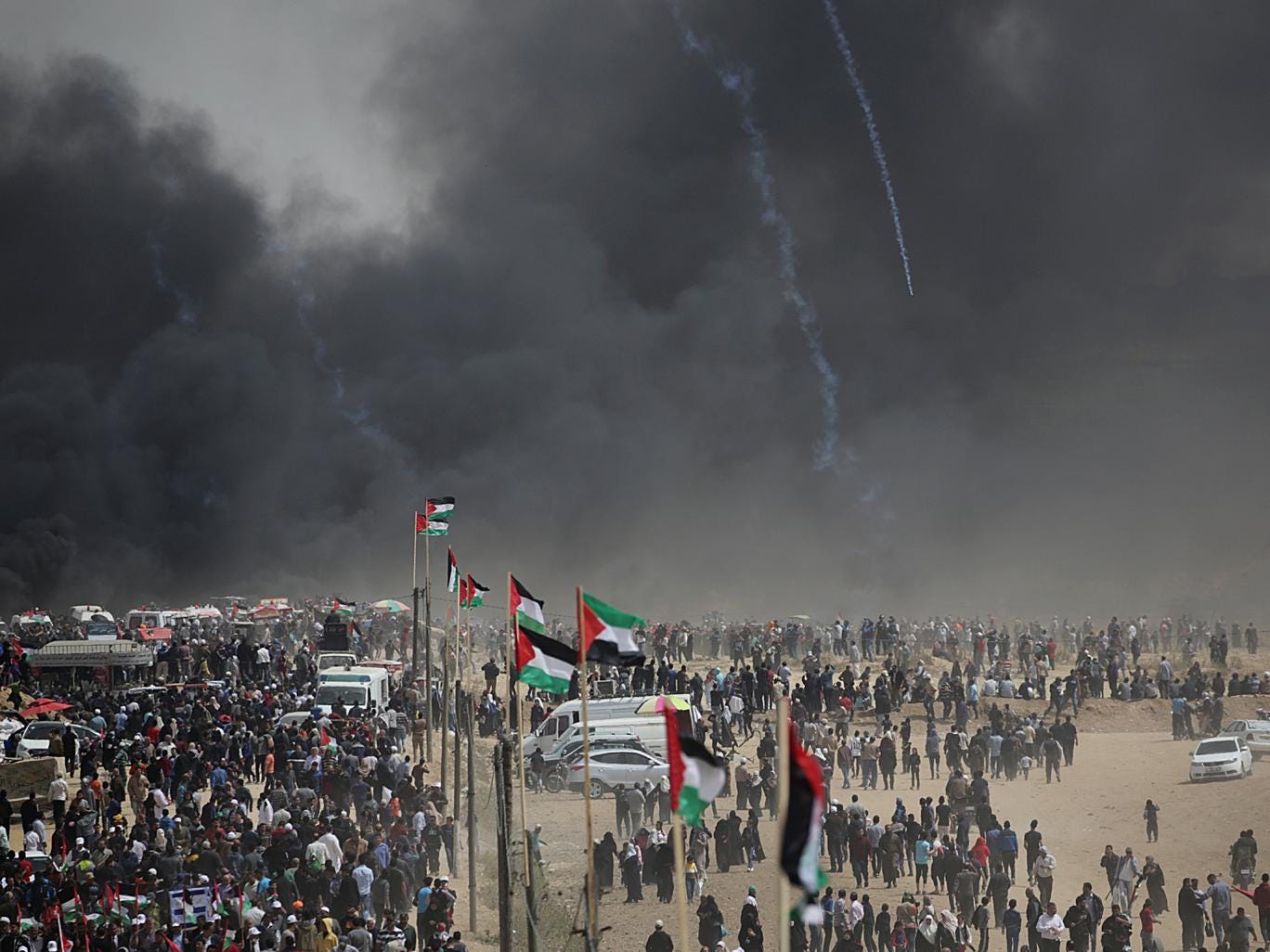 Amnesty International today released a statement seeking an international arms embargo against Israel due to the indiscriminate slaughter it is wreaking in Gaza.  Photographs of today's protest at the Great March of Return reminded me of the portrayal of the Final Days in the battle between Darkness and Light.  Smoke from burning tires, waving Palestinian flags, Israeli snipers taking cold aim behind their fortifications, bullets whizzing through the air; the dead, the dying and the wounded.  If not the Final Days, then perhaps it was Hell itself.
Another three Palestinian protesters were murdered in today's weekly protest, bringing the overall death toll to 41 with 5,000 wounded by tear gas, live fire, and rubber bullets.  Six emergency medical personnel and four journalists were among today's wounded.  In past weeks, the IDF murdered two Palestinian journalists who wore vests emblazoned with "Press."
Many of the wounds are severe and have led to paralysis or amputations.
Today, hundreds of Gaza demonstrators stormed the border fence and in response IDF snipers opened fire. Israel, rather than deal with its actions, blamed the protesters for their own demise. Israel's UN diplo-hack, Danny Danon said (with a straight face):
"The terrorists are hiding while allowing, even hoping, for their people to die. This is evil in its purest form," he said.
First, unarmed civilians who die are not terrorists.  They are martyrs for their national cause, just as Israel worships early settlers like Yosef Trumpeldor who gave their lives for their country.  To diminish the Palestinian sacrifice and reject any connection to similar Israeli sacrifices is beyond perverse.  Second, calling Hamas "terrorists" and blaming them for the Palestinian civilians who stormed the fence is patently false.  Hamas has not ordered them to do anything.  Nor can it.  It can order its own fighters to defend Gaza from Israeli attack.  But today's dead were not fighters.  Again, they were civilians.
Amnesty's statement comes in the background of such mayhem:
Israel is carrying out a murderous assault against protesting Palestinians, with its armed forces killing and maiming demonstrators who pose no imminent threat to them, Amnesty International revealed today, based on its latest research…

The Israeli military has killed 35 Palestinians and injured more than 5,500 others – some with what appear to be deliberately inflicted life-changing injuries – during the weekly Friday protests that began on 30 March.

Amnesty International has renewed its call on governments worldwide to impose a comprehensive arms embargo on Israel following the country's disproportionate response to mass demonstrations along the fence that separates the Gaza Strip from Israel.

"For four weeks the world has watched in horror as Israeli snipers and other soldiers, in full-protective gear and behind the fence, have attacked Palestinian protesters with live ammunition and tear gas. Despite wide international condemnation, the Israeli army has not reversed its illegal orders to shoot unarmed protesters…Some of these cases appear to amount to wilful killing, a grave breach of the Geneva Conventions and a war crime," said Magdalena Mughrabi, Deputy Regional Director for the Middle East and North Africa at Amnesty International.

"The time for symbolic statements of condemnation is now over. The international community must act concretely and stop the delivery of arms and military equipment to Israel. A failure to do so will continue to fuel serious human rights abuses against thousands of men, women and children suffering the consequences of life under Israel's cruel blockade of Gaza. These people are merely protesting their unbearable conditions and demanding the right to return to their homes and towns in what is now Israel."

The USA is by far Israel's main supplier of military equipment and technology, with a commitment to provide $38 billion in military aid over the next 10 years. But other countries, including EU member states such as France, Germany, the UK and Italy, have licensed large volumes of military equipment for Israel.
Though I'm not fully versed on Amnesty's past history regarding such Israeli attacks, I believe this is the first instance in which any international human rights body has called for a full arms embargo against Israel.  It's about time.  I hope more such NGOs will join this call for immediate action.  Of course, the UN should join the cause, but the U.S. veto precludes any meaningful action by the Security Council.  So Trump permits flagrant, brutal murder to flourish in Gaza.
Let's not blame Trump alone, who just announced he may join the "festivities" at the opening of the new U.S. embassy in Jerusalem next month.  Who do you think approved that $38-million military weapons package?  Barack Obama, of course.  The devil is not just in the details, but in the White House.