Trump Intermediary Offered to Send Russian Government Dirt on Hillary Directly to Donald Trump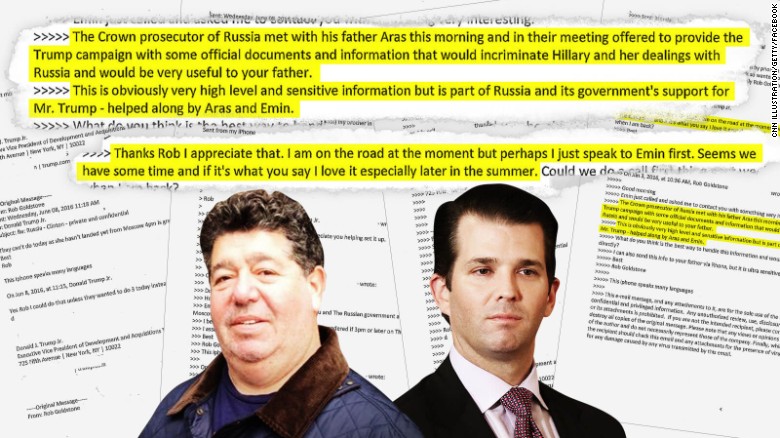 Donald Trump Jr. just did an e mail dump in hopes that he it would enable him to get out in front of the downhill snowball he unleashed when he met with a Russian lawyer who offered him dirt on Hillary Clinton.  But one e-mail in particular may damn him.  If it's not the smoking gun, then it's the first whiff of smoke.  And you know what they say about smoke…where there's smoke…
A bit of context: as the story about the meeting Jared Kushner, Don Jr. and Paul Manafort with Natalia Veselnitskaya has grown day by day in scandalous proportions since the NY Times first reported it last weekend, Junior Trump decided he ought to get everything out there and then spin it to his advantage.  So far, he's tried claiming the lawyer didn't offer the dirt on Hillary she promised.  Then he tried saying she really wanted to talk about Russian baby adoptions and the Magnitsky Act.
But now we read this e-mail sent by Rob Goldstone, a music agent associated with a Russian pop singer with exceedingly close ties to Putin.  In it, Goldstone holds out the tantalizing prospect of information about Hillary Clinton offered to him directly from the Russian government's "Crown Prosecutor" [sic].  The e-mail also makes crystal clear that the government is actively supporting the Trump candidacy.  But here is the money quote:
"The Crown prosecutor of Russia met with his father Aras [father of the pop singer] this morning and in their meeting offered to provide the Trump campaign with some official documents and information that would incriminate Hillary and her dealings with Russia and would be very useful to your father. This is obviously very high level and sensitive information but is part of Russia and its government's support for Mr. Trump — helped along by Aras and Emin. What do you think is the best way to handle this information and would you be able to speak to Emin about it directly? I can also send this info to your father via [longtime Trump executive assistant Rhona Graff], but it is ultra sensitive so wanted to send to you first."
In other words, Goldstone told Don Jr. that he could offer this information directly to the candidate, Donald Trump himself.  This is the first time we've drawn close to Trump in this entire scandal.  This means that Goldstone might have followed through on his offer and sent it to Trump.  Even if he didn't, it makes it much more likely that Don Jr. did tell dad about the offer.  In fact, it beggars belief that he didn't.  You can hear in Don Jr.'s enthusiasm for the lawyer's offer that this is no humdrum development.  Given the way that family works it's well-nigh impossible they would've maintained any sort of compartmentalization of such information as any intelligent campaign would.  Sonny would've gone directly to dad to inform him of the goose that appeared to be laying a golden egg for the family.
So we have the president himself, for the first time, tantalizingly close to directly associated with this scandal.  We're down from six degrees of separation to two degrees.  How long before we're down to one degree?  One thing is for sure, this ain't over.  But the fat lady definitely is getting ready to sing.  We do know where it will end.  The only question is when we'll get there and how long it will take.
Perhaps the understatement of the day or year is Trump Jr's response in an interview today: "In hindsight, I'd have done things a little differently."  Gee, d'ya think??
The NY Times, which was about to publish Trump's e mails before he decided to do it himself, published this interesting hint as to who may've leaked them:
The emails were discovered in recent weeks by Mr. Kushner's legal team as it reviewed documents, and the team amended his clearance forms to disclose it, according to people briefed on the developments, who like others declined to be identified because of the sensitive political and legal issues involved.
Did Jamie Gorelick, Kushner's lawyer, give the Times the e mails?  Or did she transfer them to someone else to leak them to the paper?  If so, it indicates at least one very big rat is either preparing to abandon a sinking ship or at least peering over the side to judge where to land after he jumps.