Maajid Nawaz Called "Anti-Muslim Extremist" and He's Suing!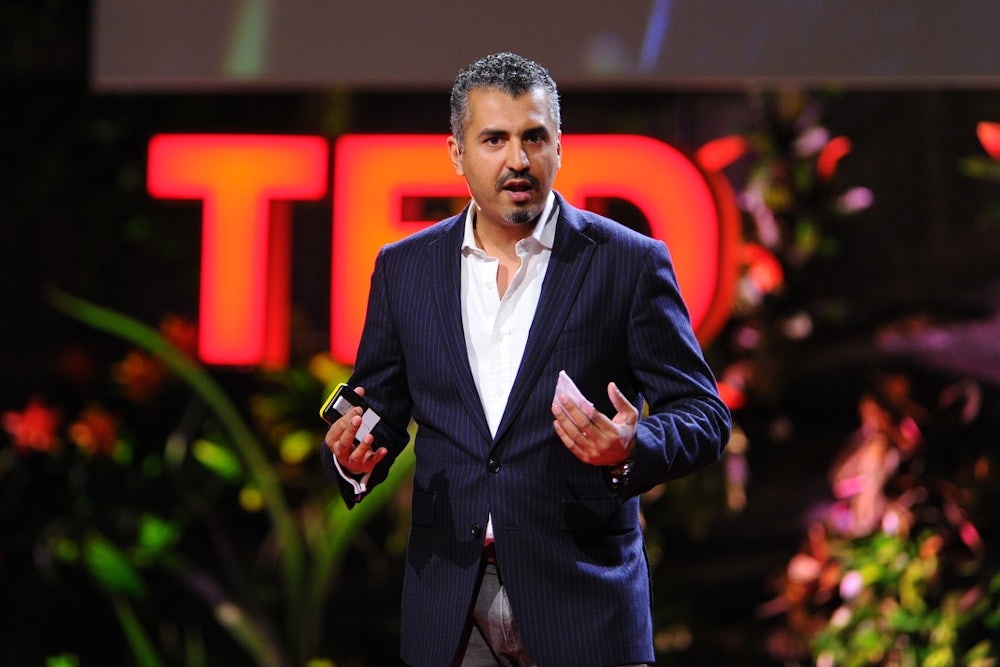 NOTE: Middle East Eye just published my latest piece, The Syrian war's worst kept secret that could become Israel's nightmare.  It's an expanded and substantially-updated piece based on a post I wrote here recently. Give it a read and a share!
Over the past few days the alt-right media wind tunnel blew lots of hot air reporting that "Muslim reformer" Maajid Nawaz planned to sue the Southern Poverty Law Center and three other NGOs for including him on a list of 16 "anti-Muslim extremists."  Conveniently, he announced this on Bill Maher's HBO program, in which the host joined him in feigned outrage: the idea of a Muslim trying to reform Islam and bring it from the Dark Ages into a modern, civilized society should be smeared in such a way, why it's an outrage!
Breitbart, FoxNews, etc. were "on" the story.  Trying to turn it into a media frenzy.  Luckily it appears to have fizzled.  Even though Nawaz announced he was "crowdfunding" his lawsuit and Maher volunteered to contribute an unspecified amount, not much seems to have come of it.  Since Nawaz chose to raise funds through his foundation rather than a more transparent online outlet, no one knows how much he's raised.  I queried his foundation about this and asked if he'd filed his suit and whether he had legal representation.  My guess is that he hasn't and doesn't.  Further, I'm guessing this was a scheme hatched either by Nawaz or Maher's producers to create a controversy where none existed.  Needless to say, I haven't yet heard back from the Quilliam Foundation in answer to my questions.
After I read about the anti-Muslim list I visited the SPLC site and read his entry.  It wasn't till several visits to the site that I noted the list had been published in October 2016.  In other words, Nawaz waited nine months until he decided to sue.  In other words, it was all a gimmick.
There are all sorts of legal problems with his case.  The main one being that as a UK citizen who's lived here for a relatively brief time, he appears not to understand U.S. libel law.  As a public figure, the courts give the media a wide berth in what they can say, as long as they have a reasonable basis for saying it.  And truth is an absolute defense in a libel case.  If SPLC can claim that its portrayal is accurate and truthful, then Nawaz is completely out of luck.
While it's true that his supporters violently disagree with his being categorized as "anti-Muslim" (they prefer calling him a "counter-extremist" and his opponents the "regressive left") the SPLC compiled a fairly comprehensive profile (here's an even more comprehensive one) which enumerated the various outrageous statements he's made about his fellow Muslims.  He secretly contacted Scotland Yard urging them to place UK Muslims under surveillance and warned that they were capable of inflicting grave harm on the nation.  Though Islam considers a graphic representation as sacrilege, Nawaz published such an image.  As a Muslim, he engaged in wildly inappropriate behavior like abandoning his first wife and enjoying lap dances at a strip club while he was a Liberal Democratic candidate for parliament.
With the help of neocon fellow travelers like Michael Weiss and Islamophobe atheists like Sam Harris, he's transferred his domicile to the U.S., where he's married a poofy-haired model-like non-Muslim wife about whom he tweeted :
"Don't ya wish your wifey. was. hot. like. mine? …. Don't ya? … Don't ya?" @RachelMaggart x pic.twitter.com/u6DVGDVxkh

— Maajid (@MaajidNawaz) April 13, 2015
Nawaz is a UK version of Zuhdi Jasser, yet another U.S. Muslim who seems to hate most of his co-religionists, and serves as a token Muslim for the many Islamophobic groups who seek a "moderate" to show off as an exemplar of what the "good" ones are like.
Another problem with his suit is that he's waited far too long to file.  Courts take a dim view of libel claims that are filed long after the alleged offense.  The sooner you file the more valid your claim.  In other words, Nawaz hasn't a leg to stand on.
That means that the threat unveiled on Maher's show was little more than a ratings gimmick.  In turn, this shows what a charlatan he is.  He's not a Muslim reformer.  He's a rank opportunist whose con is facilitated by those who have their own Islamophobic agenda.