Aliyah Down from France, U.S.; Social Rifts Widening Within Israel
Haaretz published new figures concerning Israeli immigration which show that in the first three months of 2017, aliyah decreased markedly from both the U.S. and France, two of the largest Jewish Diaspora communities.  It was down by 25% in the U.S. and 29% in France.  This contrasts with vocal predictions from Israeli leaders that not only the French community, but European Jewry in general was doomed after a string a Islamist terror attacks struck Jewish and non-Jewish targets in Belgium, France and Denmark.  Similarly, Israelis confidently believed that hundreds of purportedly anti-Semitic threats against Jewish community centers here, along with desecrations of Jewish cemeteries, would cause Jews to flee the U.S. for refuge in the land of Israel.  Authorities now believe that the phone threats were the work of an Israeli-American father and son, though their motives have not been explained.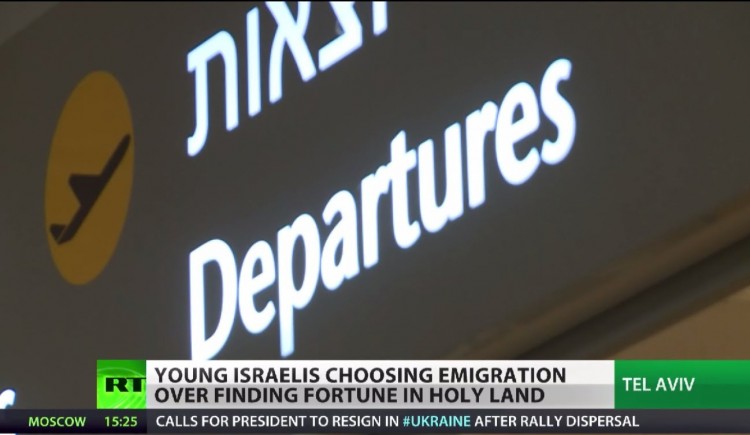 The new results confirm earlier findings that aliyah decreased by 16% in 2016.  Though immigration from Russia increased so far this year by 10%, it declined by 15% from Ukraine.  It would appear to me that this reflects the increasing vulnerability of ethnic minorities and rising racism and political repression in Putin's Russia; along with a stabilizing of Ukraine after it was buffeted by attacks by Russia and its subsequent annexation of the Crimea.
Unfortunately, none of these articles ever discuss Israeli emigration, which is substantial.  It's an important way to measure the level of Israeli commitment to their own society.  A recent poll found that 33% of Israelis would emigrate if they had the opportunity to do so.  Though it's not clear how the respondents defined the term "if they had the opportunity to do so."
Demographers estimate that somewhere between 5-12% (depending on varying studies and definition of terms) of the Israeli population has emigrated, with most of those coming to the U.S.  As of 2011, the level of emigration of Israelis to England far outstripped the number of British olim immigrating there.  Overall, there is a slight excess of aliyah to yerida, though if immigration rates continue to decline that could change.
Widening Social Rifts in Israeli Society
A new Israeli civil society NGO, Inward, is publishing a poll (Hebrew here) today coinciding with the new organization's formal launch.  The survey charts the attitudes of Israel's various ethnic, religious and class sectors toward each other.  The findings are alarming:
34% of Israeli Jews identify as "right-wing;" 12% identify as "leftist"
While 46% of Israeli Jews defined their nationality as "Jewish," only 41% defined it as "Israeli"
8% of "Arabs" described their nationality as "Israeli"
60% of Jews believed that the Ultra-Orthodox exploit the State (financially)
23% of Jews believe that "leftists" are "dangerous"
43% of Jews believe that "Arabs" are "frightening"
52% described "Arabs" as "dangerous"
35% of Ultra-Orthodox believe that "leftists" aren't "trustworthy"
24% of Jews believe that Ethiopian-Israelis are "primitive"
62% of Jews believed that the strongest bond holding the country together is external threats
In contrast to the vastly larger number of right-wing to left-wing Israelis (34-12%), in America 36% define themselves as "conservative" and 24% as "liberal."  And this gap is declining as America turns less right-wing according to demographic trends.  There is a huge vacuüm in Israeli society of liberal-left voters who simply don't exist and consequently don't impact Israeli politics or society.  For Israeli rightists this seems a boon.  But for anyone who believes a society must have a diverse electorate, this is a disaster.
I have long argued that if Israel is to survive, being "Jewish" must be restricted to a religious, rather national identity.  The fact that more Israelis identify their nationality as "Jewish" rather than "Israeli" is deeply troubling.  Consequently, it's completely unsurprising that only 8% of Israeli-Palestinians define their nationality as "Israeli."  Why should they, considering how they are treated?
I was heartened by the finding that a majority of Israelis believe the ultra-Orthodox suck the taxpayers dry financially.  Because of their educational system and social isolation, young Orthodox Jews do not receive the same education as secular Israelis.  As a result, their educational and vocational choices are limited.  Many Orthodox men study Torah while their wives work.  As female education is even more restrictive than male, Orthodox women cannot perform highly-skilled jobs.  All of this impoverishes this social sector and compels the State to step in and subsidize their lifestyle.
It was completely unsurprising that a large majority of Israelis found no internal cohesion that united the nation.  If the plurality of Jews don't even believe they are "Israeli," then what domestic bond would there be?  Israeli politics reflects this perfectly.  Instead of running on platforms with positive, constructive visions, the parties run campaigns based on fear, racism and hate.  These are not motivations that can be sustained over the long-term.  The politics of nations need to be based on a strategy and a vision, rather than a set of short-term tactics (e.g. Bibi Netanyahu).