Rough Justice, Israel-Style
A Mexican-American family in Pasco, WA just sued the city and police force for executing the father, who was throwing stones on a street corner.  He was a poor, possibly mentally disturbed man.  The police, like police almost everywhere, were poorly trained in how to manage a crisis situation involving the mentally-ill.  So one rock too many brought the guns out and in a blaze of bullets, despite the fact that he was running away, he was shot in the back and murdered.  Just one more poor minority gunned down by a quick-draw city police force.
In the U.S., we've become sensitized to these killings and in some communities formerly unheard of outcomes are happening.  The police shooters are being held accountable.  Attitudes, at least one can hope, are changing, however gradually.  Here in Seattle, the new police chief fired a white officer for arresting an elderly Black man who was using a golf club as a walking stick.  The officer claimed he'd beat her with the club, when footage from her own police video camera showed she'd lied.
Israel hasn't gotten the memo.  There, the police and army are moving in the opposite direction.  It's standard operating procedure to shoot first and ask questions later.  Though often questions aren't even asked.  Often murdering Palestinians is grounds for promotion.
But now Israel's attorney general, the officer supposed to maintain the rule of law, has permitted security forces to open fire at will on protesting Palestinians.  Until now, there has been a distinction regarding the rules of engagement for Israeli forces: in the West Bank they could use live ammunition to break up protests, even if a projectile as minor as a stone was used.  But East Jerusalem, formally annexed by Israel, had different rules of engagement.  There you could not resort to live fire during similar protests.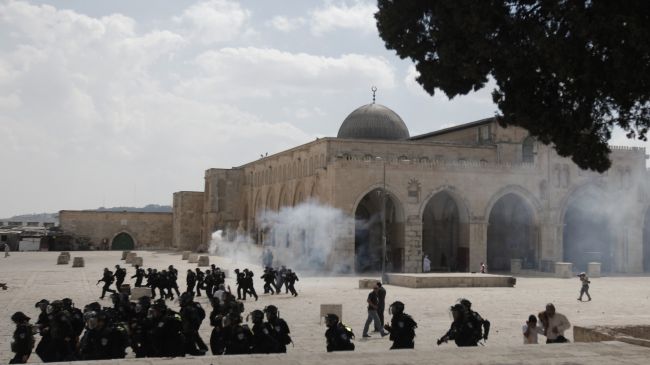 However, over the past week Palestinians have mounted protests in the Old City, especially at the Al Aqsa mosque, after Jewish settlers hoping to destroy the Muslim holy places, were paraded with police escort to what they call the Temple Mount.  There they conducted religious prayers (probably asking God for a holy war that will finally offer Jewish supremacy in the holy land).  These are forbidden under regulations governing the holy site.  As a result of the settler provocation, Palestinian  youths have barricaded themselves into the mosque and thrown stones at invading police who storm the holy place.
This Israeli government, which includes some of the wackiest and most extreme politicians to ever grace an Israeli cabinet, has no patience for any form of Palestinian resistance.  As a result, the government's legal advisor (Israel's version of the attorney general) issued a legal ruling permitting Israeli forces in East Jerusalem to follow the same procedures as those used in the West Bank.
Or, as one Time of Israel reporter particularly nauseously wrote:
Israeli leaders decided to Wednesday to bring down the hammer, and go Chris Kyle all over East Jerusalem…
That Times of Israel really has a way with words, doesn't it?
As an Israeli tweeted yesterday, Israel has finally conceded that East Jerusalem is not part of Israel, but part of the West Bank.  The above tweet says:
"This is a historic decision which strengthens the position that Jerusalem is occupied ("conquered") territory and that we must relate to it thus.  I commend this decision."
@VeredPelman זו החלטה היסטורית המחזקת את העמדה שאומרת שירושלים היא שטח כבוש וצריך להתייחס אליה ככזו. אני מברך על ההחלטה.

— Incognito (@IrakiW) September 16, 2015
Or an alternative way to parse this: Israel observes a form of apartheid by which it treats East Jerusalem's Palestinian residents as if they are West Bank Palestinians, while treating the land on which they live in East Jerusalem as if it's sovereign Israeli land.  It's a nice bit of hocus-pocus.  It makes East Jerusalem, to bowdlerize the old Zionist phrase, a land without a people (Palestinians), for a people (Israelis) with plenty of land, who want even more.
Up to now, there have been 36 Palestinians injured in these clashes.  It will only take a moment before the bodies begin lining up at the morgue.  Give a Border Policeman a shoot to kill order and he'll produce the bodies.  I can just see it: Israeli snipers picking off Palestinians inside the mosque.  That will do wonders for Israel's image in the Muslim world.
The old 1980s "get tough on crime" slogan was: "use a gun, go to prison." Israel's motto is: throw a stone, and die. It should be very effective…at piling up Palestinian corpses like cordwood.
NOTE: My latest piece in MintPressNews tells the story of a mysterious Mossad official who spied for Iran.  He was arrested, tried, convicted and imprisoned in secret.  Israel's censor won't let you know his name.  I take the story farther than it's ever been reported.