Breaking News: Israeli Arson Attack Burns Historic Lake Kinneret Catholic Church
Israeli media reports (a more bare-bones report in English) that Jewish terrorists have set fire to the historic Church of the Multiplication (of loaves and fishes) near Lake Kinneret. The building was extensively damaged though the sanctuary only received smoke damage.  The Catholic Church stands in what once was the ancient village of Kfar Nahum (Capernaum), where Jesus plied his trade as a carpenter.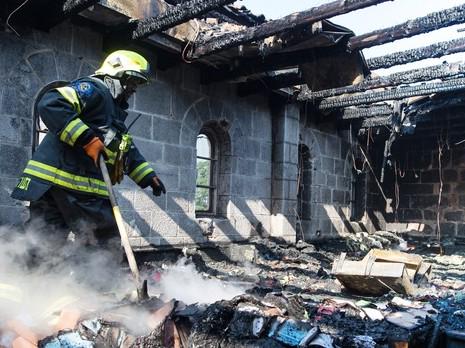 Besides the fire, the attackers vandalized the building by scrawling graffiti derived from a major Jewish prayer that lauds Jews for worshipping God and derides non-Jews for worshiping idols.  The phrase daubed on the wall was "their idols shall be destroyed."  This prayer, whose language is virulently anti-Christian, is often used by anti-Semites to argue (falsely) that Jews innately hate Christians.  It appears these terrorists were seeking to make the anti-Semites point for them.
No Israeli media outlet will call this what it is: an act of terror.  It is a hate crime.  Just as there is anti-Semitism among non-Jews, there is both Isalmophobia and anti-Christian hate among many Israeli Jews.  Let's not pretend otherwise.  Repeated national polls attest to this fact.
In any other country the assault would be dealt with severely.  It would not be tolerated.  In Israel, it's not only tolerated–by refusing to investigate or punish the crimes, Israel only encourages them.  As I've often written here before, the Shabak doesn't solve crimes of Jewish terror (except in extremely rare cases).  It may monitor such cells and try to foil their attacks if it can (though I'm even dubious about this).  But it never apprehends the terrorists, never punishes them.
The farthest Israel's media will go is to say it is a "likely" act of arson.  No Israeli security agency will find the perpetrator.  And if they do, they will not try them.  And if they do try them, they will not imprison them.  And if they do imprison them, they will be pardoned by the president of the State.  My money is on no one ever being arrested at all.  This is the standard response (or non-response) to previous hate crimes against churches and mosques.  This crime is at best an annoyance for Israeli Jews.  They are only upset, if they are disturbed at all, because it gives Israel's image a black eye before the world.
Can you imagine if a Palestinian exploded a bomb that destroyed the Kotel?  What would happen?  The State would turn itself inside out till it found the perpetrator/s and he'd either be shot dead on sight or spend the rest of his life behind bars.  Palestinian terrorists always do a perp walk for the TV cameras.  Jewish terrorists, rarely (because they're rarely arrested or tried).  But, you see there's a double standard for Palestinians.  Jews are born with a "get out of jail free card."  Palestinians are born with a "shoot on sight" card.
Of course, the usual suspects (prime minister, president, etc.) will express their shock and horror.  They'll promise the culprits will be brought to justice.  They claim this doesn't represent the views of the mass of Israeli Jews.  But their subsequent inaction will speak volumes about their real views.