Kerry Led Bankrupt, Failed Peace Talks; Now He Wants Bankrupt, Failed Ceasefire
I have nothing against John Kerry, really I don't.  He served bravely in the anti-war movement in his youth.  He seems like an honorable man.  But for someone of his presumed intelligence, to become engaged in the Israel-Palestine conflict and do such a bad job at it, is shocking.
Last month, he ended an ill-fated year-long attempt to broker a peace deal between Israel and Palestine.  He and his chief aide, Martin Indyk, largely blamed Israel for the failure.  Now, Kerry has set his sights on negotiating a ceasefire in Gaza.  While the general goal is admirable, the way he's going about doing it is ass-backwards.  Meaning it too must fail.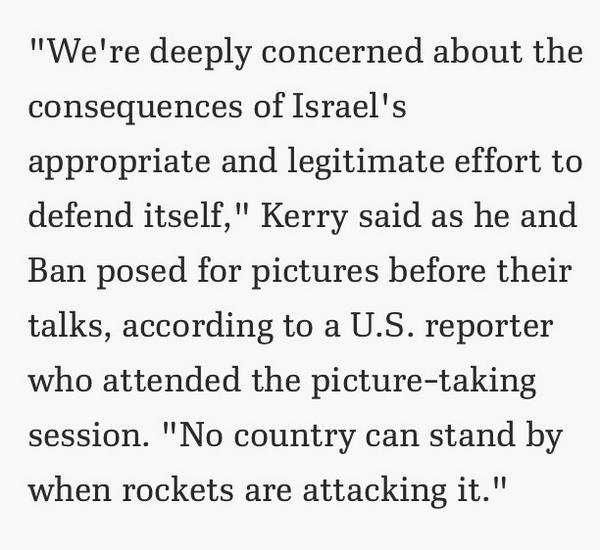 Here are the problems: Kerry wants to stop the killing so things can go back to the status quo.  He's basically trying to sweep up the mess Israel has made so that it doesn't jeopardize Israel's standing any more than necessary in the world community (an outcome Israel itself seems to care little about).  This is a quick fix.  In and out.  Israel stops bombing, Hamas stops rockets.  Kerry goes home looking good and gets back to solving problems that 'really matter,' whether that might be Ukraine or saving the U.S. relationship with Germany from being destroyed by the CIA and NSA.
But let's say a quick fix wasn't the worst outcome.  Let's say it was a reasonable goal.  Even if you concede that, Kerry is pursuing it like a boxer with one hand tied behind his back.  How do you negotiate a ceasefire between two parties when you've refused to talk to one party?  Not just refused, but you've assigned a substitute (Mahmoud Abbas) who doesn't have the trust of the party (Hamas) he's supposed to represent.  This is a recipe for embarrassment and failure.
If you look at Kerry's statement in the accompanying image you can see a man who's either a robot and one of the Walking Dead.  How can you be "deeply concerned" by someone engaging in "appropriate and legitimate" behavior?  And as for "no country can stand by when rockets are attacking it," can we say the same for Gaza?  Why should Hamas stand by while Israel is reducing it to a heap of smoking rubble?
The first stab at a ceasefire was a comedy of errors.  Anyone who doesn't read this blog doesn't know the half of it.  Not only did Egypt make a ceasefire proposal that had been written by Israel, it essentially said "to hell with Hamas" in every way it could.  What's ludicrous is that the U.S. is still viewing Egypt as an interlocutor representing some vague Arab interest in the ceasefire process.  Egypt is useless, discredited.  It's military junta doesn't even represent Egyptians, let alone Palestinians.
Returning to that quick fix approach: it's also destined to failure because every previous Gaza war has ended with a short-term ceasefire that's led to war within a year or two following.  What's the point of a ceasefire that temporarily ends fighting only to see it resume in even greater fury shortly afterward?
While I have no great affection for Hamas, Khaled Meshal, its political leader, has a valid point.  He's said: "Enough with the quick fixes."  Negotiate with us about the issues that really bother us.  End the siege.  End open season targeted killing of Gazans by the IDF.  Do that and we can talk about everything else.
Just as Israel's ultra-nationalist leaders added a demand to recognize Israel as a Jewish state to the peace talks (which helped sink them), now Israel is adding a new demand to the ceasefire negotiations.  It wants to "demilitarize" Gaza.  That's all well and good.  I'm for demilitarization too.  Let's demilitarize Gaza…after we demilitarize Israel.
I'm not even talking about demilitarizing Israel as a whole, which obviously would be foolish.  Let's just demilitarize the border between Gaza and Israel.  Let's forbid Gaza militants and IDF soldiers from being anywhere near the border.  I don't care how you do it.  Put international observers there.  Put sophisticated listening posts and surveillance gear financed by the U.S.
But talking about demilitarizing one side while leaving the other fully locked and loaded and hunting for bear–that's a failure waiting to happen.
Finally, as long as the U.S. continues along this path, it will fail.  Even if there is a ceasefire in the coming days, as long as it ignores the points I've raised above, it's doomed in the short-or medium-term.  War will resume.  People will die (again).  In greater numbers than the time before.  And each time they do, Israel will sink a little lower in international standing.  It's ability to determine its own future will become incrementally weaker.  The end won't be pretty.  If that's the way the parties choose to go.