Shabak Child Torturers Exposed: Revenge of the Nerds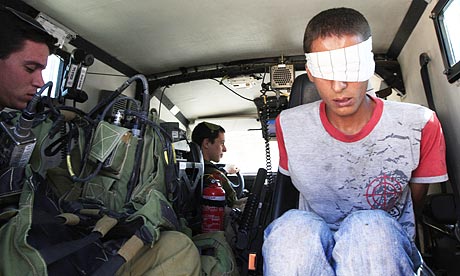 Noam R. writes the blog O139 (the title refers to October 1, 1939, the date the Nazis invaded Poland and began WWII; his blog also has the English title, Godwin Was Right).  Like me, he often writes about Israeli security matters and the sometimes vain attempt to protect the last remaining shreds of Israeli democracy.  Earlier this month, he wrote a post about the plague of Shabak and police arrests of Palestinian minors, a phenomenon which is a stark violation of international law.  He further published accounts by the children themselves of their torture and abuse at the hands of their interrogators.  This is Barak Ravid's account in Haaretz:
On May 2, Noam R. posted excerpts from the witness testimony of Palestinian minors who said they were interrogated by the Shin Bet, including an 8-year-old boy who said he asked to use the bathroom and was told to pee in his pants and a 15-year-old who said a Shin Bet official put jumper cables between his legs and threatened to turn on the electricity if he didn't confess. On Noam's Hebrew-language blog, Godwin Tzadak, he wrote that he cried that day for the first time since he was 11.

"I cried when I read testimony from the interrogation rooms of the Shin Bet, especially that of children," he wrote. "I cried when I learned of the existence of room No. 4 in the Russian Compound interrogation facility, where Palestinian children are taken, and where they are interrogated for hours while being humiliated and tortured, psychologically and physically."
Naturally, as a blogger and journalist he wanted to identify the torturers so their behavior could receive the public scrutiny it deserved, if Israel was a true democracy.  But you can't do that in Israel.  The secret police and their identities are protected.  At most, they will be referred to by an initial in news accounts or possibly a first name (often a pseudonym like "Captain George").  Noam made a bold and courageous, but dangerous decision to tweet publicly the names of the torturers and request readers' help in identifying them so that he might expose them. He posted this tweet on May 3rd:
וזה המקום להזכיר שאם מי מכם מכיר את זהותם האמיתית של רכזי השב"כ "סברי" מנפת קלקיליה, "דאוד" מירושלים, ו"אבו יוסף" מבית לחם, אני כאן.

— Noam R (@noamr) May 3, 2014
"This is the place to remind you that if anyone knows the true identities of these Shabak interrogators: "Sabri" at the Qalqilya District, "Daoud" in Jerusalem, and "Abu Yousef" in Bethlehem, I'm here."
The blogger was warned in his interrogation that exposing the identity of security operatives was a "crime against national security."  Doing so, he was told, carried a three-year jail term.  Only in police states is this the case.  In democracies, we're entitled to know the names of our accusers whether civilian or official.  They also used another classic police state tactic: they asked Noam to name the names of other peace activists with whom he worked.  Though I understand why he couldn't do so, I would've asked to make a bargain with Rona and told her I'd name a name for every Shin Bet agent she would name.
In subsequent tweets today, Noam's made the ironic point that on May 3rd only a few of his 1,600 followers saw the tweet.  But with a front page article in Haaretz about his detention, most of Israel now knows about Sabri, Abu Yousef, and Daoud.  It shouldn't be too long before we know their real names, though unfortunately I don't (I know, I'm letting you all down!).
Three security personnel interrogated Noam, two Shabak officers named Zaki and Rona (who also interrogated Yonatan Shapira and other activists–apparently having a female interrogator is supposed to add a feminine, less adversarial touch to the proceedings) and a police officer.  They threatened him with loss of his job:
At one point during the questioning, another Shin Bet official, who introduced himself as Zaki, threatened him. "He told me that if I kept it up, I could lose my job and even worse, I could go to jail for many years," Noam said.
That's a pressure tactic secret police have used through the ages: rendering you unemployable and a social and economic pariah.  I'm glad to hear that Noam has a good lawyer.  I hope he doesn't need him or her after this.