80 Year-Old Palestinian Shepherd Assaulted, Both Arms Broken by Settlers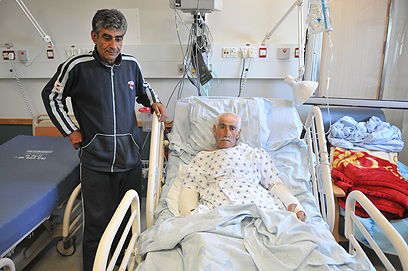 Ynet reports that two masked settler assailants attacked (Hebrew and English) an elderly Palestinian shepherd, Hassan Barhoush, with metal bars and broke both his arms and hands, saying they intended to kill him.  He was from the village of A-Lebed near Tulkarem.  He believes his attackers were not from the nearby settlement, Avney Heyfetz.
The victim's son told Ynet that if everyone does whatever he pleases and beats whomever he wishes, the only thing remaining will be anarchy.  He further noted that relations between the nearby settlement and his village had always been good with no previous such incidents.  Residents of Avney Heyfetz visited Barhoush in the hospital and the settlement administrator denounced the attack and called for apprehension of the assailants.
Despite this it must be noted that no matter the level of goodwill, Occupation begets impunity.  Incidents like this are either never investigated or assailants are never apprehended.  If, by some chance they are, they are rarely charged.  If by an even slimmer chance they are, they are never convicted or punished.  That will of course be the circumstance here as well.
At Achilov Hospital in Tel Aviv, he underwent an operation to place platinum rods in both hands.