The Strange Case of Likud Rock Star, Education Minister, Inveterate Womanizer, Gideon Saar
Current Israeli education minister, Gideon Saar, is a strange case in Israeli politics.  He's young(ish), attractive, and popular with the Likud rank and file.  As a reward for tallying the second highest vote totals in the Party primaries he was appointed election campaign chair.  His performance wasn't particularly stellar, though that could be just as much due to the inertness of the product he was pitching, Bibi Netanyahu.  At any rate, the Likud campaign fell flat and resulted in a massive fall-off from 42 seats in the past Knesset for the two merged parties, Likud and Yisrael-Beitenu, to 31 seats in the new Knesset.
Saar is often touted as a future prime minister when Bibi's generation leaves the scene.  He's popular, telegenic and charismatic in that button-down way that young right-wing Israeli political operatives have.
Saar has been education minister in the previous government.  In this position, he's presided over a series of disastrous interventions in academic and curricular matters and allied himself with brutish nationalist advocacy groups like Im Tirzu.  Like Campus Watch here in the U.S., the Israeli group monitors so-called "post-Zionist" professors and academic departments.  It was Saar's brilliant idea (probably planted there by his friends in Im Tirzu) to close Ben Gurion University's political science department because, among other reasons, its chair published an article in the foreign press endorsing BDS.  That decision (still threatened but not implemented) didn't go over well with academics within Israel or outside.
Saar also spearheaded the upgrade of the settler school, Ariel College, to an official national university, despite the fact that every other national  university in the country objected strenuously and threatened lawsuits against the move.  The minister clearly threw academic criteria out the window in favor of pure nationalist considerations and grandstanding for the settler-nationalist vote.  Ariel College has no more academic distinction than you average local community college, if that.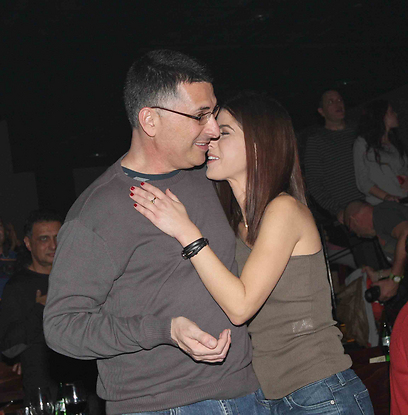 Another peccadillo less well-known to Israelis is Saar's serial womanizing.  I've published two posts here about an incident in the bathroom of a Tel Aviv club in which he allegedly had sex with a girl who may've been underage.  Several months ago, Saar separated from his wife.  Before that, I received word from an Israeli with a friend working in the Knesset.  Workers there were buzzing with reports that Saar was conducting an affair with one of his staff.  I decided, since I couldn't corroborate the story with any other source, that I would hold off on reporting it.
Now, Shalom Yerushalmi reports in Maariv that this staff member has written to Bibi Netanyahu "pleading" that he not appoint Saar as a minister in his new government.  The reporter writes coyly, "she has her reasons."
As I wrote above, it's widely known by those working in the Kneset that the woman in question is Maya Katz, 27.  In addition to serving on Saar's staff, she is a Likud town councilor for Herzliya.  I can only imagine that at least part of the reason for her distress is that Saar now has a different steady girl friend, Channel 1 newscaster, Geula Even.  Hell hath no fury like an ex-mistress scorned.  But one thing all these women should know (as his wife undoubtedly learned) is that this Pretender for the Likud throne clearly likes the ladies and can't be tied down to any particular one.
** UPDATE: Someone reputed to be Maya Katz (or at least, according to the report, a woman with her initials) has denied that she ever wrote a letter or complained about Saar's "troubling behavior."  There are many reasons a 27 year-old woman who's had an affair with a powerful man and been jilted might write such a letter.  There are also many reasons such a woman would renounce the letter once it became public.
But if it is true that Katz did not write this letter, then someone else did.  That person has forged Katz's name to a document which has harmed her and Saar.  But the latter in particular.  If that's the case, Saar would certainly file a police complaint and demand the exposure of this individual.  But that hasn't happened.  Why not? **
All of this is, of course, ironic considering as education minister, Saar helps set educational and ethical standards for Israel's youth.  Only in a place like Israel could such irony be lost on the majority of the populace, who are only too ready to forgive the moral failings of their leaders since so many of them have so many (failings, that is).  Can anyone imagine a U.S. Secretary of Education shtupping underage girls, leaving his wife, having an affair with an aide, and running Obama's re-election campaign??  Breathtaking in its audacity.
There are a number of moral quandaries I faced in reporting this story.  First, though she went a long way toward doing this herself, I've exposed Maya Katz and removed her privacy in this matter.  Had she not had an affair with one of the most powerful figures in the Likud Party and a potential future PM who is single-handedly trying to destroy academic freedom in Israeli universities, I might not have done so.  Further, the fact that her initials were published and that most of the Knesset staff already knew her full identity went a considerable way toward opening this story and her to public scrutiny.  Finally, her letter to the prime minister, though perhaps intended to be private, could not remain so since she was interceding in an important political appointment.  There will be those who believe I wronged Katz.  I can respect that.  But other considerations outweighed her right to privacy.