J14 Tent Protest Movement Israel's Wave of Future?
NOTE: Thanks to readers who've expressed concern about not hearing from me for the past week.  No fear.  My family went away for a week to the Oregon high desert where we enjoyed a rafting trip, hiking, and swimming near Bend.  I found it too difficult to both enjoy a vacation and give the undivided attention that is necessary in writing blog posts.  Not to mention that it's frustrating trying to use an iPad to do all the technical things you must do when you blog.  The world seems to have muddled along while I was away.  But there are important issues to talk about and so I return to the fray.
*  *
For decades I have thought (along with a number of other observers of Israeli society) that the impact of the existential threat faced by Israel in its battle with its neighbors has created an artificial sense of unity within the country.  The result is that citizens who might ordinarily have little in common politically, band together out of a sense of national solidarity.  This distracts the populace from the profound inequities and flaws that lie at the heart of the country's identity.  As long as there is a perceived security threat, most Israelis are content to ignore the nation's flawed democratic system, the oppression faced by Israeli Palestinians, the huge income gaps between the wealthiest and poorest, and the ethnic tension between Mizrahi and Ashkenazi Jews.
I've always believed (and indeed feared) that Israel could never resolve the social, economic and political problems with which it is riven until it could make peace.  It's one of the reasons I've always supported the peace movement.  It's also one of the reasons I've always despaired that the most basic of Israel's problems might ever be addressed because the chance of making peace has always seemed impossibly remote.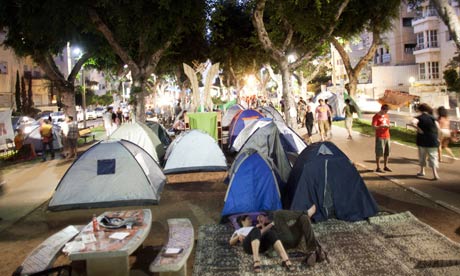 That's why the J14 tent protest movement that began last month in Tel Aviv and spread to all of Israel's major cities and towns has given me renewed hope.  Not that I believe all the issues of social justice it reflects (decline in standard of living, education and health, high housing costs, poverty, etc.) will necessarily be resolved by this protest; but rather that Israel's young people who started this movement influenced by the Egyptian youth of Tahrir Square, understand too that their country needs justice internally for its citizens as much as it needs peace externally with its neighbors.
It has "only" taken the foreign media a month to begin to sense to importance of the J14 phenomenon.  Dimi Reider and Aziz Abu Sarah achieved a breakthrough, publishing an op-ed in the NY Times a few days ago, which was the first murmur from the Gray Lady on the issue.  This too stirred the Great Leviathan, Ethan Bronner from his slumbers, impelling him to write a story about the movement in today's paper.  As usual, his report veers every which way and never provides a coherent narrative framework within which to understand the social movement.  But at least he's made a foray, no matter how flawed it may be.
All of this, reinforces how critical it is that Israel proceed on a path that addresses both a domestic social agenda and one that achieves long-term peace and security.  As long as there is a threat from the outside, there can never be peace inside.  Once there is peace, there must be a profound examination of the meaning of the State: what is its purpose?  Who does it serve?  How does it operate?  If we think that the violence Israel faces in its battles with its enemies is great, this may be dwarfed by the monumental struggle that is bound to take place inside Israel over the shape of the future state after peace.
I hope against hope that this great struggle to re-define Israel will result in a democratic state which embraces all its citizens equally regardless of ethnicity, religion or class.  This is more or less what happened in the U.S. during the civil rights movement of the 1950s and 60s.  It moved a country that was mired in Jim Crow, segregation, poverty and injustice and transformed it into one that began to transcend the barriers of race.  It was Martin Luther King who helped make American a more democratic and more just society.
Unfortunately, in Israel similar leaders face even greater forces of reaction and repression.  Azmi Bishara, one of the most formidable leaders of the Israeli-Palestinian community was hounded out of the country by the Shabak on trumped-up charges which were never proven.  Whenever a leader arises who might take on a mantle close to the one worn by MLK, the security forces find ways to sabotage him or her.  In a way, this is what the FBI tried to do against King and Malcolm X.  But the Shabak seems far better at the job perhaps because it faces fewer obstacles in the form of democratic guarantees and civil rights.
One senses that Israel's leaders like Bibi Netanyahu understand the danger they face in retaining power, which is why they would rather fight wars with Arabs than address the domestic ills which lurk just beneath the surface and threaten something like a civil war when they finally are addressed.
Conversely, the leadership of the tent protests senses perhaps unconsciously how fraught the national security issue is and so far has been content to allow it to sit on the periphery of consciousness.  The injustice of Occupation, the enormous economic burden it places on the Israeli economy, settlements, ultra-Orthodox entitlements, all these issues are present but not central to this social justice movement.  For this reason, J14 leaves some Israeli progressives a bit discomfited.  They realize that a movement that addresses only one of these issues and ignores the other, is doing a grave disservice to political reality.  But many of these same progressives also realize that a movement that blazes away at both issues simultaneously might sentence itself to political oblivion.  It's a very fine line you walk in Israeli politics.