Im Tirzu Accuses Israeli Blogger of Incitement to Murder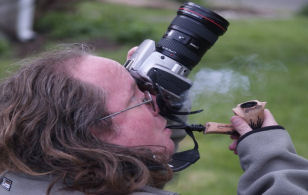 My friend, Dena Shunra brought me word of the amazing news that our mutual friend, Yossi Gurvitz, who writes the Hebrew language blog, Friends of George, has been accused of incitment to murder.  Though I have never met Yossi personally, from the writing in his blog and his picture there, he appears to be a pipe-smoking, bohemian (possibly) and totally harmless (physically) individual.  How the lunatics of Im Tirzu can turn him into a potential murderer is little short of astounding.
It appears that Yossi is caught up in a larger game Im Tirzu is playing in which it seeks to smear New Israel Fund, a battle that has raged in Israel for months.  I've reported here on the Shturmer-like demonization to which Naomi Hazan was subjected in the pages of all the major Israeli newspapers.  Well, it appears that Yossi spoke at a New Israeli Fund conference for Israeli bloggers in which, according to the rightist Yisrael HaYom, he said he was eager to "get to the meat of the matter and do battle with Im Tirzu."  He further clarified that what he meant was to unmask the group's funding sources.  In Hebrew, he used the term basar va'dam, meaning "body and blood" or, as I translated, meat of the matter.  So this is how a bunch of total meshugayim transform a call to political battle into a death threat.  Amazing, simply amazing.
I've got news for Im Tirzu–these guys are political neophytes or poseurs if they interpret that as a death threat.  I can send them some of mine, a few of which have been reported to the FBI, if they want to know the real thing.  The most recent one was posted recently by a Los Angeles commenter named Bacci40 at The Magnes Zionist:
…must kill dickie to know that he is irrelevant.
Now, that's a death threat.
Yossi, enjoy the notoriety and may it bring you added visibility for your worthy commentary on the Orwellian threats to Israeli democracy.