Clinton to Iran: 'We Will Obliterate You'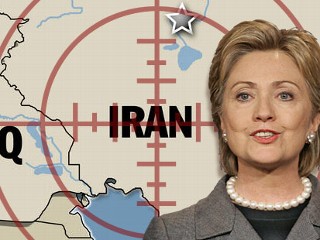 Hillary Clinton must think she's auditioning for the role of Curtis LeMay in a Hollywood film. That's the only reason (other than a looming PA. primary in which she's desperate to sound tough as nails) I can figure she's sounding more like a Gen. Buck Turgidsen in Dr. Stangelove than a presidential candidate. ABC News reports that on this morning's Good Morning America she will threaten to obliterate Iran if they attack Israel:
…In an interview airing on "Good Morning America" Tuesday. ABC News' Chris Cuomo asked Clinton what she would do if Iran attacked Israel with nuclear weapons.

"I want the Iranians to know that if I'm the president, we will attack Iran," Clinton said. "In the next 10 years, during which they might foolishly consider launching an attack on Israel, we would be able to totally obliterate them."
Is this truly how Hillary thinks she's going to salvage her primary campaign and eke out a win over Obama?? This is precisely the Hillary that so many Democrats have been turned off by–the candidate who thinks she has to out-gun and out-man every other candidate to show she's tough on defense. The Party doesn't need another Henry Jackson, Hillary. We need a candidate more like your husband was in 1992–more like…Barack Obama. A candidate appealing to the "better angels of our nature" rather than the warrior within us.