Give for Huwara
2 fundraising campaigns for the victims of Huwara
For days I've been trying to find any fundraising efforts for the victims of the Huwara pogrom.  There may be some out there that I haven't found. But I have not seen any Palestinian effort, which is what I was hoping to support.
But after lots of online research, there are two outstanding efforts I hope you'll support.  The first is Medical Aid for Palestine. It is a UK-charity providing medical supplies to Rashidia Hospital in Nablus, which is treating many of the 150 injured victims of the attacks:
EMERGENCY APPEAL

Medical Aid for Palestinians (MAP) is upscaling our emergency response amid growing critical health needs in the occupied West Bank including East Jerusalem, resulting from escalating Israeli military and settler violence.

We are providing lifesaving equipment and medical supplies to hospitals and paramedic teams, to help strengthen their emergency response. We are also training emergency responders and paramedics in trauma care.

In 2021 and 2022, MAP provided two fully equipped ambulances, a field hospital tent, and medical supplies and equipment to our partners in East Jerusalem.

We are also helping to provide mobile clinic health services to marginalised communities in remote areas of the West Bank. We are providing first aid kits, hygiene kits and first aid training materials so that the mobile clinic team can deliver first aid training to communities.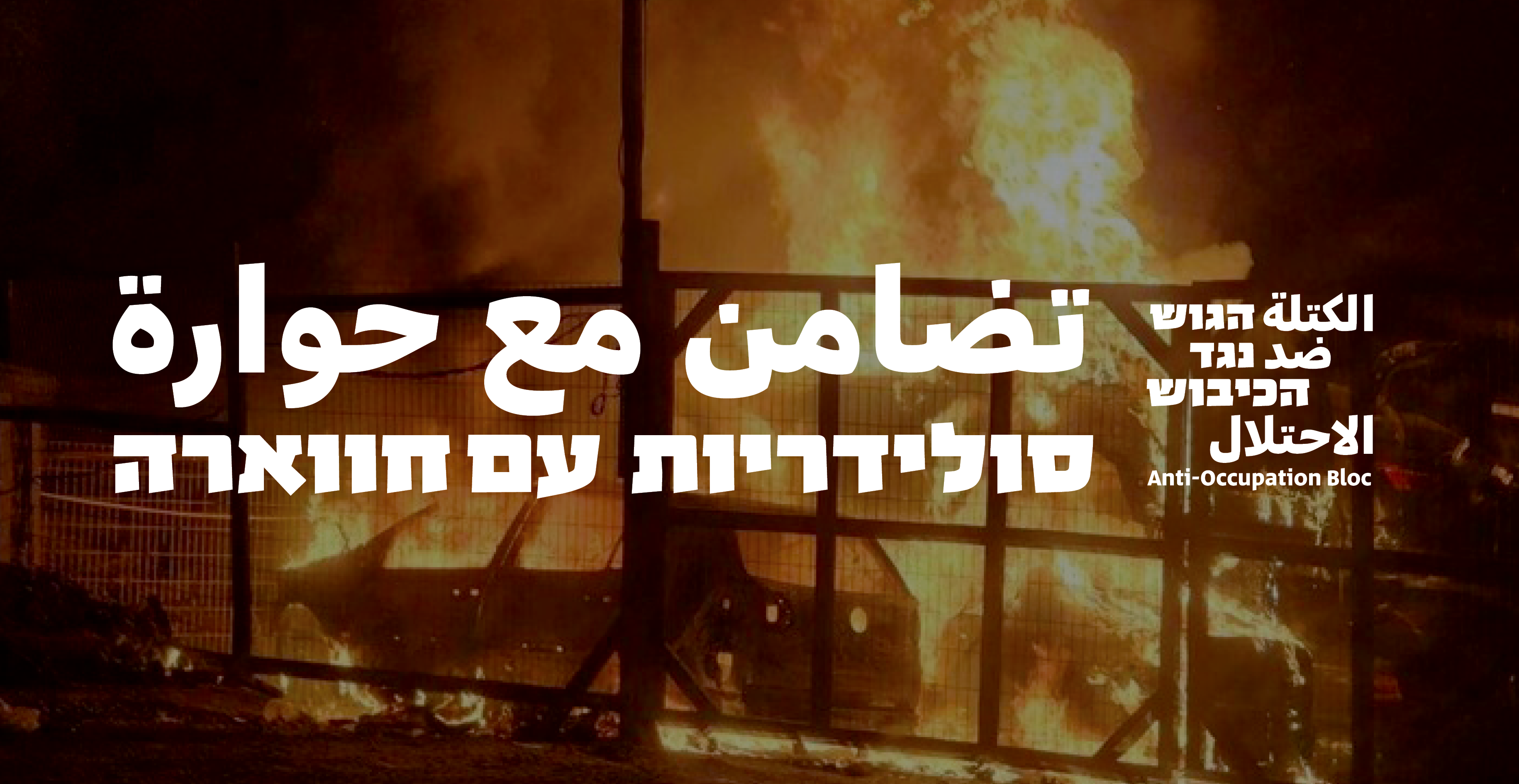 An Israeli group, the Anti-Occupation Bloc, represents a pro-Palestinian grouping of hundreds of Israelis who reject the official Zionist narrative.  They've created a fundraising campaign for Huwara:
Solidarity is the order of the hour.

As Jewish terrorists continue to commit pogroms against Palestinians, in Hawara and other places, we must not stand by.
We are a group of anti-occupation organizations that are in constant contact with the Palestinians on the ground. We are collecting funds which all of which will compensate the victims of settler violence, meeting their needs as they arise on the ground [i.e. from within Palestinian communities].

Please donate generously.

The money collected will be transferred in coordination with Palestinian agencies and used to compensate victims of settlers violence – both of the settler pogrom in Hawara and of other past and future acts of violence.
This is not an exhaustive list of charities doing this work.  I'm happy to learn of other such campaigns. Especially ones directed by Palestinian NGOs to benefit Palestinian victims of Judeo-terror attacks.  I will gladly promote them as well.
As an aside, the first fundraiser I learned of was started by an Orthodox Israeli and former senior IDF officer.  When I read his intial statements about what he was doing and why, it immediate struck a discordant note.  He hardly cared about or even mentioned the Palestinian victims.  His effort was virtue-signalling: Israelis feeling terrible guilt at what was done in their name.  The way to assuage their guilt?  By giving money.  Not, mind you by making real change. Not by making a political commitment to Palesitnians or Palestinian rights.  Rather, the goal was to say: we are the good Israelis and we want Palestinians to know there are such Israelis.
His fundraiser was enormously successful, raising over $325,000.  And wouldn't it be?  The worse the violence, the greater the guilty felt by Israelis who won't do anything substantial to make change. They open their pocketbooks as a substitute.
Fink said that he is coordinating with friends in the IDF to make sure that all of the money goes to families and small businesses which were actually affected by the violence —and that none of it reaches anybody with ties to Palestinian terror…
This is an effort destined to be a total shambles.  He is not only doing this for the wrong reasons, he hasn't even determined how to distribute the funds.  He's going to ask an army that stood by while Huwara burned to help distribute the funds?
One final question: do you think that the Huwara family cowering in fear as settlers set their home on fire, cares whether there are any good Israelis?  After losing their home, do you think it will make them feel any better that some well-meaning Israeli wants to offer them guilt-moeny to assuage his conscience?