New CAIR Report: $105-Million Donated by Major US Foundations to Islamophobic Groups
Jewish pro-Israel donors gave 20% of overall funding
The American Muslim defense organization, CAIR, published a new account of Islamophobia in America, Islamophobia in the Mainstream.  It reports that wealthy US foundations gave $105-million between 2017-2019 to hate groups with an Islamophobic agenda.  It examined the 50 largest US foundations and focussed on 35 which gave the funds to 26 organizations.  Among the foundations were ones founded by noted far-right fixtures: the late gambling magnate, Sheldon Adelson, Irving Moskowitz, who earned his wealth through a Southern California bingo empire, and Bernie Marcus, founder of Home Depot. The Jewish Communal Fund and Jewish federations in Boston, Los Angeles and San Francisco also donated large sums to these groups via donor-advised funds.
The non-profits who received the donations included the American Freedom Defense Initiative ( (founded by Pamela Geller), American Freedom Law Center (founded by David Yerushalmi), the Foundation for the Defense of Democracies (founded by Cliff May, former vice-chair of the Republican Jewish Coalition), Middle East Forum (founded by Daniel Pipes) and the David Horowitz Freedom Center.  A number of them are listed as anti-Muslim hate groups by the Southern Poverty Law Center.
A large number of the funders are far-right Jewish supporters of Israeli settlers and right-wing Israeli political parties.   There is a nexus between Islamophobia and Israeli ultra-nationalist ideology.  The Israeli far-right has fueled the career of political leaders like Bibi Netanyahu, who made alliances with Islamophobic, anti-immigrant European nations like Poland and Hungary,
20% of the overall US Islamophobia funding was attributed to Jewish family or communal foundations.  Pro-Israel groups espousing Islamophobic views received 30% of the overall funding.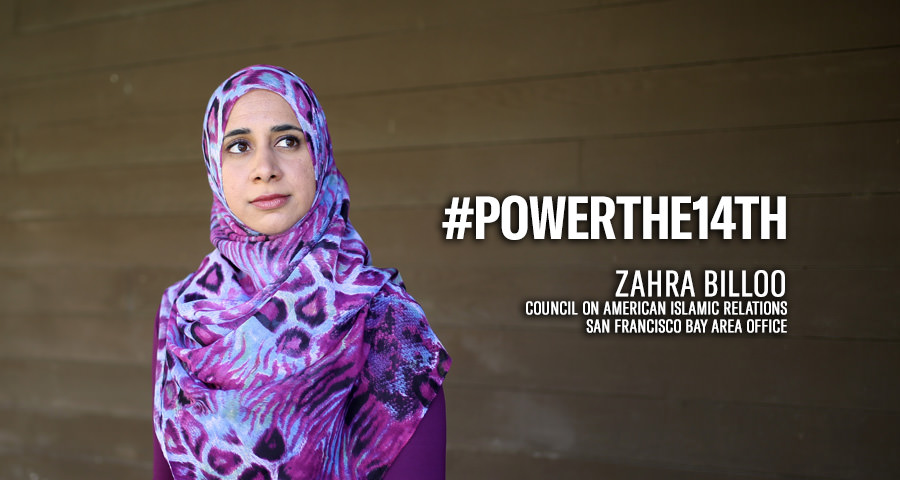 If Jews Fund Islamophobia, How Can They be Muslim Allies?
This information confirms controversial remarks (within Israel Lobby circles) delivered by CAIR Bay Area director, Zahra Billoo (30-minute mark in video), at a recent American Muslims for Palestine conference. She accused "polite Zionists" seeking to "break bread" with American Muslims, of not being true friends of the American Muslim community. She warned that they were almost as dangerous as far-right white supremacists who harbor explicitly Islamophobic views.
Her remarks were first reported by far-right blogger, David Lange, who engages in serial hoaxes designed to embarrass pro-Palestinian groups and media outlets. (disclosure: Lange maintained his blog under the pseudonym, Aussie Dave, until I revealed his real identity).  Lange often serves as the initiator of pro-Israel media frenzies as he did in this case.   The backlash against Billoo was ferocious.  She was savagely attacked by ADL director, Jonathan Greenblatt, who called her accusations "awful, unapologetic bigotry" and  "vile, antisemitic, conspiracy-laden garbage." Several Jewish publications also launched attacks against her which were so vituperative that she took a month-long sabbatical from her job in order to heal from their impact.
I note that male speakers at the AMP conference who delivered similar remarks were not attacked. Clearly, Jewish communal leaders have focused on Billoo as a purportedly Jew-hating figure with a national reputation.  She was also driven off the national board of the Women's March after a similar set of attacks against her pro-Palestinian views. Thus far, no one has noted the misogynist nature of these attacks, which focus on female Muslim leaders like Billoo.
The verbal assaults by Israel Lobby groups like the ADL are similar to those of the Israeli government against Palestinian human rights groups, which the defense minister accused of "terrorism." He falsely linked them to a Palestinian militant group, the Front for the Liberation of Palestine. The common thread linking the groups was their support for the ICC investigation of Israeli war crimes.
The attacks on CAIR are part of a campaign to silence criticism of Israel in the US.   Among the tactics have been the passage of anti-BDS legislation in 17 states, and anti-Sharia laws in six states and proposed legislation in 43.
At the same time, Jewish groups have sought to co-opt American Muslims by forming Jewish-Muslim dialogue, and partnerships which advance a common domestic political agenda. These efforts noticeably avoid discussion of Palestine. Among the initiatives is the Muslim Leadership Institute of the Shalom Hartman Institute.  MLI recruits young Muslim leaders and offers them an all-expense-paid week-long seminar on Zionism and Israeli life.  There is little effort to educate Israeli Jews about Islam or the interests of American Muslims.
Among those who have attended are media personalities Wahajat Ali and Pakistani-American "civil rights advocate," Rabia Choudry. One participant dropped out of the program and penned an account of his disillusion with MLI.  Another MLI participant, Harun Mogul offered a profoundly cynical account of his involvement:
Of course [Shalom Hartman] has used us and will continue to use us, but my intention is to use [Shalom Hartman] too. . . as a way to get access to certain spaces and [important political] people and to introduce my point of view on the conflict. That is the nature of politics, you use each other and try to push your agenda and that's the arena in which I think I can most effectively support Palestinians.
I have been involved in politics for over 50 years and I have never used anyone to push my agenda.
Similarly, the American Jewish Committee created the Muslim-Jewish Advisory Council together with the Islamic Society of North America.  Its mission was to:
… Develop and advocate a domestic policy agenda to protect and expand the rights of religious minorities. [It is] a tangible result of our commitment to work with the American Muslim community for the benefit of all citizens. This values-driven partnership sets a new standard for interreligious cooperation."
These efforts amount to an attempt to suppress the issue of Palestine from the Muslim agenda.  They sabotage a consensus developed over decades to support Palestinian rights. They also divert attention from the issue and weaken the resolve of the Muslim community.  The Hartman Institute highlighted in promotional materials for its anti-BDS work, this Muslim-American participants response to the MLI seminar:
"I think the breakthrough for me was coming here [to Israel, to the Hartman Institute] as someone who has always been very careful to frame herself as an anti-Zionist but not an anti-Semite and now not quite sure if I am an anti-Zionist anymore. I am not saying I am a Zionist. I am saying I do not know what I am anymore."
The hope is that the partnership will come to be so vital to American Muslims that they will sacrifice Palestine to maintain it.
American Jews, who have suffered discrimination in this country must not succumb to this ugly scourge.  No communal institution should fund groups promoting hate against anyone–whether Muslim, African-American or Asian-American.  Jewish federations and the Jewish Communal Fund must stop catering to their wealthy donors and recognize the damage funding racism does to American Jewry.  We must stop funding Islamophobia and cut off the spigot to hate.
Funding of Islamophobia by Jewish communal and family foundations ($21-million):
Adelson Family Foundation $4-million
Jewish Communal Fund $3-million
Diana Davis Spencer Foundation $2-million
Arie and Ida Crown Memorial $500,000
Combined Jewish Philanthropies of Greater Boston I $500,000
Hochberg Family Foundation $250,000
Irving Moskowitz Foundation $750,000
Jewish Community Federation of SF, the Peninsula, Marin and Sonoma Counties $250,000
Kovner Foundation $250,000
Lynde and Harry Bradley Foundation $1.5-million
Marcus Foundation $5.75-million
Helen Diller Family Foundation $500,000
Allan S Gordon Foundation $500,000
Newton D and Rochelle F Becker Foundation $1-million
Donations to Islamophobic Jewish/Pro-Israel Groups ($30-million):
American Freedom Law Center (David Yerushalmi) $1.2-million (from Fidelity Fund)
MEMRI $9-million ($3-million from Adelson)
American Freedom Defense Initiative (Pam Geller)  $100,000 ($50,000 from Jewish Communal Fund)
Gatestone Institute $700,000 ($50,000 from Spencer Foundation)
CAMERA $4-million
Middle East Forum (Daniel Pipes) $2-million
Foundation for the Defense of Democracies $10-million
Clarion Project $2-million
David Horowitz Freedom Center $3-million
Endowment for Middle East Truth $560,000
Investigative Project on Terrorism (Steve Emerson) $1.4-million
Lawfare Project $1-million
American Freedom Alliance $350,000
Americans for Peace and Tolerance (Charles Jacobs) $80,000