Arson Attack Against Jerusalem Church is Settler Terrorism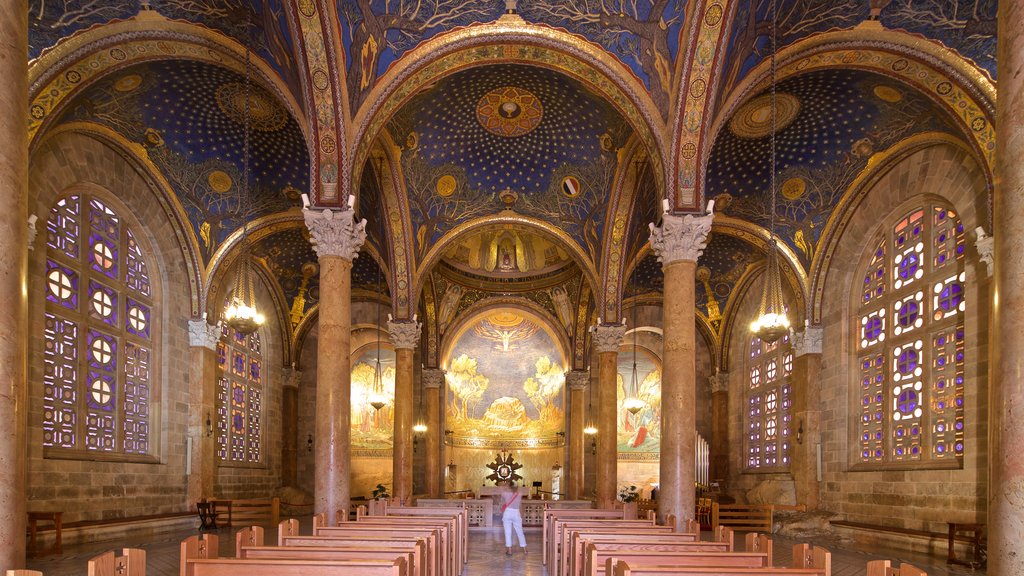 Earlier this week, an Israeli settler hurled a Molotov cocktail into the Church of All Nations at the Garden of Gethsemane. It is one of Jerusalem's most beautiful and sacred sites, where Jesus is reputed to have spent the night before his Crucifixion.  The attack ignited the wooden pews and damaged the exquisite mosaic floor tiles.  It was only the quick thinking and bravery of a church guard which prevented a massive fire.  The guard also detained the suspect till Israeli police could arrive and take him into custody.
All this happened on the same day when the city's Catholic community was at the Church of the Holy Sepulchre celebrating the appointment of a new patriarch.  It was the perfect moment to launch an attack when the world's attention was elsewhere.
בסרטון הזה הוא כבר מגיע לכנסייה פולש ואז שופך את החומר הדליק ומצית את הכסאות. השומר שהיה במקום עצר אותו מלעשות נזק גדול יותר. בחקירה טען כי עשה את זה כי צריך לשרוף כנסייה pic.twitter.com/6iHhCx8Bxs

— Yossi Eli יוסי אלי (@Yossi_eli) December 8, 2020
Despite the seriousness of this crime, it has barely been reported outside Israel.  And in Israel the media have till now been prohibited from naming the suspect. But a reporter for Channel 13 has tweeted video of the attacker as he prepared the incendiary device, identified him, and  offered a screenshot of the police file which determines he had a terrorist motive. It took days before police lifted a judicial gag order.
Now, Israeli media have reported his name, Yehoshua Alkobi. He is a 49 year-old resident of Har Gilo, a settlement south of Jerusalem. According to other Israeli websites, he has been hospitalized in the past for mental health problems. In 2013, police issued a pubic notice seeking to find him after he escaped from a mental institution. Earlier, in 1998 he escaped from another institution. He had been committed there for an arson attack against a Tel Aviv brothel. He harbored messianic delusions that he was tasked with the mission to "save the Jewish people from its sins."
תראו בקשה להארכת מעצר: כאן המשטרה כבר בטוחה שמדובר באירוע לאומני. העיקר לקבוע ישר פלילי pic.twitter.com/mENe6okv3k

— Yossi Eli יוסי אלי (@Yossi_eli) December 8, 2020
In the original Israeli media account of the attack, police said Alkobi's motives were "criminal rather than political." Now that the police investigation has clearly indicated that he was motivated by religious hatred, and the firebombing was an act of terrorism, it's evident those earlier efforts were intended to suppress any news which might incite concern among the international Christian community (the Church is Roman Catholic). This effort succeeded as the story has gone completely under the radar of foreign media.  The few such outlets which have reported it have not named the attacker nor referred to his terrorist motives.
Israeli authorities feared such an incident would sour Christians and lessen their ardent support for Israel's maximalist approach to occupying and settling all of Palestine.  Israel's far-right government has carefully courted the support of American Christian evangelists. Prime Minister Benjamin Netanyahu has even been quoted as saying that as American Jews turn more hostile toward his government, that Christian Zionists will replace their former support.  Permitting Christians to view the religious hatred and Christophobia simmering beneath the surface of the settler movement could seriously damage Israel's image.
Nor is this the first such attack. In fact, a settler terror cell burned down much of the Galilee Church of Loaves and Fishes in 2015.  Another infamous settler terrorist, Jack Teitel, deposited bombs at the Israeli homes of a Christian missionary and Hebrew University Prof. Zeev Sternhell.  Both exploded. Sternhell was slightly injured.  But Ami Ortiz nearly died.  Settlers have also attacked monasteries in the West Bank. This also calls to mind an arson attack that was the reverse of this plot: an Australian messianic zealot burned down much of the Al Aqsa mosque in the weeks after the 1967 War.
In the past, Israeli police have sought to downplay Jewish terror attacks by claiming the attackers were mentally ill.  In many cases it has delayed punishment by months or years through legal appeals. It serves a useful purpose because the authorities can claim that such acts are an aberration, rather than an expression of the innate, simmering racism and hatred in the heart of Israeli society.  In this case, the suspect at least at one time was committed to an institution. But so far, police have not resorted to illness as an excuse for not punishing such acts.